Pleural Specialist
A medical doctor who treats pleural mesothelioma, an asbestos-related cancer that develops in the pleura, which is the thin lining that covers the lungs and chest wall.
Dr. Jason P. Shaw
Thoracic Surgeon
Dr. Jason P. Shaw is the director of general thoracic surgery at Maimonides Medical Center in Brooklyn. His program puts a major emphasis on the personalization of treatment.
Get to Know Dr. Jason P. Shaw
As director of general thoracic surgery, Dr. Jason Shaw plays a key role in the growing mesothelioma program at Maimonides Medical Center in Brooklyn.
Shaw moderates the weekly thoracic multidisciplinary tumor board, which brings together surgeons, oncologists, radiologists, pulmonologists and nurses to discuss each patient and their personalized mesothelioma treatment plan.
One of Shaw's specialties is malignant tumors and disorders of the lungs and pleural spaces, which includes malignant pleural mesothelioma.
Shaw has led extensive research in the field of angiogenesis, the formation of blood vessels in tumors. The studies have included how best to prevent their growth.
He also directs the Maimonides Lung Cancer Screening Program, which is dedicated to early detection of the disease. He has authored numerous book chapters and peer-reviewed papers on the topic.
Shaw has extensive experience in minimally invasive surgery that includes robotics and video-assisted thoracoscopic surgery, which often leads to shorter recovery time for patients.
He treats a wide range of chest disorders, including those of the esophagus and mediastinum. He performs surgery for hyperhidrosis and tracheal disorders.
Contact Dr. Jason P. Shaw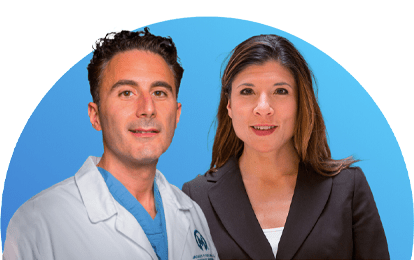 Find a Mesothelioma Specialist
Get specialized treatment from experienced mesothelioma doctors.
Specialties of Dr. Jason P. Shaw
Thoracic surgery
Robotic surgery
Lung cancer
Pleural mesothelioma
Chest wall tumors
Tracheal disorders
Gastroesophageal reflux disease
Mediastinal disorders
Myasthenia gravis
Dr. Jason P. Shaw's Experience and Medical Education
Maimonides Medical Center
Mount Sinai Medical Center (Fellowship)
North Shore University (Residency)
McGill University (M.D.)
Awards and Certifications
Board certified in general surgery
Board certified in thoracic surgery
Healthgrades Honor Roll
Top Doctors, Castle Connolly
Top Doctors, New York Magazine
Publications of Dr. Jason P. Shaw
Kangas-Dick, A. et al. (2020, September 16). Clinical Characteristics and Outcome of Pneumomediastinum in Patients with COVID-19 Pneumonia. Journal of Laparoendoscopic & Advanced Surgical Techniques.
Wiesel, O. et al. (2020, September 11). Surgical Novelty During Pandemic: Keep it Safe and Simple. Journal of the American College of Surgeons.
Shaw, J.P. et al. (2008 April). Pseudocavitating Bronchioloalveolar Carcinoma Followed Over a Decade. The Annals of Thoracic Surgery.