Pleural Specialist
A medical doctor who treats pleural mesothelioma, an asbestos-related cancer that develops in the pleura, which is the thin lining that covers the lungs and chest wall.
Dr. Rami Manochakian
Assistant Professor of Medicine at Mayo Clinic Florida
Medical oncologist Dr. Rami Manochakian is an integral part of the Lung Cancer Program at the Mayo Clinic in Jacksonville, Florida, where he also treats patients with malignant pleural mesothelioma.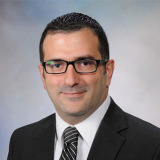 Mayo Clinic Florida Jacksonville, Florida (FL)
Get to Know Dr. Rami Manochakian
Dr. Rami Manochakian is a thoracic oncologist at Mayo Clinic in Jacksonville, Florida, renowned for his work in the lung cancer program and heavily involved in clinical research that continues to advance cancer treatment.
Manochakian treats patients with pleural mesothelioma, thymic tumors and all stages of non-small cell and small cell lung cancer.
Before joining the other specialists at Mayo Clinic in 2017, he was lauded for his work as director of the lung cancer program at the Cleveland VA Medical Center, which expanded considerably under his direction.
"It's an honor and a privilege to be able to help some of the most special and resilient human beings –meaning cancer patients – and fight their cancer with them, and for them," he said upon joining Mayo Clinic.
Manochakian has played an active role in developing more individualized, targeted therapy at Mayo, including the use of immunotherapy agents. At Mayo, he is an investigator in two clinical trials involving the immunotherapy drug pembrolizumab, also known as Keytruda, which has shown efficacy with mesothelioma.
He also has a strong interest in the psychosocial aspects of cancer care.
Contact Dr. Rami Manochakian
Specialties of Dr. Rami Manochakian
Lung cancer
Pleural mesothelioma
Thymic tumors
Immunotherapy
Targeted therapy
Clinical research
Dr. Rami Manochakian's Experience and Medical Education
Mayo Clinic Florida
Cleveland VA Medical Center
Case Western Reserve University (Fellowship)
University of Buffalo (Residency)
University of Aleppo, Syria (M.D.)
Awards and Certifications
Board certified in medical oncology
American Society of Clinical Oncology, Education Scholar (2019)
Veterans Health Administration, Best Practice Program (2014)
Linda Arena Endowed Scholarship Award, Case Western Reserve University (2014)
Mesothelioma Clinical Trials Under Dr. Rami Manochakian
A phase I clinical trial for advanced solid tumors, including a segment of mesothelioma cases, that involves the use of pembrolizumab in combination with Oraxol.
Publications of Dr. Rami Manochakian
Chen, R. et al. (2020, May 24). Emerging therapeutic agents for advanced non-small cell lung cancer. Journal of Hematology & Oncology.
Manochakian, R. (2020, April). When Cancer Hits the Oncologist's Home. The Oncologist.
Aulakh, S. et al. (2019, October). Survival trends in glioblastoma and association with treating facility volume. Journal of Clinical Neuroscience.