Pleural Specialist
A medical doctor who treats pleural mesothelioma, an asbestos-related cancer that develops in the pleura, which is the thin lining that covers the lungs and chest wall.
Dr. Yanyan Lou
Medical Oncologist and Associate Professor at Mayo Clinic
Innovative medical oncologist and associate professor Dr. Yanyan Lou specializes in the treatment of pleural mesothelioma and lung cancer at the world-renowned Mayo Clinic in Jacksonville, Florida.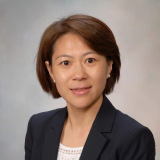 Mayo Clinic Florida Jacksonville, Florida (FL)
Get to Know Dr. Yanyan Lou
Dr. Yanyan Lou has earned a reputation as an innovative medical oncologist, helping advance the treatment of lung cancer, pleural mesothelioma and other thoracic diseases through novel immunotherapy and the latest translational research.
Lou was appointed associate professor at the Mayo Clinic College of Medicine and Science in 2019. She plays an active role in the Head and Neck Cancer and Lung Cancer programs. She also serves as the associate director of the Early Cancer Therapeutics Program at Mayo.
As part of the acclaimed multidisciplinary treatment program at the Mayo Clinic, Lou works closely with specialists such as surgeons, pathologists and radiologists to ensure a personalized treatment regimen for each patient.
She has done extensive research into the effectiveness of the immunotherapy drug pembrolizumab, also known by the brand name Keytruda, which has been approved by the FDA for treating several cancers, including certain types of mesothelioma.
Specialties of Dr. Yanyan Lou
Immunotherapy
Targeted drug therapy
Chemotherapy
Lung cancer
Thoracic cancers
Pleural mesothelioma
Advanced solid tumors
Dr. Yanyan Lou's Experience and Medical Education
Mayo Clinic
University of Texas MD Anderson Cancer Center (Fellowship)
National Cancer Institute (Fellowship)
University of Texas Southwestern Medical Center (Residency)
West China University of Medical Science (Ph.D.)
Henan Medical University, China (M.D.)
Awards and Certifications
Board certified in medical oncology and internal medicine
Paul Calabresi Career Development Award for Clinical Oncology, National Cancer Institute (2019)
Eveleigh Family Career Development Award, Mayo Clinic (2017)
Jay and Deanie Stein Career Development Award, Mayo Clinic (2016)
Young Investigator Award, Chinese American Hematologist Oncologist Network (2015)
Mesothelioma Clinical Trials Under Dr. Yanyan Lou
A phase I/II clinical study studying the safety and effectiveness of pembrolizumab in comparison to pembrolizumab in combination with anetumab ravtansine for patients with pleural mesothelioma.
Publications of Dr. Yanyan Lou
Saliba, A. et al. (2021, June 17). Immune-related hematologic adverse events in the context of immune checkpoint inhibitor therapy. American Journal of Hematology.
Marin-Acevedo, J.A., Kimbrough, E.O. & Lou, L. (2021, March 19). Next generation of immune checkpoint inhibitors and beyond. Journal of Hematology & Oncology.
Duma, N. et al. (2019, August 30). Influence of Sociodemographic Factors on Treatment Decisions in Non-Small Cell Lung Cancer. Clinical Lung Cancer.
Lou, Y. et al. (2019, May). Hypereosinophilia in a patient with metastatic non-small cell lung cancer treated with antiprogrammed cell death 1 (anti-PD-1) therapy. Immunotherapy.