Patient Advocate Insider: Financial Tips Pt.2 from Joe Lahav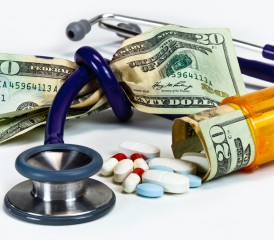 Last week, I went over the reasons why it is important tackle financial issues sooner rather than later after someone in your family is diagnosed with cancer.
If you wait too long, the overwhelming nature of cancer can make you — and others in the family — incapable of making good, rational decisions.
Today, let's talk specifics.
First, make sure you understand the health insurance policy (assuming there is one) and its possible limitations.
Also, if life insurance and/or disability insurance was obtained prior to the diagnosis, dig up the paperwork and contact the insurance carrier to make sure everything is in order should the person diagnosed with cancer be out of work for an extended period of time or pass away.
After that, consider the other financial resources that may be available.
In the event of an asbestos-related cancer diagnosis (such as mesothelioma or lung cancer), there are usually four additional sources of financial assistance:
(1) Social Security Disability — If a diagnosed is likely to be out of work for an extended period of time and is not already collecting retirement benefits through social security, social security disability may be available. In some cases, a diagnosis may be so severe that social security can "fast-track" the application process through a program known as the "Compassionate Allowance Program" (here is a list of Compassionate Allowance-approved diagnoses). Should you have questions about social security entitlement, you can also call the social security disability offices toll-free at: 800-772-1213.
(2) Veterans' Benefits — Assuming a diagnosed is a veteran and had some in-service exposure to asbestos, there may be VA disability benefits. Additionally, there are often other benefits (i.e., funeral benefits) that may be available.
(3) Travel Assistance / Lodging Discounts — Often, there are all kinds of "smaller" benefits that may be available to patients and their families suffering from asbestos-related cancer. Travel discounts are sometimes available for visits to treatment facilities that are not easily accessible by car. Also, many treatment facilities team up with hotels or, occasionally, have on-sight housing for patients and families at highly discounted rates. To learn more about these types of benefits, please call our Medical Outreach Director, Kaylen Jackson at: 800-549-0544.
(4) Legal Options — Given the number of attorneys advertising on television about asbestos-related cancers, our patients and their loved ones frequently inquire about legal options that may be available. The legal options are, often, the method of financial assistance that yields the best results for patients. Currently, there are two ways to proceed legally: (A) Asbestos Trust Funds; and (B) Traditional Lawsuits, and most people that decide upon legal assistance pursue both. The key point to understand about legal options is that not all law firms are created equally and it is vitally important to choose a reputable and experienced law firm. We help our patients find the best firms and none of the firms that we recommend ever charge up-front fees.
Again, the best way to ease the burden of financial issues that occur after a cancer diagnosis is to deal with them early.Waiting until the last minute is a terrible mistake and one that adds an extra burden right at a time when additional burdens seem impossible to take.
A final additional motivation for dealing with these issues at the earliest moment is that, often, the assistance of the diagnosed is needed to proceed with getting financial help.If the diagnosed is already receiving treatment, they are often incapable of focusing on these issues. Indeed, treatment such as chemotherapy can affect memory and make things that much more difficult.
Joe Lahav has been personally affected by cancer, which has been his motivation to help families struggling with a cancer diagnosis. As the Patient Advocate Manager at The Mesothelioma Center, he helps patients get medical, emotional and financial assistance.
Related Blog Posts