Cancer & Caregiving
What Your Mesothelioma Oncologist Expects You to Ask | Online Support Group
Fact Checked
Our fact-checking process begins with a thorough review of all sources to ensure they are high quality. Then we cross-check the facts with original medical or scientific reports published by those sources, or we validate the facts with reputable news organizations, medical and scientific experts and other health experts. Each page includes all sources for full transparency.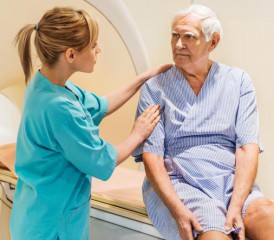 Most people with cancer leave their oncologist's office to realize their mind is reeling with unanswered questions.
Whether they forgot to ask, didn't know to ask, hesitated to ask or assumed the doctor would it bring up, practically everyone with cancer experiences communication struggles during cancer care.
Studies have long proven that communication between doctors and patients is suboptimal. In oncology care, doctors and nurses regularly fail to address the diverse range of concerns of cancer patients. Research also shows oncologists experience difficulty in accurately detecting patient distress.
Consequently, subpar communication may impair a physician's ability to offer pain and symptom management. Poor communication between physicians and patients can result in patients losing trust in their doctor.
In the past decade, the medical industry has made strides in educating health professionals in communication. But, in the past, few doctors received guidance on how to talk to and connect with their patients.
Communication Is Essential to Quality Care
Doctors receive little, if any, education on communication while earning their degree. Often, they passively learn how to communicate from other doctors and health professionals in their field.
As a result, physicians often struggle with communication skills, leading to misunderstandings and sometimes poorly informed patients.
Doctors who possess good communication skills naturally build trust with patients and make families feel guided and supported. These doctors tend to form better relationships with their patients. Ultimately, this connection results in a better care experience for people with cancer.
Tips to Improve Communication
Although patients can't control how well their doctor communicates, they can improve their own communication skills. Consider implementing some of the following tips:
Bring a list of questions to every doctor appointment. Keep this list in your hand so you don't forget.
Write down your doctor's answers in detail to prevent forgetting.
If you have many questions, request a longer appointment with the doctor ahead of time.
Bring someone to appointments with you. They can take notes for you and help think of questions to ask.
If allowed, record the audio of your visit. This isn't allowed everywhere, so be sure to ask first.
Try to craft concise questions. A short, clear question is easier for your doctor to quickly understand and answer.
If you feel shut down by your doctor, ask if there's another medical professional who is qualified to answer your questions.
Consider keeping a health care journal. It'll help you track all your health information in one place, and will help you identify questions to address with your doctor.
Questions and Answers from the January 2015 Online Support Group
Patients and caregivers asked a number of questions during the recent online support group. Here we include answers to some of them.
Q: I've lost trust in my oncologist, but I like my surgeon. Can I switch to another oncologist?
A: This depends upon the cancer center where you are receiving care. Often, only one oncologist who specializes in mesothelioma is available at each cancer center. Sometimes, more than one oncologist is available to oversee your care, but this isn't always the case because mesothelioma is rare and few cancer doctors specialize in it. Reach out to someone appropriate at the cancer center to discuss your options.
Get Access to Free Resources for Patients & Loved Ones
Free Mesothelioma Resources