Stories from Survivors
Peritoneal Mesothelioma Survivor Tackles Adversity with Faith
Fact Checked
Our fact-checking process begins with a thorough review of all sources to ensure they are high quality. Then we cross-check the facts with original medical or scientific reports published by those sources, or we validate the facts with reputable news organizations, medical and scientific experts and other health experts. Each page includes all sources for full transparency.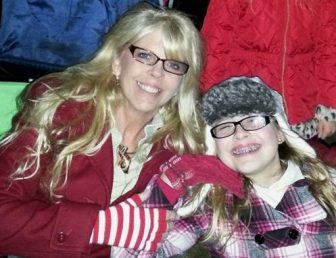 Karen Frantz met her peritoneal mesothelioma cancer diagnosis in 2015 with little emotion.
"I'm already a survivor. The diagnosis didn't really faze me as much," she said. "My whole life has been a dichotomy, if that's the right word, with so many traumas and hardships, but at the same time, being so blessed. I learned you can go through the worst of times and still come out smelling like a rose."
Frantz, 54, has lived through abuse, addiction, depression, a rocky divorce and a multitude of health issues. Mesothelioma was just her latest battle to fight — and win.
She lives modestly today, mostly on Social Security disability, in Southern California with Peyton, her 12-year-old daughter and the love of her life, believing so much adversity was just part of God's plan.
"I've got a purpose in life now. I can help others because of all the things that I've been through," she said. "Why else would God have kept me around through all this?"
Child Custody Battle & Mesothelioma Diagnosis
Frantz recently prevailed in a bitter child custody battle.
The custody fight, which went through California and Tennessee courts, included an attempt to use Frantz's cancer diagnosis and other past health issues against her.
Keeping Peyton wasn't the only reward from the exhausting custody case. It also distracted her from what doctors first misdiagnosed as stage III ovarian cancer.
After the second surgery, doctors accurately diagnosed her condition as peritoneal mesothelioma, a cancer caused almost exclusively from asbestos exposure. When she was a child, her father worked with asbestos products and likely brought home asbestos fibers on his work clothes, which may have led to her cancer.
She was told it likely would kill her within two years.
"The cancer became secondary for me, which may have helped me mentally because I didn't have the time or energy to focus on it. The custody battle took everything I had to give," she said. "Doctors are saying now I'm going to need more surgery, but I'm a much-stronger person today. I can handle it."
A Life Filled with Adversity
Frantz is bright and well educated. She has a degree in business administration and once worked for Hughes Aircraft Company.
But she has faced adversity throughout her life, which has been one land mine after another.
Early in life, she was a victim of child abuse and later domestic violence.
Through the years, she was diagnosed with several serious health problems, including fibromyalgia, post-traumatic stress disorder and migraine headaches. Stomach bleeding put her in intensive care.
She was a walking wreck at times.
There was also the addiction to pain medication, and alcohol became her best friend. She fractured her skull in one drunken fall.
Frantz was hospitalized twice in the late 1990s for severe depression and came frighteningly close to committing suicide, raising a loaded gun to her head when the mental and physical pain became too much.
There were demons she couldn't shake. She quietly said her goodbyes — before lowering the gun.
"Sometimes, I just thought it would never end," she recalled. "There were so many things wrong with me."
Better Times Ahead
Sober now for almost 25 years, Frantz has grown closer to God, often reciting scripture to explain how she thinks.
Eye movement desensitization and reprocessing therapy (EMDR) helps her recover from the traumatic events of her past.
She has a medication regimen that keeps her on track. She brags about Peyton's school and the gifted education program that accepted her.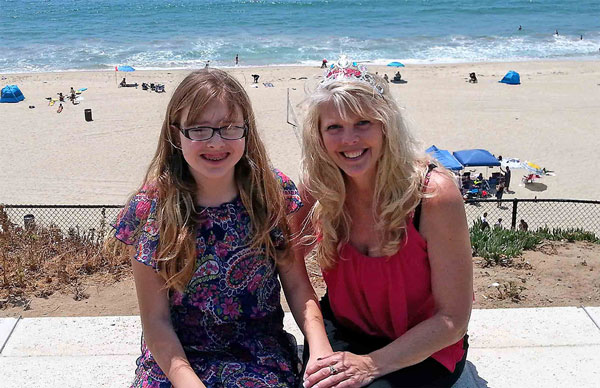 The two were still living in northwest Florida when doctors first discovered the cancerous tumors more than two years ago. After a close friend died of cancer, Frantz decided to return to California, where she grew up and where she could receive better medical care.
She borrowed money and loaded Peyton, their two Chihuahuas and all their possessions into a rented U-Haul truck — and she started driving.
They couldn't afford a motel at night, so they slept in the truck, ate cheap meals and used the rest of the money on gas.
Frantz arrived in California with $2 in her pocket and not much more in her bank account.
"It was an adventure. I remember telling Peyton that one day this will all be just a memory," she said. "The Bible says in Matthew 19:26, '…but with God, all things are possible.'"
Using Hardships to Help Others
Frantz is writing about her life and adventures, hoping a publisher can turn it into book to inspire and help others.
"I don't know what the future holds, except I'm in God's hands. If I can save someone from committing suicide by telling my story, then it's all worth it," she said. "Hopefully, my book won't end with me dying."
Her latest CT scan was good, with no traces of mesothelioma tumor advancement.
Doctors suggested she return for more surgery and undergo a Heated Intraperitoneal Chemotherapy (HIPEC) procedure.
"Mesothelioma can be a frightening reality to be faced with. The chance of recovery may seem grim," she said. "But do not give up on life. When things look hopeless, you still can get through with a faith in God."
Her message to others facing adversity — whether it's from disease or life in general — is to stay optimistic.
"I would tell people to never give up, keep a positive attitude and eliminate any negative influence that is bringing you down," she said. "Believe in miracles. I do."
Free Mesothelioma Guide
Get Answers to All Your Mesothelioma Questions