Treatment & Doctors
Can COVID-19 Research Lead to Mesothelioma Treatment?
Fact Checked
Our fact-checking process begins with a thorough review of all sources to ensure they are high quality. Then we cross-check the facts with original medical or scientific reports published by those sources, or we validate the facts with reputable news organizations, medical and scientific experts and other health experts. Each page includes all sources for full transparency.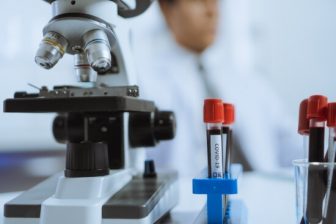 According to the Centers for Disease Control and Prevention, the COVID-19 pandemic has claimed almost 200,000 lives in the United States.
The massive impact that COVID-19 has had on hospitals and clinics is unlike any other event in recent history. Patients with mesothelioma and other cancers are at an increased risk of complications from COVID-19, and there has been a restructuring of health care services to minimize risk to patients.
Health care workers and researchers have worked tirelessly to treat patients around the clock, and the lessons they've learned may pay off for the future of mesothelioma treatment.
Multimodal therapy cancer teams have transitioned to a mostly virtual platform, and clinical research trials have more lax restrictions on how physicians perform study visits.
The COVID-19 pandemic has also led to the shortening of conventional regulatory deadlines after the disruption of clinical trials worldwide. Ideally, these changes to research and the medical field could shape a new future of cancer care for mesothelioma patients.
COVID-19 Collaboration Sparks New Age of Research
A vital aspect of research on the SARS-CoV-2 virus that causes COVID-19 is the ability to use genomic sequencing. Breaking down the DNA of the virus has allowed researchers to see the features that enable it to spread so quickly.
Genomic sequencing also allows scientists to generate more accurate models on the number of people that may become infected. Researchers from around the world have been sharing data at unprecedented rates to monitor the virus's global evolution.
One tool that allows for worldwide collaboration is called Nextstrain. This online tool monitors the evolution of pathogens, which are organisms that cause disease, by providing continuously updated visualizations of current data.
For mesothelioma patients, similar tools could eventually model how asbestos fibers damage cellular DNA and lead to malignant tumors. A global database of the effect of asbestos on the body would help researchers develop targeted therapies that prevent DNA damage and improve mesothelioma treatment options.
Vaccine Development Could Advance Mesothelioma Immunotherapy
Since the start of the pandemic, pharmaceutical companies have raced to develop a COVID-19 vaccine that could prevent infection or reinfection. One of the most promising vaccines is in development by the National Institutes of Health and is currently in a phase I trial.
NIH is testing its COVID-19 vaccine on healthy participants who have not had exposure to the SARS-CoV-2 virus. Once results show the vaccine is safe and effective, it could still take more than a year to mass produce the vaccine for the public.
One of the benefits of fevered vaccine research is the potential for improvements to cancer vaccine development in the field of mesothelioma immunotherapy.
Preventative cancer vaccines train the immune system to identify tumor cells and promote an anti-cancer immune response. The immune system sends specialized cells called T cells and B cells that reproduce antibodies against the tumor and target cancer cells for destruction.
Developing a vaccine against COVID-19 could help researchers discover new ways of creating cancer vaccines that prevent rare diseases such as mesothelioma.
Cancer Treatment Modified During Pandemic
One of the most direct ways COVID-19 is affecting mesothelioma patients is through modifications to standardized procedures for systemic treatment and thoracic surgery.
Mesothelioma patients are at a higher risk of severe respiratory complications that require critical care. These patients also receive a high percentage of palliative treatment for mesothelioma. Research indicates that providers must continue first-line and second-line therapies without disruption.
For patients undergoing immunotherapy, the COVID-19 pandemic has led to modifications that may affect treatment timelines. Studies have shown that patients should discontinue immunotherapy after one year to prevent a severe reaction caused by a viral infection.
Additionally, new parameters demonstrate that, after an initial assessment, oncologists should double the dose of immunotherapy within the first year of treatment.
These changes are likely to improve mesothelioma patients' immune response against cancer and limit the risk of severe adverse events from COVID-19.
Patients who are eligible for mesothelioma surgery may also receive a modified treatment plan during the pandemic. For example, research indicates that physicians should consider neoadjuvant systemic chemotherapy for peritoneal mesothelioma.
Chemotherapy for mesothelioma should be continued after surgery as well for patients who respond to the treatment. For patients who do not respond well to neoadjuvant therapy, surgeons can postpone cytoreductive operations for four to six weeks.
Overall, the COVID-19 pandemic has altered cancer treatment in many ways that are likely to have a significant impact on future therapies.
New methods of modeling genetic data, improved vaccine development and updated considerations for surgical patients are only some of the ways these changes are taking shape.
The lessons learned from this pandemic will influence the next several years of cancer research and hopefully revolutionize the way we think about mesothelioma prognosis and survival.
Medically Reviewed by Top Mesothelioma Doctors
Free Mesothelioma Guide