Awareness & Research
Preventing Mesothelioma Begins with a Ban on Asbestos
Fact Checked
Our fact-checking process begins with a thorough review of all sources to ensure they are high quality. Then we cross-check the facts with original medical or scientific reports published by those sources, or we validate the facts with reputable news organizations, medical and scientific experts and other health experts. Each page includes all sources for full transparency.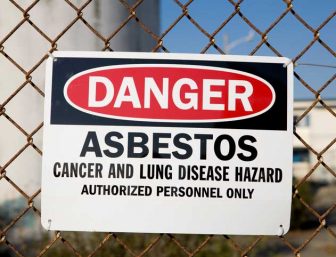 Let's think hypothetically here. You're at the doctor's office having a conversation with your physician about preventative health measures.
He or she is explaining that if you do a certain thing, then you will be able to prevent A, B or C. In your mind, you're thinking, "I need to implement those things, or I need to stay away from those other things, in order to stay healthy."
When I was diagnosed with peritoneal mesothelioma 14 years ago, I didn't even know what it was. Once I found out more about it, I wondered to myself, "How in the world did I get this cancer? Is there something wrong with my body?"
I don't know about other mesothelioma survivors or patients, but my mind went deep. I was thinking that my body let me down, or that there was something not quite right with my body.
Little did I know at the time, but mesothelioma can be prevented. Yes, you read that correctly. Mesothelioma can be prevented.
What Is Mesothelioma?
According to Dr. Daniel Landau, an oncologist and hematologist at Orlando Health UF Health Cancer Center, mesothelioma is a malignant cancer caused by inhaling asbestos fibers. Tumors can form in the lining of the lungs, abdomen or heart. Unfortunately, the life expectancy for most mesothelioma patients is approximately 12 months after diagnosis.
Getting more clarity about what mesothelioma is gave me a sense of relief about thoughts that my body created this cancer out of nowhere. I contracted this cancer from something in particular – asbestos. My next thoughts were, "Well, what in the world is asbestos, and when was I around it?"
Hazards of Asbestos
The Occupational Safety and Health Administration defines asbestos as a group of naturally occurring minerals that are resistant to heat and corrosion. Asbestos has been used in all kinds of household and commercial products for decades.
Breathing in asbestos fibers can damage the lungs and cause asbestos-related diseases such as asbestosis, lung cancer and mesothelioma.
Asbestos-containing products include, but are not limited to:Insulation in walls and atticsVinyl tiles used for floorsShinglesSiding on housesBlankets that protect hot water pipesFabrics that resist heatCar brakes
Sounds dangerous, doesn't it? Well, it is, and asbestos is still used today in the United States. As a matter of fact, asbestos isn't banned in the U.S., but it's banned in almost every other industrialized nation. Although there is no ban, the U.S. government has regulated its use since the 1970s.
According to a recent U.S. Geological Survey Mineral Commodity Summaries report, U.S. imports of asbestos had dropped to an all-time low of 100 metric tons in 2019. The asbestos came exclusively from Russia.
However, asbestos is still contained in a number of products, including brake blocks for use in the oil industry, diaphragms used by the chloralkali industry for the production of chlorine, and certain types of gaskets.
There is also a big problem with asbestos in homes built before the 1980s. Asbestos can be found in all kinds of places, from roof shingles to pipe insulation.
This harmful and often deadly substance is still causing cancer in thousands of people across the country. Do you see the problem here?
Prevention Is Key
We know that if we can prevent something – in this case mesothelioma – then we're going to do what we can to stop it. Over these past 14 years, I've wondered what I could do to prevent this cancer from affecting others. How do I know if I have been around asbestos if it's not banned?
As a mesothelioma survivor, it feels as if the U.S. government has no regard for me or other patients and survivors. We have rights, and it's our right to feel safe and as if we're not alone.
Knowing that asbestos is still out there being used today is really scary. I'm afraid for myself and my family, because too many people are being diagnosed with mesothelioma every day. Yes, every day, people across the country are being diagnosed with mesothelioma and are fighting this terrible disease.
It's time to join forces for mesothelioma prevention.
Bring on the Mesothelioma Awareness
You can do your part and raise awareness about the dangers of asbestos in your city or town and bring it to the forefront of the agenda in your county and state governments.
I do believe that if more people knew about the dangers of asbestos and how it can affect them or their loved ones, then something could be done to move forward with a ban.
We all have a voice and we can use our voices to speak out against the dangers of asbestos and why it should be completely banned in the United States.
Here are a few ways to help:
Write a letter to your local representatives.They are the ones who help pass the laws and are the voice of the people. You can find your U.S. representative by visiting the House of Representatives website and plugging in your ZIP code.
Sign a petition.The Ban Asbestos in the U.S. petition is currently available on Change.org.
Donate to an organization. Many organizations have donated their time and money to help with mesothelioma awareness, including the Asbestos Disease Awareness Organization.
Share your story. If you are a mesothelioma survivor or family member, you never know who you will be able to inspire just by sharing your story, like I did.
I may just be one person, but if we collectively come together with this one goal in mind – banning asbestos – our voices can and will be heard.