Georgia Cancer Center at Augusta University
Georgia Cancer Center at Augusta University is among the state's top multidisciplinary centers for mesothelioma patients. Dr. Nagla Karim treats mesothelioma patients in some of the more than 70 clinical trials that are ongoing at Georgia Cancer Center, including many new immunotherapy treatments.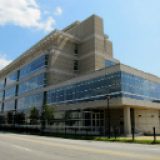 1411 Laney Walker Blvd. Augusta, GA 30912
Georgia Cancer Center Turns Research into Clinical Care
Georgia Cancer Center at Augusta University is dedicated to providing the latest and greatest care for patients across the Southeast, turning state-of-the-art research into groundbreaking, innovative treatment.
Patients are given access to the latest clinical trials, where research advances are made, and to multidisciplinary treatment from world-renowned experts in cancer care.
Georgia Cancer Center brings together medical oncologists, surgeons, radiation oncologists, nurse navigators and a patient support staff focused on improving the lives of each individual.
Stopping cancer is everyone's goal.
The center, formerly known as the Georgia Regents University Cancer Center, has an oncology division that handles cases of mesothelioma, the rare and aggressive cancer caused by exposure to asbestos.
Dr. Daniel Miller, who has been seeing patients with pleural mesothelioma for more than two decades, was named surgical director and chief of thoracic surgery at the Georgia Cancer Center in 2021.
Miller previously served at Cancer Treatment Centers of America and Emory Healthcare, where he became internationally renowned for his work in helping pioneer minimally invasive surgical techniques for metastatic pleural diseases. His leadership has added to an already top-flight program.
Medical oncologist Dr. Nagla Karim is the principal investigator of two new clinical trials that include mesothelioma patients, both involving novel inhibitor drugs used in combination with chemotherapy.
Georgia Cancer Center is in the midst of more than 70 clinical trials, many that investigate specific immunotherapy treatments that improve survival rates for advanced pancreatic and prostate cancers. It also is using drug therapies involving molecular-targeted agents for lymphoma and leukemia.
Immunotherapy involves using the body's own immune system to destroy cancer cells, in contrast to toxic chemotherapy agents that produce serious side effects. Georgia Cancer Center has been a long-time leader in immunotherapy research.
Premier Research Facilities at Georgia Cancer Center
Patients come from throughout the Southeastern United States, often attracted by the ultra-modern, 57,000-square-foot outpatient cancer clinic, which opened in 2010. It includes 30 exam rooms and 30 infusion stations that offer the utmost privacy and the ability to visit with other patients and families.
A five-story, $54 million cancer research facility opened in 2006. It includes laboratories and administrative offices and is home to more than 200 research faculty. The open floor plan of the labs was designed to encourage collaboration among the different disciplines.
In 2018, that already effective facility was improved considerably with a $62.5 million expansion, making it one of the country's finest cancer research facilities.
"Research at the Georgia Cancer Center continues to focus on the most promising pathways for the prevention and treatment of cancer," Augusta University President Dr. Brooks Keel said at the ribbon-cutting ceremony. "The project's design provides quality research space to promote multidisciplinary collaborations and translational research, which his essential to creating an environment that promotes innovation."
The radiation therapy center is a regional, freestanding facility close to the cancer clinic and the cancer research facility. The radiation oncology team includes physicians with decades of experience caring for cancer patients. There are medical physicists, dosimetrists, radiation therapists and a nursing support staff.
Georgia Cancer Center's Multidisciplinary Approach to Care
The multidisciplinary care team at the cancer center includes medical oncologists, surgical oncologists, radiation oncologists, pathologists and psychologists.
The thoracic oncology team treats patients with personalized care for every type and stage of cancer in the chest, including lung and mesothelioma cancers.
Each patient at the cancer center is assigned a nurse navigator who will simplify the process and coordinate appointments with the entire health care team within the same day and in the same location.
The diagnostic approach to thoracic malignancies includes PET scans, high resolution CT scans, endobronchial and esophageal ultrasound, advanced bronchoscopy imaging and video-assisted thoracoscopic surgery.
Treatment options may include proton therapy with the only pencil-beam scanning capability in the U.S. There is a wide range of radiation therapies, immunotherapy, less-invasive surgical options and clinical trials that include the newest chemotherapy agents being tested.
Mesothelioma Clinical Trials at Augusta University
A phase I clinical trial studying the safety and efficacy of using cabozantinib in combination with pemetrexed (Alimta) for patients with non-small cell lung cancer, urothelial cancer and advanced malignant mesothelioma.

A phase I clinical trial measuring the highest-tolerated dose of bosutinib (a protein inhibitor) when used with Alimta on a select group of metastatic solid tumors, including mesothelioma.