NCI-Designated Cancer Center
Cancer center recognized by the National Cancer Institute as one that meets rigorous standards for multidisciplinary, innovative research focused on developing new and improved approaches to preventing, diagnosing and treating cancer.
Sidney Kimmel Cancer Center at Johns Hopkins Bayview
At Johns Hopkins Bayview in Baltimore, Maryland, the internationally recognized Sidney Kimmel Comprehensive Cancer Center directs innovative mesothelioma research and multidisciplinary care. The medical team includes mesothelioma experts Dr. Julie Brahmer, Dr. Stephen Yang and Dr. Russell Hales.
Get in Touch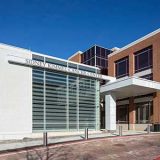 4940 Eastern Ave. Baltimore, MD 21224
Kimmel Cancer Center Is a World Leader
The Johns Hopkins Kimmel Cancer Center is internationally renowned for its advanced cancer research and patient care. Opened in 1973, the Baltimore facility earns more federal research funding than any other medical institution nationwide. Because of its forward progress, the National Cancer Institute recognizes it as a "Center of Excellence." Additionally, the facility has become one of only 40 cancer centers in the country designated a Comprehensive Cancer Center. It is the only Comprehensive Cancer Center in Maryland.
Treating Mesothelioma & Lung Cancer at Johns Hopkins
Because lung cancer is the most common cancer among men and women, a significant amount of Johns Hopkins Kimmel Cancer Center's resources are allocated to its Lung and Esophageal Cancer Program, located at the Johns Hopkins Bayview Medical Center. Although most patients can trace their disease to cigarette smoking, asbestos-related mesothelioma accounts for 5 percent of the program's patients.
Treatment for mesothelioma typically includes a combination of chemotherapy, radiation therapy and/or surgery. At the Kimmel Cancer Center, much of this treatment is carried out by resident mesothelioma experts Julie Brahmer, M.D., Stephen Yang, M.D., and Russell Hales, M.D. These doctors specialize in medical oncology, surgical oncology and radiation oncology, respectively, all with a particular knowledge of mesothelioma.
Together, the mesothelioma team actively conducts research and heads clinical trials in hopes of improving typical prognosis. Brahmer leads a trial to study NGR-hTNF, a new chemical compound made to target tumor cells. She hopes the Phase III study will show improved progression-free survival and longer overall survival in patients.
The program's other ongoing research endeavors include: studying a gene linked to the development of lung cancer; searching for biological markers that may lead to earlier detection of lung cancer and mesothelioma; and researching a genetic disposition to a high risk of lung cancer.
Research Initiatives at Kimmel Cancer Center
Other research at Johns Hopkins has changed the way cancer is understood and treated in general. Johns Hopkins researchers were the first to discover that cancer is a genetic disease and were the first to map a cancer genome. These and similar discoveries have led to strides in cancer screening and prevention. The advances allow doctors to predict cancer risks more accurately in individuals based on genetic predisposition.
Kimmel Cancer Center researchers were also among the first to develop and implement therapeutic cancer vaccines. One of the most successful of these vaccines is designed to help the immune system effectively fight pancreatic cancer. Johns Hopkins Kimmel Cancer Center was similarly ahead of the curve for bone marrow transplants. It was one of the first research centers to treat blood and similar cancers using this advanced treatment technique.
Kimmel Excels in Mind-and-Body Healing
In addition to offering top cancer treatment and making breakthroughs in research, the Sidney Kimmel Comprehensive Cancer Center prides itself on its mind-and-body healing approach. Johns Hopkins doctors believe a patient's mental well-being is just as important as physical health, and they aim to make patients entirely comfortable with the treatment process. Thus, each new patient receives a personalized handbook with information about the health care team, treatment procedures, expected side effects and how to deal with them, coping with new emotions of depression and anxiety and more.
The center offers patient education programs, support groups, counseling services and survivor support to help with each step of the treatment and coping process. To ensure that patients understand treatments, nurses at the Kimmel Cancer Center educate those scheduled to receive chemotherapy, radiation therapy or bone marrow transplants.
Kimmel Cancer Center also has on-site social workers, counselors and a spiritual support program. Its image recovery program offers custom-made wigs, reconstruction products for breast cancer patients, skin care products and other helpful products. The Kimmel Cancer Center even conducts an Art of Healing program, which combines cancer treatment with art, live music and dance performances.
Mesothelioma Clinical Trials at Johns Hopkins
A phase II study involving immunotherapy and the combination of Opdivo (nivolumab) and Yervoy (ipilimumab) for a number of unresectable rare cancers, including pleural mesothelioma.
A phase II study for mesothelioma that compares the pre-surgery use of Opdivo with the Opdivo/Yervoy combination. Researchers hope to measure the safety and efficacy of the two options.
A randomized, phase II study for pleural mesothelioma patients to determine if the use of anetumab ravtansine in combination with Keytruda is more effective than using Keytruda alone.
A multicenter phase III study designed to evaluate the intrapleural delivery of an investigational gene therapy drug in combination with an anti-inflammatory (celecoxib) and a chemotherapy (gemcitabine) drug for mesothelioma.