Comprehensive Cancer Centers of Nevada
The Nevada Comprehensive Cancer Centers are top treatment facilities in Las Vegas and throughout Nevada. Renowned mesothelioma doctor Nicholas Vogelzang, M.D., practices at the cancer centers alongside a radiation oncologist and pathologist. The centers also offer ongoing clinical trials.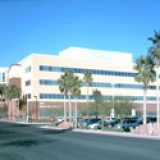 3730 S. Eastern Ave, Las Vegas, NV, 89169
Comprehensive Cancer Centers of Nevada Covers the State
In 2000, the Southwest Cancer Clinic and Nevada Radiation Oncology centers merged to expand the treatment services they provided to cancer patients. In 2002 these two groups took on the name Comprehensive Cancer Centers of Nevada. The union of the hospitals, which had been operating for more than 35 years, has since expanded to include 12 treatment centers across the state. With branches in the different neighborhoods of Las Vegas, Henderson and Boulder City, Nevada-based cancer patients have many choices for local cancer care with the CCCN network.
In 1995, before the merger, the groups' doctors joined US Oncology, one of the largest health care networks in the nation, well-known as an oncology specific organization and now CCCN's parent company. US Oncology's 9,000 cancer professionals and 1,000 doctors lead their fields in treatment and research.
Comprehensive Cancer Centers of Nevada has been affiliated with Jonsson Comprehensive Cancer Center (JCCC) at UCLA for more than 15 years, offering Southern Nevada patients opportunities to participate in cutting-edge clinical trials. In fact, the CCCN partnership with Jonsson was created to augment JCCC's community based research and clinical trials, as Jonsson realized that CCCN physician researchers were among the best in their field.
Mesothelioma patients who choose to visit the Comprehensive Cancer Centers of Nevada may be directed to the Central Valley treatment center in Las Vegas. Renowned mesothelioma doctor Nicholas Vogelzang, M.D., has practiced at this campus since 2009 after directing the National Cancer Institute for five years. Vogelzang is one of the center's attending oncologists, but the staff also includes a radiation oncologist and a licensed pathologist.
Multidisciplinary Approach at Comprehensive Cancer Centers of Nevada
The Comprehensive Cancer Centers of Nevada has nine treatment centers that employ specialists in multiple cancer-related disciplines.
Their departments include:
Diagnostic Imaging
Hematology
Medical Oncology
Pediatric Oncology
Radiation Oncology
Radiosurgery (including Cyber-Knife technology)
With an on-site laboratory and pharmacy, the centers allow patients to obtain multiple types of medical attention in one convenient setting. Financial counseling and educational services such as chemotherapy classes are also offered at these facilities.
Comprehensive Cancer Centers of Nevada and Translational Research
Progressive medicine has been the focus of the CCCN since its founding. To enhance its research efforts, it partners with the Jonsson Comprehensive Cancer Center at UCLA. In 2003, it joined UCLA's Translational Oncology Research International Network to specially focus on the evaluation of new therapeutic drugs and treatment methods. Each year CCCN conducts more than 150 Phase I, Phase II and Phase III clinical trials.
Mesothelioma Clinical Trials at Comprehensive Cancer Centers of Nevada
A multicenter phase II clinical trial for rare tumors, including mesothelioma, to study the effectiveness of the immunotherapy combination of nivolumab (Opdivo) and ipilimumab (Yervoy).
A phase I clinical trial studying the use of atezolizumab, a novel immunotherapy drug, in combination with standard chemotherapy and aggressive surgery. Radiation therapy is optional.