NCI-Designated Cancer Center
Cancer center recognized by the National Cancer Institute as one that meets rigorous standards for multidisciplinary, innovative research focused on developing new and improved approaches to preventing, diagnosing and treating cancer.
Rutgers Cancer Institute of New Jersey
Rutgers Cancer Institute of New Jersey is a renowned treatment facility in New Brunswick that specializes in clinical research for thoracic diseases. Dr. Joseph Aisner is co-director of the Thoracic Oncology Program along with Dr. John E. Langenfeld, an on-staff board-certified thoracic surgeon.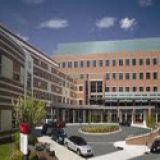 195 Little Albany St., New Brunswick, NJ 08901
Highest Standards of Excellence at Rutgers Cancer Institute
Did you know that New Brunswick, New Jersey, has the nickname of the "Health Care City?" It gets this distinction because it is home to some of Central Jersey's most prestigious medical facilities and pharmaceutical companies. It's also home to a facility world-class in cancer care and treatment: The Cancer Institute of New Jersey (CINJ) at the University of Medicine and Dentistry of New Jersey (UMDNJ) – Robert Wood Johnson Medical School.
CINJ is New Jersey's first and only Comprehensive Cancer Center, meaning the National Cancer Institute designated this facility as such, for maintaining the highest standards of excellence in patient care, education, basic science, clinical research and cancer prevention.
This is certainly reflected in the center's efforts to diagnose and treat thoracic diseases, especially lung cancer, the deadliest cancer type. Lung cancer research and treatment options fall under the umbrella of the hospital's multidisciplinary Thoracic Oncology Program, which focuses on cancers originating in the chest and lung, as well as mesotheliomas, thymomas and upper esophageal cancers.
This program includes thoracic surgeons, radiologists, oncologists (radiation, medical), nurses and social workers. Among these professionals are Joseph Aisner, M.D., director of the Thoracic Oncology Program and John E. Langenfeld, M.D., a board-certified thoracic surgeon.
Specific treatments for mesothelioma and lung cancer may depend on such factors as the specific cancer type, size and location, as well as the patient's overall health. The Thoracic Oncology program's specialists utilize surgery, radiation, chemotherapy or combinations of these therapies. The team also regularly participates in clinical trials to develop new approaches to treating thoracic cancers.
Rutgers Offers the Latest Translational Research
The Cancer Institute of New Jersey's investigators have made great strides in basic, clinical and population research – and especially in translational research, in which laboratory findings are quickly and directly transferred to patients to help improve their health care. These efforts are conducted by more than 160 physicians and scientists, including those representing Rutgers University, Princeton University and the Institute for Advanced Study in Princeton. This program receives more than $99 million in research grants annually.
CINJ physicians and scientists place a great importance on research efforts, whether for thoracic diseases or any other cancer variety. CINJ encourages a collaborative, multidisciplinary approach, including regular consultations for specific patient cases and treatment options – all conducted within the institution's Resource and Learning Center. Thoracic team members regularly participate in research trials. Current clinical trials include "ECOG 1505: Phase III Trial of Adjuvant Chemotherapy +/- Bevacizumab for Stage IB-IIIA NSCLC."
History of Subspecialties at Rutgers Cancer Institute
This health care system was actually established back in 1885, when the New Brunswick City Hospital opened. In 1986 it was renamed the Robert Wood Johnson Medical School. Robert Wood ranks high on the American College of Surgeons' Commission on Cancer survey of the nation's best comprehensive cancer centers. Every year this hospital and its network of 16 community hospitals treat more than 90,000 patient visits, including a wide array of cancer subspecialties.
Mesothelioma Clinical Trials at Rutgers Cancer Institute of New Jersey
A clinical trial identifying actionable gene mutations in rare, hard-to-treat cancers, such as mesothelioma, by using next-generation sequencing technology in the hope of developing new treatment targets. Participants provide blood and tumor tissue samples.