NCI-Designated Cancer Center
Cancer center recognized by the National Cancer Institute as one that meets rigorous standards for multidisciplinary, innovative research focused on developing new and improved approaches to preventing, diagnosing and treating cancer.
VCU Massey Cancer Center is one of only two facilities in Virginia to be recognized as an NCI-designated cancer center. Its multidisciplinary team of specialists treats mesothelioma and other cancers with a personal approach to care.
Get in Touch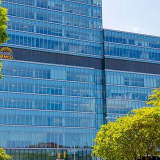 401 College St. Richmond, VA 23298
Treating Mesothelioma at VCU Massey Cancer Center
VCU Massey Cancer Center provides care for mesothelioma patients at every stage of treatment. The center offers the most advanced technology and treatment options that include prevention, detection, treatment and survivorship care.
The facility, located near the campus of Virginia Commonwealth University, has a chest tumor center focused on lung cancer and other chest tumors. It is the only comprehensive diagnostic and treatment center in the Richmond, Virginia, area. Patients are able to meet with several types of specialists in one location during the same visit.
Physicians at VCU Massey Cancer Center create a personalized treatment plan tailored to each individual. Specialists there are committed to treating the whole person and not just the disease.
NCI Designation
VCU Massey Cancer Center is one of only two cancer centers in Virginia and one of 72 across the country that have met the rigorous standards necessary to receive NCI designation as a top cancer center.
The center ranks in the top 4% of cancer centers nationwide, according to the National Cancer Institute. NCI designation makes VCU Massey Cancer Center eligible for federal funding, shared information and resources that are only available to top institutions in the country.
About Massey Cancer Center
First known as the Medical College of Virginia in its beginnings in 1854, MCV merged with the Richmond Professional Institute to create Virginia Commonwealth University in 1968. The VCU Massey Cancer Center was established in 1974 as a nonprofit. That same year Massey received a planning grant from the National Cancer Institute. It was awarded NCI designation in 1975.
In 1983, the cancer center was named VCU Massey Cancer Center in honor of a major gift from William and Evan Massey.
Awards & Recognitions
Awarded Comprehensive Status by National Cancer Institute (2023)
Awarded the Joint Commission's Gold Seal of Approval for Palliative Care in (2013)
Ranked Virginia's Top Hospital by U.S. News & World Report (2012)