History
Originally established in the United States as an American branch of the German chemical conglomerate I.G. Dyes, American I.G. changed its name to General Aniline and Film (GAF) Corporation in 1939. The name change resulted from its acquisition of General Aniline Works and a merger with Agfa-Ansco Corporation, which produced photography supplies such as film.
Because of German interests in the American company, the U.S. government seized it in 1942 after the U.S. entered World War II. GAF was managed by federal government-appointed directors until 1965. Unfortunately for the company, the directors showed little capitalist motivation, and GAF's market position stagnated when compared to that of competitors such as DuPont, Xerox and Kodak.
After going public in 1965, GAF acquired roofing supplies manufacturer Ruberoid Corporation, which later became known as the subsidiary division GAF Materials Corporation. The company officially changed its name to GAF Corporation in 1968. Mismanagement plagued GAF Corporation through the ensuing decades. However, in the mid-1980s, the company cashed in on a housing boom that demanded the construction products in which GAF specialized. GAF Corporation later became known as G-I Holdings and spun off much of its roofing product line into its subsidiary, Building Materials Corporation.
In what was an ill-fated acquisition, GAF's purchase of Ruberoid brought with it a product line that contained considerable quantities of asbestos. The asbestos-containing products ranged from roofing shingles and siding to insulation and numerous other construction-related products. Along with the purchase came ownership of an asbestos mine in Virginia. Once the sale was complete, GAF Corporation became the de facto leader in asbestos supplies in the state. The mine was shut down in 1975, less than a decade after GAF acquired it.
Litigation & Specific Lawsuits
As one of the major companies facing asbestos claims in the mid-1980s, GAF helped found the Asbestos Claims Facility. It was established to evaluate, settle and defend claims related to asbestos exposure. Although the claims facility eventually disintegrated because of conflicts among the member companies and insurers, GAF holdings maintained a commitment to the mission of the organization and stayed with it even after it changed its mission and name to the Center for Claims Resolution.
There were more than 70,000 cases filed against GAF by the year 2000, twice as many as had been filed by 1996. By 2001, GAF settled more than 500,000 claims that cost the company approximately $1.5 billion.
Because of its liability from asbestos claims, G-I Holdings, or GAF Corporation as it is now known, filed for Chapter 11 bankruptcy protection in 2001. As part of its reorganization and a requirement for its emergence from bankruptcy, G-I Holdings funded an asbestos trust to address thousands of claims filed against it.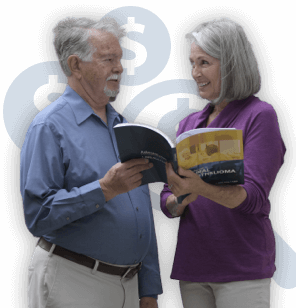 Exposed to Asbestos at GAF?
Gain access to trust funds, grants and other forms of compensation for you or your loved ones.
Get Help Now
Industries & Occupations
A large number of workers in the company's West Virginia mine were exposed to significant levels of asbestos and contracted a range of ailments related to asbestos exposure, including mesothelioma, asbestosis and lung cancer. Asbestos exposure increases the risk of developing these deadly diseases.
In 2017, for example, a Finnish study reported cancer rates for 734 miners who had worked in asbestos mines between 1953 and 1967. Their rate of lung cancer was more than doubled, and their mesothelioma rate was more than 10 times higher than what would normally be expected.
Apart from mine workers, employees in GAF's and Ruberoid's manufacturing facilities as well as workers involved in the installation or removal of the company's asbestos-containing roofing and siding products also may have been exposed to asbestos.
Workers in any number of other industries could have been exposed to asbestos-containing products manufactured by GAF Corporation/Ruberoid, particularly those working for the company directly or in the roofing and siding industries. Construction workers were some of the most at risk of being exposed to these products.
Products
GAF sold painting, insulating, piping, tiling, roofing and flooring products containing asbestos.
Some of the specific products were:
Insulation Cement
Pipe Covering
Aristo Insulation
Asbestos Roofing Shingles
Asbestos Siding
Rollboard
Millboard
Asphalt Tile
Calsilite
Insulation Cement
SS Pipe Covering
HI Pipe Covering
Chrysolite
Asbestos Paper
Anti-frost Pipe Covering
Imperial Insulation
Boiler Jackets
Roofing Felt
Paint Products
Ruberoid Air Cell
Luran
Airtred Sheet Vinyl Flooring
Imperial Sheet Vinyl Flooring
Regency Sheet Vinyl Flooring
Sponge Felt
Supercell
Pipe Covering
T/NA
100 Asbestos Paper and Plastic Film
200 Asbestos Paper and Plastic Film
Vinyl Asbestos Floor Tile
Watocel
Watocell
Woolfelt
6 Cited Article Sources
The sources on all content featured in The Mesothelioma Center at Asbestos.com include medical and scientific studies, peer-reviewed studies and other research documents from reputable organizations.
How did this article help you?
What about this article isn't helpful for you?
Did this article help you?
Thank you for your feedback.
Would you like to speak with a Patient Advocate?
Last Modified March 6, 2019