Filing a Wrongful Death Lawsuit for Mesothelioma
Fact Checked
Our fact-checking process begins with a thorough review of all sources to ensure they are high quality. Then we cross-check the facts with original medical or scientific reports published by those sources, or we validate the facts with reputable news organizations, medical and scientific experts and other health experts. Each page includes all sources for full transparency.
A mesothelioma wrongful death lawsuit is a legal action filed on behalf of someone who died of malignant mesothelioma. These lawsuits are typically product liability claims against one or more companies that exposed the deceased to asbestos.
File a Mesothelioma Claim
Connect with a mesothelioma lawyer to find out if you or a loved one is eligible for compensation for:
Treatment costs
Travel expenses
Lost wages
Wrongful death
Find a mesothelioma lawyer to get started
Page Topics
Why File a Wrongful Death Claim for Mesothelioma?
Many families choose to file an asbestos claim after a loved one passes from mesothelioma to hold companies responsible for asbestos exposure and to seek compensation to cover medical costs and lost wages.
When a person passes from mesothelioma, that person's estate may have the option to file a wrongful death lawsuit against a former employer or company that produced or sold asbestos-containing products to hold them liable.
Filing a mesothelioma wrongful death lawsuit is a time-sensitive process. Each state has its own statute of limitations for wrongful death claims. You will want to consult with an attorney in your area to understand the effect of the statute of limitations on a potential claim.
A qualified mesothelioma attorney can also help you file a wrongful death claim before the time limit expires.
Filing a wrongful death lawsuit can provide a family compensation and financial assistance to help pay medical bills, funeral costs and other expenses. This can help families focus on the moments that matter most.
Wrongful Death Settlements for Mesothelioma
Most mesothelioma lawsuits settle out of court, which provides guaranteed compensation to the loved ones filing a wrongful death claim. The average mesothelioma settlement is between $1 million and $1.4 million. A mesothelioma trial verdict may result in a higher payout than a settlement, but compensation is not guaranteed.
Who Can File a Wrongful Death Lawsuit?
Filing a mesothelioma wrongful death claim is a complex process. When a person dies of an asbestos-related illness, legal decisions usually fall in the hands of the estate representative. This may be a family member such as a spouse or child. It does not have to be a relative.
The estate representative is typically named in the decedent's last will and testament. The eligible representative is commonly called an executor or administrator. If no one is appointed before the person passes, the court will appoint an estate representative.
Examples of Estate Representatives
Spouse or life partner
Children (including adopted children or stepchildren)
Parents
Grandparents
Close friend
Someone financially dependent on the loved one who passed (varies by state)
Families that need help understanding who is eligible to represent their loved one's estate can reach out to a mesothelioma law firm for guidance.
Learn About Your Mesothelioma Compensation Options
Were you diagnosed with mesothelioma?
Next Step
Connect with a Top Mesothelioma Attorney
Only a qualified attorney can determine if you are eligible and help you seek the mesothelioma compensation you deserve.
How Are Awards Handled for Wrongful Death Claims?
Awards from wrongful death lawsuits go to the estate, not the estate representative. This means payments from mesothelioma settlements, trial verdicts or trust funds may be divided among family members, similar to the way assets are split after a loved one passes.
The amount awarded for a wrongful death claim may be less than a personal injury claim. This is because plaintiffs in personal injury lawsuits are presumed to have ongoing medical bills, travel expenses and emotional distress.
However, some wrongful death lawsuits receive awards just as high as personal injury claims, which can really help families in need.
Limitations of a Mesothelioma Wrongful Death Claim
Wrongful death claims often are more challenging to prove than mesothelioma personal injury claims. This is because the person with mesothelioma is no longer alive to serve as the plaintiff.
Challenges of Filing a Wrongful Death Claim
When a loved one is no longer here to tell their story, it presents challenges such as:
Proving work history and asbestos-exposure history
Tracking down witnesses such as former co-workers who can attest to exposure
Compiling viable evidence such as work records, medical records and other documents
Filing before the statute of limitations expires
The patient being unavailable for attestation (affidavit, deposition or trial under oath)
Often, the most important witness in a mesothelioma lawsuit is the person diagnosed with the disease. They can give details about their work history and medical history that even their closest family members may not know.
Surviving family members also may not know they have the ability to file an asbestos claim after the death of a loved one or that there are statute of limitations in place. Postponing legal action after a loved one passes is one of the biggest mistakes family members can make.
Can Personal Injury Claims Become Wrongful Death Claims?
If the plaintiff of a mesothelioma personal injury lawsuit passes before the claim is resolved, the claim often converts into a wrongful death lawsuit.
Claims of the deceased become part of the estate. A loved one usually steps in and becomes the estate representative in these cases.
For example, Sandra Coulbourn amended a personal injury lawsuit to include a wrongful death claim after her husband passed from mesothelioma. U.S. Navy veteran George Coulbourn originally sued Crane Company and others alleging their asbestos products caused his mesothelioma. When he passed in 2013, his wife became the representative of their estate and amended the claim.
In April 2016, an Arizona jury awarded $17 million to the Coulbourn family.
If a loved one dies before a claim is resolved, a qualified mesothelioma attorney can help you decide whether and how to pursue a wrongful death claim. They also can answer any questions you may have and file the claim before the statute of limitations expires.
Common Questions About Wrongful Death Claims
What are my options if I think my loved one passed away from mesothelioma?

If your loved one was diagnosed with mesothelioma, you may be eligible to file a wrongful death claim. It is important to speak with a mesothelioma attorney to learn more about the legal options that might be available to you and your family, and how your claim may be affected by the applicable statute of limitations.

Why is compensation available for mesothelioma patients and loved ones?

Compensation is available to people and families facing mesothelioma because it is an entirely preventable disease. Asbestos product manufacturers knew their products were dangerous and are held liable for the diseases their products cause.

Can a personal injury claim for mesothelioma become a wrongful death claim?

If a mesothelioma plaintiff dies while their personal injury claim is being processed, the estate of the deceased can usually carry it into a wrongful death claim. A mesothelioma lawyer can guide families through the process, and they will handle the details.
---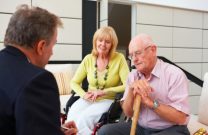 Get the Compensation You Deserve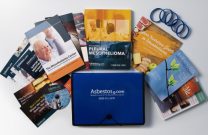 Get Your Free Mesothelioma Legal Guide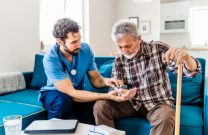 Find a Top Mesothelioma Doctor
---
Tell us what you think
Did this article help you?
How did this article help you?
What about this article isn't helpful for you?
Did this article help you?
Thank you for your feedback. Would you like to speak with a Patient Advocate?
---