One of the biggest questions facing mesothelioma researchers is why some people exposed to asbestos develop the cancer and others do not. While exposure levels and the duration of exposure play significant roles, researchers have found some people are just more susceptible to toxic asbestos fibers.
For example, cases have been reported in people with only a one-time exposure to asbestos. In these cases, researchers believe there are genetic factors that make a person more prone to developing mesothelioma.
Researchers were first inclined to study genetics as one of the many mesothelioma risk factors after the cancer was found more commonly among family members in the 1960s. Since then, many studies have been conducted, and researchers have identified some genes that may play a role in its development.
Learn More About the Causes of Mesothelioma
BAP1 Gene and Mesothelioma
In a 2011 study conducted by researchers at the University of Hawaii Cancer Center and Fox Chase Cancer Center in Philadelphia, Pennsylvania, it was discovered people who carry a mutation in a gene called BAP1 are susceptible to developing mesothelioma.
The gene is located on the short arm of chromosome three. The study evaluated two U.S. families with high incidences of mesothelioma and the mutation of the BAP1 gene. Researchers noticed every family member who had contracted the disease also carried the BAP1 mutation.
Further investigation into 26 individuals with the illness, but without a family history of the cancer, confirmed the connection, with 25 percent of those studied carrying mutations of the BAP1 gene.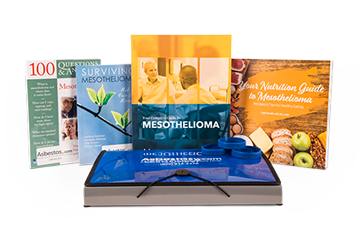 Get a Free Mesothelioma Guide
Free information, books, wristbands and more for patients and caregivers.
Get Yours Today
Using BAP1 to Prevent and Treat Mesothelioma
In a follow-up study in June 2017, researchers revealed the BAP1 mutation can be inherited from birth or can develop later as the cells become malignant.
The study showed the gene regulates a channel that moves calcium inside cells. When the BAP1 gene becomes damaged or mutated, mesothelial cells are likely to become malignant when exposed to asbestos and other environmental carcinogens.
Dr. Michele Carbone, director of thoracic oncology at the UH Cancer Center, called the BAP1 mutation the key to future treatment and prevention of mesothelioma. Studies show the mutation is found in an estimated 70 percent of mesothelioma cases and 90 percent of eye melanomas.
Dr. Michele Carbone

director of thoracic oncology at the University of Hawaii Cancer Center

"You cannot fix something unless you know what is broken. We discovered the first, and so far, only known biological mechanism that makes some people more susceptible. We discovered why and how BAP1 mutations cause cancer."
Research also revealed the BAP1 mutation makes mesothelioma patients more resistant to chemotherapy.
Clinical trials are underway, investigating potential "fixes" for the mutation. Carbone and his research team found malignant mesothelioma cells are more responsive to chemotherapy when BAP1 levels are restored.
Researchers believe by fixing and stabilizing calcium channels, mesothelioma may be prevented in people who have inherited the mutation and help treat mesothelioma patients who carry the mutation.
An ongoing clinical trial at Memorial Sloan Kettering Cancer Center is investigating the prevalence of germline (inherited) and somatic (occurring after conception) BAP1 mutations in patients with mesothelioma and melanoma.
A separate phase II clinical trial from biopharmaceutical company Epizyme Inc. is testing the effectiveness of tazemetostat — a drug aimed to block an enzyme called EZH2 — in patients with refractory malignant mesothelioma with BAP1 loss of function.
BAP1 Gene as a Screening Tool
Testing for inherited gene mutations is a potentially valuable, minimally invasive screening tool for doctors who treat asbestos-related diseases.
If a mutation is not found in someone with asbestosis, for example, it can ease a high-risk individual's fear of increased susceptibility for mesothelioma and other cancers. And if doctors locate a BAP1 mutation, they can provide a patient with steps to minimize the risk of developing mesothelioma and other cancers, including avoiding workplace exposures to asbestos and other toxins.
In addition, finding a BAP1 mutation before cancer has the chance to develop allows doctors to initiate a screening process and create a schedule for routine exams. Early detection of this mutation could identify patients who would benefit from novel therapeutic interventions currently being tested in clinical trials, including using gene therapy to restore the gene's tumor suppressing function.
Testing for BAP1 requires a blood sample. It takes an average of two weeks to get results. A positive result means the gene is mutated and a negative result means the gene is normal.
Many patients with this mutation develop a specific type of skin tumor known as MBAITs — an acronym for melanocytic BAP1-mutated atypical intradermal tumors. These noncancerous growths can serve as a visual marker for patients with this mutation and an indication of risk for developing mesothelioma or other cancers.
MBAITs are pink and tan in color and range from 0.2 to 1.0 cm in diameter. The benign growths resemble moles or beauty marks. They are often flat or slightly elevated. Because of their unique shape, doctors can distinguish MBAITs from other skin tumors such as Spitz nevus and AST (atypical spitzoid tumors) lesions.
How Genetics Impact Prognosis
Research is beginning to show the value of genetic testing to improve prognostic predictions. Currently, it is difficult for doctors to predict which patients will live longer than the average. In the future, genetic testing may provide more accurate estimations of how long someone may survive with mesothelioma.
A 2014 study led by Carbone found mesothelioma patients with the BAP1 mutation lived at least four years longer than patients without the mutation. The five-year survival rate was 47 percent for those with the mutation, compared to the typical survival rate of just 6.7 percent.
It seems BAP1 increases the risk of developing mesothelioma, but also improves chances of long-term survival. In the future, this could mean people with the BAP1 gene could receive more aggressive treatment because research shows they respond better than the average patient.
In 2015, a study on peritoneal mesothelioma found two genes that contributed to shorter survival. The genes — CDKN2A and NF2 — seem to make peritoneal mesothelioma more aggressive and less responsive to surgery with heated chemotherapy.
More research is necessary, but in the future, this finding may help identify which patients may not benefit from aggressive cancer treatment, helping people to make more informed decisions about treatment.
A 2016 study from Brigham and Women's Hospital in Boston found different genetic mutations based upon mesothelioma subtypes and gender, including higher levels of BAP1 among nonepithelioid tumors. The study also showed men with nonepithelioid subtypes more frequently expressed CDKN2A gene mutations.
Get Connected with a Top Doctor
We can help you or a loved one connect with the nation's top mesothelioma doctors and cancer centers.
Get Started Today
Other Genetic Biomarkers for Early Detection
In addition to BAP1, ongoing studies continue to explore the link between gene mutations and cancer, giving researchers hope to discover more about what causes tumors to grow, ways to prevent mutations, and what drugs and treatments can prevent the spread of cancer.
Dr. David Sugarbaker, director of the Lung Institute at Baylor College of Medicine and America's foremost authority on pleural mesothelioma, co-authored a study published in the March 2016 edition of Nature Genetics identifying previously unknown genetic alternations within mesothelioma and 10 mutated genes of significance.
Gaining a better understanding of these mutations allows researchers to further personalize the treatment approach. Many of the mutations have been found in other cancers, and drugs that target those mutations already exist.
The study demonstrated the importance of genomic analysis, where genetic alterations that underlie the cancer are identified in each patient.
"We can start, in a real comprehensive way, being able to identify subgroups of patients who will respond to certain therapies," Sugarbaker said.
HMGB1 Isoforms
Dr. Haining Yang at the University of Hawaii Cancer Center is leading research into how variants of a blood protein called High-Mobility Group Box 1 (HMGB1) can be a key for early detection of mesothelioma.
In a June 2016 study, Yang and her team discovered differences in the behaviors of HMGB1 proteins in malignant mesothelioma cells compared to normal mesothelial cells. Researchers found mesothelioma patients have a hyperacetylated isoform of HMGB1 in their blood, while people with a history of asbestos exposure, not yet diagnosed with cancer, have high amounts of non-acetylated HMGB1.
Although more research with bigger cohorts is needed, the finding is promising for early detection of mesothelioma. Detecting levels of HMGB1 and its isoforms in blood may help recognize populations at high risk.
"We can monitor them and try to detect mesothelioma at an early stage when this cancer is more susceptible to therapy," Yang said. "That is what we hope to do in the future."
16 Cited Article Sources
National Institutes of Health. (2011, August 28). NIH-funded researchers discover genetic link to mesothelioma. Retrieved from: https://www.nih.gov/news-events/news-releases/nih-funded-researchers-discover-genetic-link-mesothelioma
Genetics Home Reference. (2017, September 26). BAP1. Retrieved from: https://ghr.nlm.nih.gov/gene/BAP1
Carbone, M. et al. (2016, July 18). Positive nuclear BAP1 immunostaining helps differentiate non-small cell lung carcinomas from malignant mesothelioma. Retrieved from: http://www.impactjournals.com/oncotarget/index.php?journal=oncotarget&page=article&op=view&path%5B%5D=10653&path%5B%5D=33732
Ohkawa, N. (2017, June 14). Why some are more susceptible to environmental carcinogens. Retrieved from: http://www.hawaii.edu/news/2017/06/14/environmental-carcinogens/
Bononi, A. et al. (2017, June 14). BAP1 regulates IP3R3-mediated Ca2+ flux to mitochondria suppressing cell transformation. Retrieved from: http://www.nature.com/nature/journal/vaop/ncurrent/full/nature22798.html
De Rienzo, A. et al. (2015, November 10). Gender-Specific Molecular and Clinical Features Underlie Malignant Pleural Mesothelioma. Cancer Research. Retrieved from: http://cancerres.aacrjournals.org/content/early/2016/01/07/0008-5472.CAN-15-0751
University of Hawaii Cancer Center. (2016, June 15). HMGB1 and Its Hyperacetylated Isoform are Sensitive and Specific Serum Biomarkers to Detect Asbestos Exposure and to Identify Mesothelioma Patients. Retrieved from: http://clincancerres.aacrjournals.org/content/22/12/3087
Baylor College of Medicine News. (2016, February 29). New research into the genetic basis of mesothelioma opens doors for better treatment. Retrieved from: https://www.bcm.edu/news/lung/research-genetic-basis-mesothelioma-treatment
U.S. National Library of Medicine. (2017, August 9). Study of the EZH2Inhibitor Tazemetostat in Malignant Mesothelioma. Retrieved from: https://www.clinicaltrials.gov/ct2/show/NCT02860286?term=bap1+mesothelioma&rank=1
Bueno, R. et al. (2016, February 29). Comprehensive genomic analysis of malignant pleural mesothelioma identifies recurrent mutations, gene fusions and splicing alterations. Retrieved from: http://www.nature.com/ng/journal/v48/n4/full/ng.3520.html
Paddock, C. (2016, March 1) Gene study uncovers 'spectrum of mutations' in mesothelioma. Retrieved from: http://www.medicalnewstoday.com/articles/307217.php
Carcinogenesis. (2014, September 15). Mesothelioma Patients with Germline BAP1 Mutations Have Seven-Fold Improved Long-term Survival. Retrieved from: https://academic.oup.com/carcin/article/36/1/76/377221/Mesothelioma-patients-with-germline-BAP1-mutations
Invitae. (n.d.). Invitae BAP1 Hereditary Cancer Predisposition Syndrome Test. Retrieved from: https://www.invitae.com/en/physician/tests/01728/?cat=CAT000015#info-panel-assay_information
Baldi, A. (2008). Mesothelioma from Bench Side to Clinic. New York: Nova Science Publishers, Inc.
University of Hawaii Cancer Center. (2011, August 29). NIH-Funded Researchers Discover Genetic Link to Mesothelioma. Retrieved from: http://www.hawaii.edu/news/article.php?aId=4626
University of Hawaii Cancer Center. (2012, September 5). Atypical Skin Mole May Provide Means to Test for New Cancer Syndrome. Science Daily. Retrieved from: http://www.sciencedaily.com/releases/2012/09/120906112610.htm
How did this article help you?
What about this article isn't helpful for you?
Did this article help you?
Thank you for your feedback.
Would you like to speak with a Patient Advocate?
Last Modified September 25, 2018