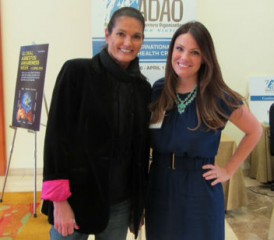 Tough guy movie star
Steve McQueen
died more than 30 years ago — another victim of mesothelioma — but a part of him is back and looking for a fight. The asbestos industry should be a little nervous. "If he were alive today, he'd be kicking some serious ass over this. Unfortunately, he didn't live to tell about it," Barbara Minty McQueen, Steve McQueen's widow, told Asbestos.com. "I guess that's where I come in now. So, run you [asbestos] people, run. My bark is bad, and I hope I'm rabid." Minty McQueen, a feisty former model and photographer, was a recent keynote speaker at the
International Asbestos Awareness Conference
in Los Angeles, an event produced by Asbestos Disease Awareness Organization. She accepted the "Keep Me in Your Heart" Memorial Tribute Award in her former husband's memory. The award was given by ADAO, whose founder, Linda Reinstein, has made it her mission to rid the world of asbestos.
McQueen Begins Her Asbestos Quest
Minty McQueen spent the weekend in LA talking with mesothelioma patients, their families and medical and environmental experts, along with advocates and activists. Mesothelioma cancer is one of many serious health problems caused by an exposure to asbestos, which is heavily regulated but is not yet banned in the United States.
McQueen's exposure to asbestos
was traced to his time in the military before his acting career began. Minty McQueen was 27 when Steve McQueen died at age 50, less than a year after his diagnosis hit him at the height of his career. He starred in popular films like "The Magnificent Seven," "The Towering Inferno," "The Great Escape" and "Papillon." In the mid-70s McQueen was the world's highest-paid movie star, rising to iconic stature as an anti-hero — a combative but charismatic American rebel, both on and off the screen. He was known as "The King of Cool," a defiant, contradictory star who never shied away from a fight. Now his widow is joining one. "It's nice that he's remembered for doing all these movies, as this young, virile motorcycle-riding dude. But it doesn't matter if you're a movie star or a cab driver in New York. If you get mesothelioma, you die the same way. And everyone dies," Minty McQueen said. "And it's horrible."
A Bond with Linda Reinstein
Minty McQueen has lived primarily in Idaho since her husband's death. Only recently has she become involved in the war against asbestos, joining a growing number of activists around the world. "For a lot of years, I just had my head in the sand," she said. "I was a kid, literally, a child, when he died. There was a lot of responsibility but very little help. Diseases like this, people just stepped away [near the end], even family and friends, and I just dealt with it." Minty McQueen recently forged a bond with Reinstein, the loudest voice among the anti-asbestos groups in the United States. The ADAO conference opened her eyes even more. Minty McQueen pledged her support to the organization. "The growing awareness in this country just made me more aware that I could make a difference in all this. I can make a difference through Steve," she said. "He would want me to do this. I finally learned here, it's okay to be mad, to want to shake some heads and bang them together if that's what it takes." The involvement of McQueen's wife — with his name recognition and still-loyal following — should be a boast to the cause of convincing America finally to end all asbestos imports in the name of public safety. "It's archaic, primitive, ridiculous in this country that we have something known to kill people, to make them die such a miserable death, and it's still allowed," she said. "Obviously, it's still around because some people are making money off it. We need to change that."
McQueen Book Gets an Update
As a start, Minty McQueen recently revised "Steve McQueen: The Last Mile" – the popular book she wrote in 2005. It details the almost four years she spent with McQueen before his death. The revision will add a chapter that includes her thoughts on asbestos poisoning and the cancer it causes. "A lot has changed since that first book. I've changed," she said. "It's just my little part to help raise awareness. I want to do more." It may have been more than 30 years ago — and it may seem like another life — but she still remembers vividly the day she knew McQueen was seriously ill, well before he was
diagnosed with mesothelioma
. "You know, sometimes you just have an innate feeling about someone you're close to. We had thought he just had a cough he couldn't shake, the flu, maybe desert fever or something. But he took off on his bike one day without saying anything. It was weird. "I knew when I found him, where I found him, sitting up on a hill, with an Old Milwaukee [beer] in his hand, staring out. I thought, 'Oh, no. Something is really, really wrong.' He knew. My stomach just turned. I knew when I looked at him then. He didn't look Steve McQueenish, anymore." That memory, which still makes her sad, also now makes her mad, at the asbestos industry that has continued to spread the product that killed her legendary husband. "Steve would want me out there doing what I can to help other people," she said. "That's what I intend to do."