Survivors, Doctors Mark Symposium with Passion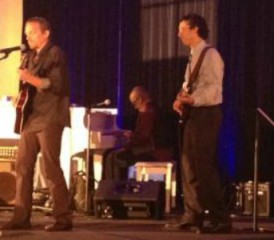 WASHINGTON, D.C. — From the opening introduction by executive director Kathy Wiedemer until the closing remarks two day later by associate chaplain George Winchester, there was one unmistakable emotion that carried through the Mesothelioma Applied Research Foundation Symposium last week.
Passion.
From the surgeons to the scientists, from the survivors to the specialized staff, all spoke with the same unrelenting resolve. Whether they were meeting with Congressional staffers to lobby for more research funding, or debating various treatment options, it was with a very similar urgency.
There is unity in this fight against mesothelioma, inspiration in the enthusiasm that came through time and again at the ninth-annual gathering.
"It's a rare cancer, but I think that's what really bonds people, brings them together each year" said Mike Hackler, a Louisiana native who lost his father to mesothelioma in 2008. "It just makes me want to work harder to help this cause. It makes me keep coming back."
Cure Meso is more than just the slogan on t-shirts given to each person who walked through the door. It's why the attendees came from as far away as Slovenia, looking for both a better understanding of this disease and hope for the future.
"There really is a sense of community here, a sense of caring,' said Jessica Ruble of South Florida, who has raised money for mesothelioma research since the disease took her father five years ago. "People who have been touched by this disease, in one way or another, really understand how important this is."
Dialing in on Asbestos Exposure
It's not just the cancer without a cure that makes the gathering so passionate. It's the cause of the cancer, almost exclusively from asbestos exposure, that creates the fire from within. It's the one cancer that could be entirely preventable, if not for the greed and ignorance that has allowed continued use of asbestos in today's world.
It's why patience often is short. And while part of the symposium covered the continued use of asbestos worldwide, and what should be done to prevent it, a larger part dealt with the future of mesothelioma treatment, and the quest to eventually finding a cure. It can take up to 50 years after exposure to asbestos before mesothelioma symptoms appear.
Although patients now are beginning to live longer, extending the typical mesothelioma prognosis beyond the original six- to 12-month period — survivors are living five to 10 years — the progress has been frustratingly slow.
There still is only one approved treatment option, and that's a combination of surgery, chemotherapy and radiation. And it fails more often than not.
"We have to start thinking outside the box more," said surgeon Raja Flores of Mount Sinai Medical Center. "We've got to come up with something that no one has put together yet. When man first landed on the moon, we didn't know it eventually would put New York Telephone out of business. But the next thing you know, we've got cellphones and satellite. It (the cure) is out there somewhere."
How to Get More Grant Money?
Surgeon Davis Sugarbaker, from Brigham and Women's Hospital in Boston, was honored with MARF's Pioneer Award for his ground breaking research. Survivor Bonnie Anderson of New Jersey was given the Hope Builder Award for her tireless advocacy efforts. Janice Malkotsis and Erica Iacono of New York were given Volunteer of the Year awards for their grass-roots fundraising.
Considerable time was spent discussing the Congressionally Directed Medical Research Program, which has contributed almost $8 million for research in the previous five years combined, and the collaborative SPORE Grant proposal, which could be worth more than $5 million in upcoming funds.
There also was the reality that National Cancer Institute grant money has been reduced, and that 92 percent of grant proposals nationally are rejected, and that MARF last year was able to fund only five of the 46 grant proposals it received.
"There is so much work to do," said John Anderson, whose wife Bonnie is a 10-year survivor. "And we won't rest until it's done. We don't take no for an answer when we go looking for research money because everyone here is looking for the same thing. We all just want a cure. It's why everyone is so passionate about what we do."
1 Cited Article Sources