Cameron Leads International Mesothelioma Symposium on Lung-Sparing Therapies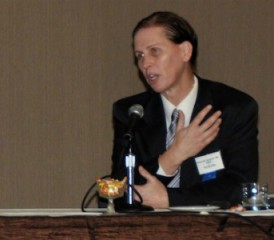 Renowned thoracic surgeon Robert Cameron, M.D., has spent much of the last two decades convincing the medical community that leaving both lungs intact is the best way to treat patients with pleural mesothelioma.
Slowly, but surely, he has prevailed.
Cameron, chief of thoracic surgery at the West Los Angeles VA Medical Center and director of the UCLA Mesothelioma Program, has converted many with his efforts, turning the pleurectomy/decortication (P/D) surgery he has pioneered into the standard of surgical care.
Cameron will be at his persuasive best on June 7 as the featured speaker at the 4th International Symposium on Lung-Sparing Therapies for Malignant Pleural Mesothelioma. UCLA and the Pacific Meso Center will co-host the event in Santa Monica, California.
The day-long symposium is geared toward pulmonary physicians, oncologists and other medical professionals, but it also is open to mesothelioma patients, families and advocates looking for the most up-to-date treatment advances.
Latest Research and Advancements
There will be sessions on the latest mesothelioma research involving mesenchymal stem cells, the role of genes and molecular mechanisms, intraoperative betadine lavage therapy, postoperative tomotherapy and adjuvant chemotherapy.
Sessions include the Role of Adjuvant Pain Therapy, Intrathecal Drug Delivery and Spinal Cord Stimulators, along with Pleural Mesothelioma: Implications for Surgical Technique and Adjuvant Therapies.
There is a session on Mesothelioma Among Veterans: The Benefits and Challenges Experienced at the World's Largest Healthcare System.
Faculty at the symposium will include mesothelioma and lung specialists Jan P. van Meerbeeck, M.D., from Antwerp University Hospital in Belgium; Joachim Aerts, M.D., of Erasmus MC Cancer Institute in the Netherlands; Percy Lee, M.D., chief of Thoracic Radiation Oncology at UCLA; Richard Lemen, Ph.D., retired U.S. Assistant Surgeon General; and Olga Olevsky, M.D., of the UCLA Medical Center.
The pleurectomy/decortication and lung-sparing surgery contrasts with the more radical extrapleural pneumonectomy (EPP), which involves removing an entire lung, the lining around it and major parts of the diaphragm, hopefully removing as much cancer as possible. However, use of the EPP has declined as more surgeons have moved toward the more precise, but less debilitating P/D.
"In general most surgeons now will not even argue anymore against this [P/D] being the better option," Cameron told Asbestos.com. "Patients just do better and live longer when the focus is on lung-sparing therapies. That's what we're trying to accomplish here."
Treating Mesothelioma like Chronic Disease
Cameron has been a staunch advocate for years of learning how to best treat mesothelioma like a chronic disease such as diabetes or hypertension, moving away from the more toxic therapies of the past.
"We went through a period where everyone thought, 'the more, the better.' They wanted bigger operations, more chemotherapy, more radiation, but all those things didn't benefit the patients," Cameron said. "Oncologists now are realizing all tumors are not the same. Mesothelioma is a diffuse disease that presents unique problems."
The unique problems of this disease are a big reason Cameron helped create the Pacific Meso Center, which has been a national leader in combining research laboratories with clinicians dedicated to developing more effective therapies.
He also was the driving force behind the Elmo Zumwalt Mesothelioma Center of Excellence at the West Los Angeles VA Medical Center. It is the only VA program of its kind in the United States, yet veterans often are not told about it.
Educating Medical Professionals
One of the biggest hurdles Cameron has faced in helping patients in both the VA system and at the Pacific Meso Center, and a major reason for the symposium, is a lack of understanding of mesothelioma within the medical community.
"One of the things we try to do here is educate people on this disease, to let them know there are options out there and that people can live for quite some time if treated correctly," he said. "A busy oncologist who is seeing a new patient every 10 minutes doesn't always have the knowledge of where to send his [mesothelioma] patient. It's sad, but most of our patients who find us are not referred to us. They just find us on their own."
The symposium brochure lists course objectives for those attending. They include understanding:
The need for chronic treatment of pleural mesothelioma
The role of each modality in multidisciplinary therapies
The diffuse nature of pleural mesothelioma and the associated problems
The pros and cons of lung-sparing surgery
The role of pain management/palliative care
The evaluation and staging process of this tumor
"It's about helping people change the way they approach this disease," he said. "And that's not always easy to do. We've made progress, but we're not there yet. We are getting closer."
---
Tim Povtak is an award-winning writer with more than 30 years of reporting national and international news. His specialty is interviewing top mesothelioma specialists and researchers, reporting the latest news at mesothelioma cancer centers and talking with survivors and caregivers.