Research & Clinical Trials
Lung-Sparing P/D Surgery Best for Mesothelioma Patients
Fact Checked
Our fact-checking process begins with a thorough review of all sources to ensure they are high quality. Then we cross-check the facts with original medical or scientific reports published by those sources, or we validate the facts with reputable news organizations, medical and scientific experts and other health experts. Each page includes all sources for full transparency.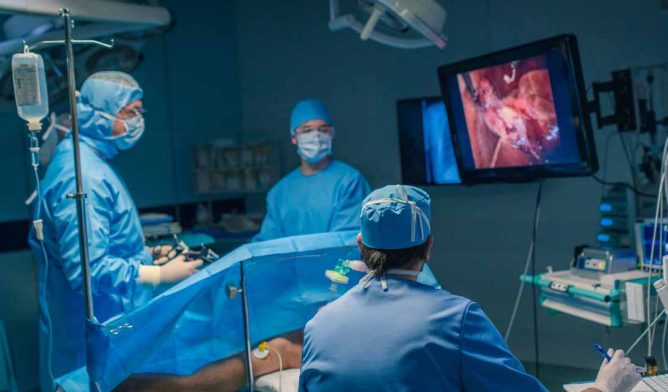 The latest studies have shown, and most thoracic oncologists agree, that lung-sparing pleurectomy/decortication is a better surgical option for mesothelioma patients today than the more aggressive extrapleural pneumonectomy.
Less is better. Quality of life becomes better, too.
"In most instances, the pleurectomy/decortication is the operation of choice now," thoracic surgeon Dr. Andrea Wolf at Mount Sinai Hospital in New York City, told Asbestos.com. "We're finding that patients just do better in terms of survival and in terms of quality of life."
Wolf recently co-authored "The impact of surgical approach on quality of life for pleural malignant mesothelioma." The article was published in a special issue of Annals of Translational Medicine that was dedicated to the asbestos-related disease.
The article was an analysis of previously published research covering 523 surgical patients and included two studies that specifically compared post-surgery quality of life.
Pleurectomy/decortication (P/D) patients fared better than extrapleural pneumonectomy (EPP) patients in lung-function parameters, physical and social functioning and continued symptoms.
"Patients should seriously consider the quality of life issue when weighing treatment options," Wolf said. "To some extent, people look at it as separate from treatment, but in fact, it's an important component in how patients do."
Many Patients Are Ineligible for Surgery
Less than 25 percent of those diagnosed with pleural mesothelioma are considered candidates for the two major surgical options. The disease, too often, is not diagnosed until its latter stages when surgery is not viable.
Mesothelioma, a rare and aggressive cancer caused by exposure to asbestos, typically starts in the thin lining around the lungs and then metastasizes throughout the thoracic cavity.
The goal of the EPP surgery is complete tumor resection, and it involves removing the pleural lining, diseased lung, major parts of the diaphragm and pericardium.
P/D surgery, which is more detailed and precise but less life changing, removes the lining around the lung and all visible tumor cells throughout the thoracic cavity. Surgery often lasts at least nine hours.
According to Wolf's article, the reduction in pulmonary function was more pronounced, and there was greater deterioration in quality of life in the EPP patients at six- and 12-month measurements.
Most studies show median overall survival, which ranges from 15-20 months, is similar despite surgical choice. One study showed a 32 percent two-year survival rate and a 14 percent five-year survival.
The EPP also had a higher rate of morbidity and mortality than P/D in most of the research that was reviewed.
P/D Encourages Multidisciplinary Treatment
Research also found the less debilitating P/D surgery allowed a higher percentage of patients to complete multidisciplinary treatment, which often includes chemotherapy and radiation.
"In rare circumstances, EPP still will be what is needed and can serve a patient well," Wolf said. "But in most instances, the P/D will be the operation of choice."
While some surgeons, like Wolf, believe there still is a place for the EPP, others believe there is no reason for it to continue.
"I don't think there is any benefit to [EPP] anymore," thoracic surgeon Dr. Hasan Batirel of Marmara University Hospital in Istanbul, Turkey, told Asbestos.com. "We did many of them but shifted to the (P/D) in 2012 and saw no real survival difference."
Batirel was lead author of "Extrapleural pneumonectomy vs. pleurectomy decortication," another article published in the Annals of Translational Medicine special edition.
He believes the length of survival for a mesothelioma patient is not based on the type of surgery used but more on the histology of the disease, extrapleural lymph node metastasis and ability of the patient to complete the multidisciplinary treatment regimen.
His surgical team operated on 130 patients between 2003 and 2014. It found a median survival rate of 15.6 months for the EPP group and 19.6 months for the P/D group. There also was a much lower morbidity and mortality rate among the P/D patients.
Batirel said 80-90 percent of the P/D patients were able to complete the multidisciplinary treatment, compared to just 50 percent of the patients who had EPP surgery. He also found disease recurrence eventually in both groups of patients.
"With the P/D, you can preserve the lung function," he said. "Patients have such a difficult time when the lung is removed. Preserving pulmonary function is important. P/D is the logical surgical choice."
Connect with a Mesothelioma Doctor
Find a Top Specialist Near You