Factory Workers
Fact Checked
Our fact-checking process begins with a thorough review of all sources to ensure they are high quality. Then we cross-check the facts with original medical or scientific reports published by those sources, or we validate the facts with reputable news organizations, medical and scientific experts and other health experts. Each page includes all sources for full transparency.
Scientifically Reviewed
An occupational scientist or another expert who specializes in occupational hazards reviewed the content on this page to ensure it meets current scientific standards and accuracy.
This Page was Scientifically Reviewed By
Factory workers are at higher risk of developing mesothelioma due to the asbestos-containing products they were exposed to. Most of the asbestos materials factory workers came into contact with were either insulation products or small parts on production machines. Exposure to asbestos is the main cause of mesothelioma.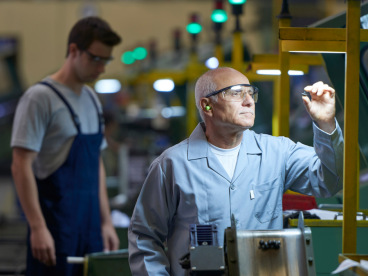 Page Topics
Quick Facts
Production workers often repeat the same set of tasks for every product that comes down the assembly line. These tasks may be as simple as gluing two pieces together or as complex as installing an electrical component.
The repetitive nature of the process allows workers to become highly efficient at their assignment. As a result, they often have ambitious production quotas. Factory workers must meet or exceed these quotas while still adhering to detailed safety and quality guidelines.
The industrial revolution changed the basic principles of factory work. Employees now have access to much more technology – and far better working conditions. Factories were once dim, cramped spaces with poor ventilation. And while those conditions have improved in recent years, one hazard still remains: the threat of asbestos exposure. Many production machines contain asbestos insulation, and workers face exposure hazards when the products become friable.
In 2015, a British Medical Journal study reported asbestos-related deaths in Belgian workers from 2001-2009. The data showed that metal product factory workers are 87 percent more likely to die of mesothelioma than the general population.
Factory Worker Products and Locations
Typical factory workers handled several different
asbestos materials throughout their day. Most of the asbestos materials were either insulation products or small parts on production machines.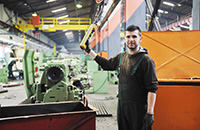 For instance, lathes, which rotate a product on its axis so that workers can reach all of its sides, contained asbestos insulation around their friction components. As daily use wore down the insulation, the loose asbestos became a potential exposure hazard.
Grinding machines, which workers used to polish product surfaces, also contained asbestos. The grinding wheels were often made of an asbestos compound, such as Bakelite resin. Many of these machines also featured an asbestos-reinforced core.
Conveying systems contained asbestos as well. Transportation belts and belt drives (including Raybestos and BF Goodrich conveyor belts) were often reinforced with the fibers. Over time, the belts would fray at the edges, which allowed the asbestos to enter the air. Like many other production machines, the conveying systems also contained asbestos insulation around their friction-generating parts.
Asbestos-containing construction materials further contaminated factories. Many production sites were built with asbestos tiles, bricks and drywall. At one abandoned glass factory, inspectors unearthed asbestos-contaminated metals (including Galbestos) and crumbled concrete composites. These products were used in many other factories across the nation, and may still remain in place today.
Depending on what they manufactured, factories may have also contained asbestos materials for workers to use during production. For instance, factory workers may have used asbestos adhesives to secure parts in place, or asbestos tape to close the packaging on a finished product. These products varied widely from factory to factory.
Asbestos Factories
Factories that made asbestos products contained many additional asbestos products. The most common – and most potent – was raw asbestos. Workers received bulk shipments and worked the fibers into sellable materials, such as ropes and putties. Workers would then distribute these items to other production companies or private consumers.
Occupational Exposure for Factory Workers
Regardless of their position, most factory workers faced some form of occupational exposure.
For one study, former factory workers with mesothelioma recalled the various ways that they were exposed to asbestos.
One office worker did not directly handle any asbestos materials, but often walked through the manufacturing areas to check on operations.
Two other clerical workers did not work with asbestos materials either, but became ill from the high concentrations of asbestos in their offices.
A foreman spent 40 years handling repairs and general maintenance at the plant.
A machinist spent a single year at the plant tending to the production equipment.
A work leader oversaw a team of employees in the hot press department.
A machinery operator spent two decades overseeing the use of the factory's heavy production equipment.
While most factory workers faced exposure hazards, machine maintenance crews had some of the highest risks. These workers repaired products that were already disintegrating, placing them in direct contact with friable asbestos. For instance, one maintenance manual instructed workers to repair burn holes in conveyor belts with asbestos ply inserts. Other maintenance workers replaced asbestos bearings on the high-friction production machinery.
Machinery operators also faced these risks. They came into contact with asbestos as soon as the machines released it into the air. Drill press operators were especially prone to exposure; when they created holes in asbestos-contaminated products, the fibers quickly flew up into the air.
When factory workers used grinding machines, small fragments often broke off when the wheel made contact with another surface. This allowed the asbestos in the wheel to become friable. Similarly, when workers drilled through or cut asbestos components, the loose fibers entered their breathing space. Workers who were stationed near transportation belts also faced high occupational exposure risks. In one mesothelioma lawsuit, an expert recalled seeing "small amounts of dust … arising from the asbestos conveyor belts on a production line."
One of the most large-scale occupational exposures occurred near the J. W. Roberts, Ltd. Factory in Leeds, England. The factory workers manufactured limpet asbestos until the factory closed in 1959. However, employees were not the only ones to come into contact with the fibers. The factory's ventilation systems deposited thick layers of asbestos dust into the neighborhood, where it coated sidewalks, homes and yards. Since then, health professionals have seen abnormally high levels of illness in former workers as well as community residents.
Scientific Studies for Factory Workers
One notable study followed the workers at a Raybestos Manhattan factory in Connecticut. These workers manufactured several different friction products with chrysotile and anthophyllite asbestos. Researchers noted seven mesothelioma cases, all of which were traced to occupational exposures. This study de-bunked a previous study's claim that there were no asbestos-related deaths among the factory's workers.
Another study found that workers in an auto part factory had significantly higher lung cancer and laryngeal cancer mortality rates than the general population. These workers often used chrysotile asbestos and asbestos-contaminated abrasives to create drum brakes and linings. Most of the workers were responsible for drilling, grinding and riveting the products. A 1975 sampling survey found up to 2 asbestos fibers per milliliter of air in the factory. However, the hygienists added that the concentration may have been much higher before that time.
One other research project found an increased incidence of mesothelioma and bronchial carcinoma cases in workers at a wartime gas mask factory. These workers handled crocidolite asbestos on a regular basis, but often for a period of less than five months. The researchers did not note an excess of any other malignancies.
Mesothelioma Lawsuits Involving Factory Workers
In 2008, a former assembly line worker and product packager filed an asbestos lawsuit with a Wisconsin circuit court. She had been living with mesothelioma for six years, but the diagnosis ended her 28-year career. The woman, Linda Lyon, requested $100,000 to cover medical expenses and lost wages. However, the courts have not made the final verdict public.
Another mesothelioma patient filed an asbestos lawsuit to help balance out the costs of his treatment. The former factory worker, James Crawford, took his case to court after paying several thousand dollars for a surgery. He listed 32 different product manufacturers who contributed to his exposure, and an Illinois jury awarded him a total verdict of $16 million.
In 2010, a former factory worker earned New Jersey's largest asbestos verdict. The man, Mark Buttitta, was exposed to asbestos as a parts picker at General Motors factory distribution warehouse. (He also experienced secondhand exposure from his father's clothes.) These exposures led him to develop mesothelioma, which he passed away from within a year. A few years after his death, the New Jersey jury awarded his family $30.3 million.
Another unique case involved Jayne Menssen, a secretary for a Bloomington, Illinois rubber factory. She worked for the factory throughout the 1960s, when asbestos products were widely used in production, but never handled the products herself. However, the factory was so heavily contaminated with asbestos from Pneumo Abex and Honeywell International materials that Menssen still developed mesothelioma. After a four week trial, Menssen's jury decided on a $17.8 million verdict.
Manufacturers Who Made Products Used by Factory Workers
Factory workers may have used asbestos products from dozens of different manufacturers. The most notable include:
Raybestos
BF Goodrich
Turner & Newall
Johns Manville
Honeywell
Pneumo Abex
---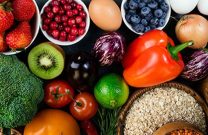 Get Free Recipes for Mesothelioma Patients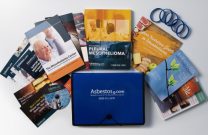 Read the Top Mesothelioma Guide for Free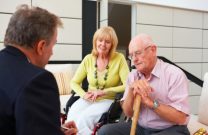 Get the Compensation You Deserve
---
Tell us what you think
Did this article help you?
How did this article help you?
What about this article isn't helpful for you?
Did this article help you?
Thank you for your feedback. Would you like to speak with a Patient Advocate?
---