Asbestos was long considered an ideal material for almost all types of insulation, until its cancer-causing effects were revealed to the public. The naturally occurring mineral has a unique fibrous nature that allows it to take on a cotton-like consistency.
Even in its soft form, asbestos is extremely resistant to heat, and the air between the fluffy mineral fibers slows down the transfer of heat through the material. The fibrous nature of asbestos also allows manufacturers to mix it into other materials, such as paper, cement and spray-on coatings, and even weave it into fabric.
In addition to being fireproof, asbestos is also resistant to electricity and chemical corrosion, and it can strengthen the durability of whatever it is mixed into.
To top it off, asbestos could be cheaply and easily sourced from North American mines.
All these factors meant that less than 50 years ago, asbestos was so ubiquitous in construction it was challenging to name a type of commercial insulation without asbestos in it. If insulation was needed, asbestos was used. For much of the 20th century, insulators were often referred to as "asbestos workers" because they handled the material so frequently.
Unfortunately for these workers, asbestos is also highly toxic — a fact that has been documented since antiquity but that the leaders of the asbestos industry chose to ignore right up until the 1970s. While asbestos was practically synonymous with insulation, now its closest association is with mesothelioma, an aggressive form of cancer that kills thousands of Americans every year.
Exposed to an Asbestos-Containing Product?
Our Patient Advocates can answer your questions about asbestos exposure and help you find a top attorney.
History of Asbestos Insulation
Asbestos has been used since ancient times to make fireproof cloth for the burial shrouds of kings and the tablecloths of wealthy landholders, but the modern asbestos industry did not arise until the machinery of the Industrial Revolution created a great need for insulation materials.
In 1828, asbestos was used in a steam-engine lining. It was the first asbestos product patented in the U.S. As boilers and high-temperature pipes became increasingly common fixtures in businesses and vehicles during the 19th century, asbestos insulation products gradually proved their effectiveness, finally going into commercial production on a mass scale by 1874.
One of the titans of the asbestos insulation industry was created in 1901 when the H.W. Johns Manufacturing Company, famed for its asbestos-containing roof shingles, merged with the Manville Covering Company, which specialized in pipe insulation and operated its own asbestos mine. The resulting H.W. Johns Manville Company went on to become the largest manufacturer of asbestos products in the U.S. and reincorporated in 1926 as Johns Manville Corporation.
The young asbestos insulation industry enjoyed fantastic growth, but the warning signs were already apparent. Henry Ward Johns, who had given his name to the company he founded, died at just 40 years old of what a coroner then called "dust phthisis pneumonitis" — now believed to be asbestosis.
The use of asbestos in insulation continued to increase, however, and World War II inspired a new generation of asbestos products. U.S. Navy ships, in particular, drove demand for asbestos to new highs, as miles of high-temperature pipes and myriad other components of naval vessels were wrapped and coated in asbestos-containing insulation.
Some brands of asbestos-containing insulation include:
Manufacturer
Brand
Johns Manville
Air Cell
Marinite
Superex
Thermobestos
Armstrong Contracting and Supply
Hi-Temp
Kaylo
Limpet
W.R. Grace
Zonolite
Monokote
National Gypsum
Gold Bond
EaglePicher
Super 66
Pittsburgh Corning
Unibestos
Celotex
Careytemp
Nicolet
Hy-Temp
Military use of asbestos insulation continued into the Cold War, and the building and manufacturing boom of the 1950s and 1960s spread asbestos insulation throughout suburban homes and factories across the U.S. The long latency of asbestos-related diseases allowed the mass use of asbestos insulation to continue up until successful personal injury lawsuits in the 1960s finally brought the health consequences to light.
In 1970, the Environmental Protection Agency (EPA) classified asbestos a dangerous air pollutant as part of the Clean Air Act. The EPA then tried to impose a full ban on asbestos-containing products in 1989 by issuing the Asbestos Ban and Phase-Out Rule, but this regulation was overturned in 1991 under pressure from industry lobbyists.
Though corporate lobbying efforts have prevented asbestos from being banned in the U.S., as it is in most other developed nations, EPA regulations now require insulation products to contain no more than 1 percent asbestos. Renovation and demolition work on buildings with asbestos insulation is also heavily regulated, and a new industry has grown up to meet the demand for trained and licensed asbestos abatement professionals.
Other asbestos insulation manufacturers in the U.S. included:
Certainteed Corporation
Combustion Engineering
Crown Cork and Seal
E. Thurston & Sons
Ehret Magnesia
GAF Corporation
Kaiser Aluminum
Keasbey & Mattison
Owens Corning
Owens-Illinois
P. Green Industries
Pacor Incorporated
Shook & Fletcher
The Flintkote Company
Unarco
Western MacArthur
Rock Wool Manufacturing
Types of Asbestos Insulation
Asbestos-containing thermal insulation can be grouped into four major categories: Loose-fill, wrap, block and spray-on.
Loose-Fill Asbestos Insulation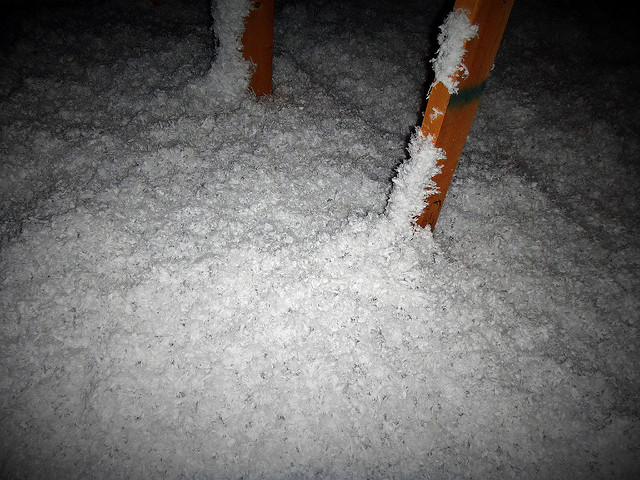 Loose-fill insulation is designed to be poured onto attic floors or blown into hollow spaces inside walls and other building structures. Fluffy loose-fill asbestos insulation — sometimes made almost entirely of the toxic mineral — is extremely dangerous because even a slight air current can disturb it, sending inhalable asbestos fibers into the air.
Asbestos Insulation Wrappings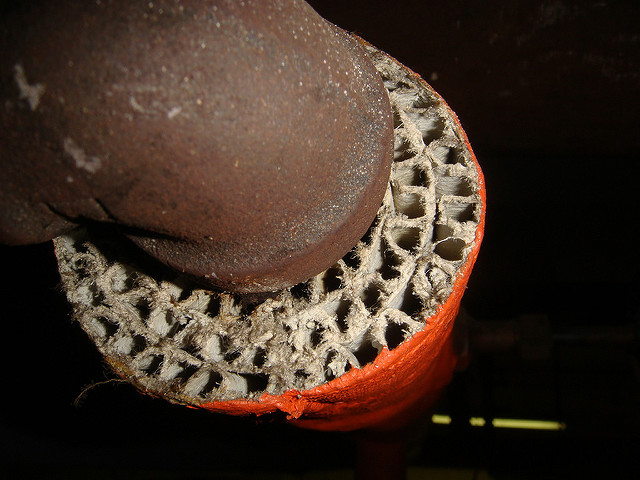 Insulation coverings for pipes, ducts and other plumbing and HVAC components in old buildings often contain asbestos. Asbestos pipe insulation was also a major health hazard on Navy ships for many decades.
Before 1980, insulators typically wrapped pipes with asbestos-based air-cell insulation, which is essentially a type of cardboard made out of asbestos paper. This type of insulation becomes crumbly as it ages, releasing large quantities of asbestos dust if it is damaged or cut off to be replaced.
The fabric of old valve insulation jackets also often contains asbestos fibers, which may be dispersed through wear and tear.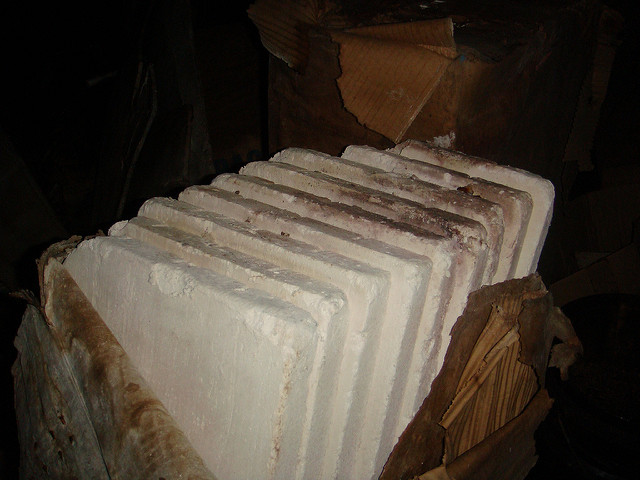 Asbestos Block Insulation
One simple way to insulate the wall of a building is to glue a slab of insulation to it. In the past, these insulation blocks were often made of nearly pure asbestos, which creates a major exposure hazard whenever such blocks are sawed or damaged.
Spray-On Asbestos Insulation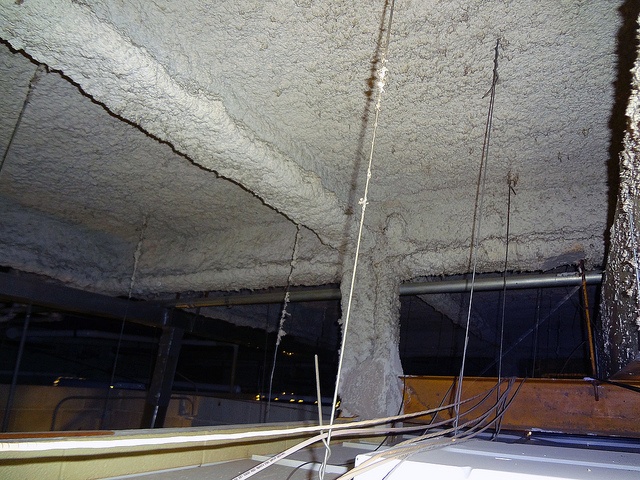 Spray-on insulation was developed to reduce the amount of labor required to apply insulation and fireproofing materials to ceilings, walls and structural beams. You can see spray-on insulation in many large commercial buildings where the ceiling is coated with a thick layer of grey material.
Unfortunately, many spray-on insulation products contained up to 85 percent asbestos, putting the workers who applied them at extreme risk. Further, these products can be damaged easily, releasing a cloud of asbestos fibers into the air, and they present a major exposure hazard unless they are thoroughly encapsulated.
Since 1990, spray-on insulation products containing more than 1 percent asbestos have been prohibited in the U.S., unless the products are encapsulated with a bituminous or resinous binder during spraying.
Other types of asbestos-containing insulation include:
Cement
Plaster
Certain brands of batt insulation
Electrical panels
Dangers of Asbestos Insulation
Asbestos-related illnesses, such as asbestosis and mesothelioma, develop when microscopic asbestos fibers accumulate in the body after being inhaled or swallowed. Asbestos is almost impossible for the body to break down or expel, and over years of time, the toxic mineral fibers cause scarring, inflammation and genetic damage to cells.
For much of the 20th century, it was common for the asbestos content of most insulation products to be 15 percent or greater, with many products being almost entirely composed of friable asbestos, which can easily release dust into the air. Historically, most asbestos-related diseases have been caused by occupation exposure. The greatest risk by far is borne by those who worked in the factories that manufactured asbestos insulation products.
In addition, whenever construction workers and shipbuilders poured or blew in loose-fill asbestos, handled crumbling asbestos pipe wrapping, cut asbestos blocks to size or sprayed asbestos insulation onto a structure, enough asbestos dust was released to endanger the health of everyone in the surrounding area. Asbestos insulation remains in so many buildings in the U.S. that tradesmen are still routinely at risk of exposure.
Occupations at risk for coming into contact with asbestos insulation include:
Insulators
Plumbers
Electricians
Families living in old homes and employees working in old commercial buildings are also endangered when aging asbestos insulation is disturbed through maintenance, renovation or wear and tear. Asbestos insulation in old school buildings has created an ongoing public health crisis that has affected multiple generations of students and teachers. Today, asbestos-related illnesses disproportionately affect veterans because of the military's extensive use of the toxic mineral in the past.
Many experts also warn the rise of do-it-yourself renovations may lead to a new wave of asbestos victims if homeowners do not take the proper precautions when fixing up old homes.
Lawsuits
Because manufacturers continued to incorporate asbestos into their insulation products even after experts reported on its toxicity, victims of asbestos-related diseases have won thousands of lawsuits against these companies.
For example, in 1996 a verdict of nearly $3.5 million was awarded to the estate of Jesse Rivera, who passed away from mesothelioma cancer. Rivera had worked for Owens Corning from 1963 to 1966 and been exposed to asbestos in its Kaylo insulation product.
In May 2009, a jury awarded $6 million to Dean Busatto and his wife after he was diagnosed with mesothelioma. Busatto had been a machinist mate in the U.S. Navy from 1956 to 1959, where he worked with asbestos-containing insulation jackets made by Melrath Gasket Inc.
Since the 1980s, many asbestos-product manufacturers have filed for bankruptcy due to the volume of lawsuits against them. Johns Manville set an important precedent by filing for bankruptcy in 1982 and resolving it six years later by setting up the $2.5 billion Manville Personal Injury Settlement Trust, which provides compensation to present and future claimants. This plan was considered a novel use of bankruptcy law at the time, but many other companies have set up similar trust funds since then.
Zonolite Insulation
One of the most notorious insulation products that caused asbestos exposure is Zonolite Insulation, which was manufactured by W.R. Grace and Company in the 1960s and 1970s. Zonolite is a type of loose-fill insulation made of heat-expanded vermiculite, and it was installed as attic insulation in millions of American homes.
Unlike many other insulation products of the time, Zonolite was never actually intended to contain asbestos. Nevertheless, the vermiculite used in the product came from a mine in Libby, Montana, which was heavily contaminated with asbestos, and the majority of Zonolite sold by W.R. Grace contains enough asbestos dust to pose a serious health risk.
An estimated 30 millionhomes may still have Zonolite in their attics, according to the EPA.
Mr. Fluffy Insulation
One of the most toxic insulation products used in Australia was the Asbestosfluf attic insulation sold in the 1960s and 1970s by a company popularly known as "Mr. Fluffy." The lighthearted name comes from the fluffy appearance of the loose-fill insulation product, but what workers and homeowners did not know at the time is asbestos is most dangerous is this form, because it means there is nothing binding the asbestos fibers together.
The Australian government carried out a removal program in the 1980s but did not appreciate the true extent of the contamination. Even though the Asbestosfluf Insulation was successfully removed from the attics where it had been installed, by that time mineral fibers had already been blown into every nook and cranny of the affected homes.
After conducting new tests in 2014, Australian government officials had to inform residents the so-called "Mr. Fluffy homes" were still heavily contaminated. Because removing the asbestos in the homes poses such a challenge, the government has actually found it less costly to buy the homes outright and demolish them.
6 Cited Article Sources
The sources on all content featured in The Mesothelioma Center at Asbestos.com include medical and scientific studies, peer-reviewed studies and other research documents from reputable organizations.
How did this article help you?
What about this article isn't helpful for you?
Did this article help you?
Thank you for your feedback.
Would you like to speak with a Patient Advocate?
Last Modified August 21, 2020