Zonolite is a type of loose-fill insulation designed to be poured onto an attic floor. Though it is no longer made, its popularity in the past means it can still be found in millions of homes across the U.S.
Vermiculite and asbestos have much in common: Both are resistant to fire and chemical corrosion, and both make excellent insulating materials. They also occurred in the same geological formation mined by W.R. Grace and Company, which is why most Zonolite is dangerous. Pure vermiculite is harmless, but vermiculite mined alongside asbestos poses a serious risk for asbestos exposure.
During the decades when Zonolite was manufactured, most of the world's supply of vermiculite came from the town of Libby, Montana, which became so contaminated by asbestos that the U.S. Environmental Protection Agency (EPA) has now been working to clean the area up for almost 20 years. The Zonolite insulation distributed across the nation will haunt American homes for many more years to come.
Exposed to an Asbestos-Containing Product?
Our Patient Advocates can answer your questions about asbestos exposure and help you find a top attorney.
History of Zonolite Insulation
The history of Zonolite begins when E.N. Alley launched his vermiculite mining business in Libby, Montana, almost a century ago. Alley created the Zonolite brand as a commercial name for the mineral, and more than 40 years later, in 1963, his business was acquired by W.R. Grace and Company, becoming its Zonolite Division.
By the time W.R. Grace took over the operation, the asbestos hazard was clear. Asbestos dust had already caused lung diseases and deaths among vermiculite miners and processing plant workers, but the company's executives ignored this information. They continued growing the Zonolite business throughout the 1970s, even as more employees and residents of the town fell ill from asbestos exposure.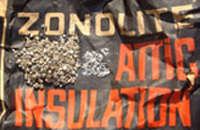 It is estimated W.R. Grace processed nearly 200,000 tons of vermiculite from the Libby mine each year until the mine finally ceased operations in 1990, far too late to spare W.R. Grace from the wave of lawsuits to come. The Libby mine and surrounding areas were declared a superfund site in 2002, and the EPA now advises all American homeowners to take extreme caution with Zonolite insulation found in attics.
Dangers of Zonolite Insulation
As many as 35 million U.S. homes, buildings and offices may contain Zonolite contaminated with asbestos. Furthermore, the specific type of asbestos found at the mine where the product was sourced poses a particularly grave risk.
Most commercially used asbestos is called chrysotile, also known as "white asbestos." Chrysotile is a serpentine form of asbestos, meaning its fibers are curly and occur in sheets of crystals.
The asbestos that contaminates most Zonolite, however, is called tremolite. This noncommercial variety is described as an amphibole form of asbestos because its crystal fibers are straight rather than curly.
It takes less exposure to tremolite to cause asbestos-related disease, compared to the more common chrysotile. Some studies suggest tremolite could be 10 times more dangerous than the white asbestos used by most manufacturers.
People have the greatest risk of developing an illness such as asbestosis or malignant mesothelioma when they are exposed to asbestos dust on a regular basis over many years, and any activity that disturbs Zonolite can potentially release microscopic asbestos fibers into the air.
Working with contaminated Zonolite directly during home construction or renovation creates a major exposure risk, but even simple tasks, such as moving things around in an attic or working on ceiling fixtures, can lead to enough cumulative exposure over the years to cause an asbestos-related illness. There is no safe level of asbestos exposure.
EPA recommendations for homeowners with Zonolite insulation:
Do not allow anyone into the attic unless completely necessary.
Do not store items in the attic.
Do not attempt to remove the insulation yourself if you are not a trained asbestos-abatement professional.
Lawsuits
Throughout the 1990s, so many personal injury and property damage lawsuits were filed against W.R. Grace over asbestos exposure that the company finally sought Chapter 11 bankruptcy protection in 2001, along with 61 of its affiliates. After a drawn-out legal process, the plan of reorganization was confirmed in 2011, becoming effective in 2014.
The reorganization required W.R. Grace to set up two separate trust funds to provide compensation to present and future victims of asbestos exposure.
The Zonolite Attic Insulation Trust serves property damage claimants by partially reimbursing the cost of professional Zonolite removal and asbestos abatement.
The W.R. Grace & Co. Asbestos Personal Injury Trust compensates individuals and families who have suffered because of asbestos-related illnesses caused by W.R. Grace operations and products.
Combined, these two trusts are worth more than $4 billion. Payments totaled more than $353 million in 2015, with thousands of claimants receiving compensation.
Abating Zonolite Insulation
Handling asbestos-containing Zonolite is a dangerous task that must be performed with caution. Microscopic asbestos dust cannot be seen, smelled or tasted, and the toxic mineral fibers can slip through a standard dust mask. Disturbing contaminated attic insulation can put all those living in the home at risk, and asbestos can also contaminate work clothes, leading to secondhand exposure in workers' families.
If your home contains Zonolite attic insulation, consult or hire an asbestos abatement professional to assist with any removal or renovation work that may affect the attic.
13 Cited Article Sources
The sources on all content featured in The Mesothelioma Center at Asbestos.com include medical and scientific studies, peer-reviewed studies and other research documents from reputable organizations.
How did this article help you?
What about this article isn't helpful for you?
Did this article help you?
Thank you for your feedback.
Would you like to speak with a Patient Advocate?
Last Modified January 20, 2020