Located in Kittery, Maine, PNS sits at the mouth of the Great Bay Estuary, also known as Portsmouth Harbor. The 278-acre site on Seavey Island served as a building and repair facility during the Civil War and now contains three dry docks, 6,500 linear feet of birthing and a high-density 376 building industrial area. It wasn't until World War I, however, that PNS transitioned to its current military focus of servicing submarines.
Not unlike any other vessels built by the Navy, submarines fabricated and serviced at Portsmouth Naval Shipyard housed copious amounts of asbestos and asbestos-containing products. Although asbestos use at PNS was phased out in the mid-1970s and all asbestos was later removed, decades of past exposures placed shipyard workers at risk for a number of asbestos-related diseases, including mesothelioma.
PNS built and launched its last submarine in 1969. The shipyard is currently used to overhaul, maintain and refuel the Navy's fleet of attack submarines and nuclear-powered ballistic missile submarines.
Asbestos Use at Portsmouth Naval Shipyard
Workers at the Portsmouth Naval Shipyard were exposed to asbestos fibers in a various number of ways. Asbestos insulation was widely used not only in ships and submarines, but also within the 376 buildings that cover around two thirds of the shipyard's land area.
Asbestos was discovered, for example, during the excavation of Building 310, a hose handling facility built in 1980. And from 1994 to 1995, excavation work near a temporary housing building uncovered a wide array of potentially dangerous debris, including asbestos cloth.
The heat-resistant mineral was a common ingredient in building materials like millboard, as well as numerous other products found onboard submarines. Asbestos also coated the boilers and water pipes of both buildings and vessels on site.
In addition, standard protective equipment issued to welders and other shipyard workers were often contaminated with asbestos. Some examples of asbestos-containing gear from PNS include aprons, gloves, thermal curtains and blankets, which were regularly worn during submarine repair.
Poor safety controls at PNS contributed to the extent of workplace exposures to asbestos. Documents suggest that up until the mid-1970s, ventilation at the shipyard was either ineffective or absent entirely.
The systems often dispersed unfiltered air back into work areas, which circulated airborne asbestos fibers and increased exposures. While the shipyard issued respirators to protect workers from asbestos, they were not used consistently until the mid-1970s. Before then, there is no assurance that the respirators were fitted or worn properly.
Learn More About Asbestos Exposure in Shipyards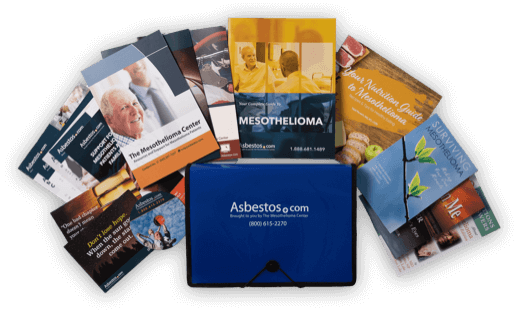 Get a Free Mesothelioma Guide
Free information, books, wristbands and more for patients and caregivers.
Get Your Free Guide
NIOSH Investigates Asbestos Contamination at PNS
A 1978 cohort study conducted at PNS indicated high death rates for all cancers, prompting the National Institute for Occupational Safety and Health (NIOSH) to further investigate the extent of past exposures that occurred there. NIOSH constructed a database containing 2,558 asbestos samples collected from the 1940s to the 1990s and consulted a three-person industrial hygiene panel. Each of the panelists had at least 25 years of experience with the working conditions and past exposures at PNS from the 1970s to the 1990s.
In the order of intensity, the most asbestos exposed positions at Portsmouth Naval Shipyard were pipefitters, welders, electricians and sheet metal mechanics. An analysis of the top 10 asbestos exposed jobs at the shipyard revealed that 19 percent of the workers studied held at least one of these positions.
Out of the 4,388 subjects studied, nearly 64 percent were exposed to levels of asbestos above the pre-determined background intensity level of 0.004 fibers per cubic centimeter while working at PNS. Because there is no safe level of asbestos exposure, significant disease could have still occurred in workers with the lowest levels of exposure.
Asbestos Lawsuits
Although the Navy is shielded from liability by the Federal Employee's Compensation Act, former workers exposed to asbestos at Portsmouth Naval Shipyard have sought compensation and punitive damages from asbestos manufacturers who failed to warn about the toxicity of their products.
In one consolidated case known as the All Maine Asbestos Litigation, dozens of former workers from PNS and Bath Iron Works filed suit against 26 asbestos product manufacturers and distributors. The plaintiffs claimed these companies' negligence led to occupational diseases and wrongful deaths.
Another lawsuit filed against four asbestos manufactures was settled for $512,000. In this case, the daughter of a former Portsmouth Naval Shipyard pipe insulator died of mesothelioma after secondary asbestos exposure. The fibers were carried home on her father's work clothes.
8 Cited Article Sources
The sources on all content featured in The Mesothelioma Center at Asbestos.com include medical and scientific studies, peer-reviewed studies and other research documents from reputable organizations.
Portsmouth Naval Shipyard History. (n.d.). Retrieved from: http://www.navsea.navy.mil/shipyards/portsmouth/Pages/History.aspx
NPL Site Narrative for Portsmouth Naval Shipyard. (1994). Retrieved from: http://www.epa.gov/superfund/sites/npl/nar1393.htm
Stevens, K. Five-Year Review (2003-2007), Portsmouth Naval Shipyard, Kittery, Maine. (2007). Retrieved from: http://www.epa.gov/superfund/sites/fiveyear/f2007010001670.pdf
Seel, E., Zaebst, D., Hein, M., Liu, J., Nowlin, S., & Chen, P. Inter-Rater Agreement for a Retrospective Exposure Assessment of Asbestos, Chromium, Nickel and Welding Fumes in a Study of Lung Cancer and Ionizing Radiation. (2006). Retrieved from: http://annhyg.oxfordjournals.org/content/51/7/601.full.pdf
772 F.2d 1023: Re All Maine Asbestos Litigation. (1985).
870 F.2d 790: Rene A. Dube v. Pittsburgh Corning, et al. (1989).
How did this article help you?
What about this article isn't helpful for you?
Did this article help you?
Thank you for your feedback.
Would you like to speak with a Patient Advocate?
Last Modified October 3, 2018