About Michigan
Ranking in U.S. for mesothelioma & asbestosis deaths

10th

Mesothelioma Deaths

1,386

Asbestosis Deaths

202

Total Deaths

1,588
The automobile industry was founded in Detroit, Michigan, by Henry Ford, whose other key contribution to American work culture was assembly line manufacturing.
Automobiles from Detroit are partially responsible for the high rate of asbestos-related diseases because a number of car parts contained asbestos prior to the 1990s. Asbestos was used to make heat-resistant automobile parts, including transmission components, clutches, brake pads, spark plugs, electrical systems gaskets and more.
Every year, more than 100 deaths in Michigan are attributed to asbestos. National cancer statistics show the incidence of respiratory cancers in the state are 8 percent higher than the national average.
Occupations and Environmental Areas at Risk
In Michigan, occupations, such as pipefitters, mechanical engineers, electricians, school teachers, construction workers and assembly line personnel, are at an increased risk of developing asbestos-caused health conditions.
Learn About Mesothelioma Treatment Options
Asbestos exposure is linked to these other job sites in Michigan:
Auto factories
Industrial mills
Petroleum refineries
Hospitals
Chemical plants
Power plants
Schools
Vermiculite plants
Auto industry workers were exposed to countless asbestos-containing components. This exposed assembly line workers and those building the components to hazardous fibers and asbestos dust.
Asbestos has been found at facilities operated by:
Buick
Chevrolet
Ford
Plymouth
Oldsmobile
Cadillac
Chrysler
General Motors
Pontiac
Other industrial facilities that are linked to asbestos exposure:
Dow Chemical Company
General Mills
Post Cereal Company
Upjohn
Kellogg's
Marathon Oil
Ralston Purina
Wayne, Macomb and Oakland Counties
Historically, the highest concentrations of mesothelioma and asbestosis cases in Michigan are located in the Detroit metropolitan area and the state's most populous counties, including Wayne County, Oakland County and Macomb County. Each of these three counties reported more than 100 asbestos-related deaths in the 23-year span from 1979-2001. Researchers believe that this is an underestimate, as the government did not begin recording mesothelioma deaths until 1999.
President Bush Asked for Action
President George W. Bush participated in a 2005 town hall meeting about asbestos legislation in Clinton Township, Michigan. Bush, who hails from Texas, a state that has cracked down on mass torts related to asbestos, argued for Congress to pass a set of national asbestos laws. Congress did not take any action related to asbestos.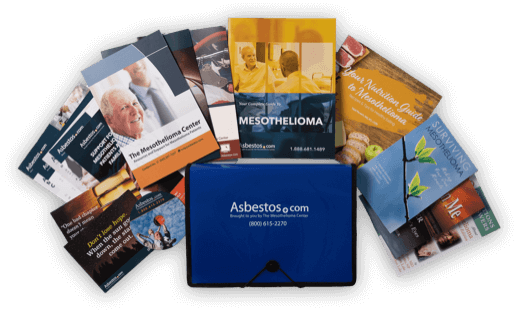 Get a Free Mesothelioma Guide
Free information, books, wristbands and more for patients and caregivers.
Get Your Free Guide
Treatment Centers near Michigan
Doctors in Michigan

Asbestos Litigation in Michigan
Recording-breaking verdicts for asbestos lawsuits have been brought against the largest auto manufactures in Michigan, but these trials were completed in other states. One asbestos-related lawsuit against auto manufacturers in New York resulted in a $53 million verdict for a long-time brake mechanic.
After 16 years of out-of-court settlements, Michigan man Reed Avram was awarded a verdict of $542,000 in 2009 for asbestosis linked to components supplied by the McMaster-Carr Supply Company. It was the first asbestosis case to make it to verdict in Michigan since 1992.
Brake mechanics who work on old and new automobiles are at risk of asbestos exposure. The first U.S. asbestos brake linings were made in 1906. Chrysotile asbestos has been the primary type of asbestos used in brake manufacturing in the U.S., historically making up approximately 50 percent of the composition of brake linings and shoes.
It wasn't until the late 1980s and early '90s that a decline in asbestos brake manufacturing occurred. By 2004, it wasn't clear if brakes containing asbestos were being manufactured in the U.S., but they were certainly being imported, used and sold. Imports of asbestos-containing friction products doubled between 1990 and 1994 and have steadily risen since.
The manufacturing of asbestos-containing auto parts exposed factory workers to potentially harmful levels of asbestos dust. Grinding and molding of asbestos brake and clutch parts generated a lot of dust, and poor exhaust ventilation played a role in exposure.
In addition to auto industry workers, thousands of workers exposed to asbestos in Michigan factories have filed lawsuits. However, 2,000 cases were dismissed in 2008 after a Wayne County judge threw out the testimony of an expert witness deemed not qualified to read X-rays.
Learn How to Hire a Qualified Mesothelioma Lawyer
Asbestos Imports and Deposits
Naturally occurring deposits of asbestos are found in five areas of Michigan, including Iron Mountain, Marquette, Negaunee, Niagara and Norway.
Large amounts of vermiculite contaminated with asbestos fibers also were brought into Michigan for processing. According to the Michigan Department of Community Health, the W.R. Grace Company, which owned a vermiculite mine in Libby, Montana, sent 163,000 tons of contaminated vermiculite to Michigan for processing. Data from the Agency for Toxic Substances and Disease Registry shows that seven Michigan cities contained facilities that processed vermiculite and generated asbestos dust between 1948 and 1989.
Grace filed for bankruptcy in 2001 after facing 250,000 asbestos lawsuits. It still generates an annual income of $2 billion.
The following cities processed asbestos-contaminated vermiculite ore from 1948 to 1989:
Dearborn
Grand Rapids
Reed City
Warren
Elsie
Milan
River Rouge

Get Help Contacting this Cancer Center
10 Cited Article Sources
The sources on all content featured in The Mesothelioma Center at Asbestos.com include medical and scientific studies, peer-reviewed studies and other research documents from reputable organizations.
Agency for Toxic Substances and Disease Registry. (2004, August 13). W.R. Grace Dearborn Plant. Retrieved from: http://www.michigan.gov/documents/Grace_Dearborn_HC_FS_english_108396_7.pdf
Castleman, B.I. (2005). Asbestos disease in brake repair workers. In Asbestos Medical and Legal Aspects (pp. 451-488). New York, NY: Aspen Publishers.
Centers for Disease Control and Prevention, National Center for Health Statistics. (2015, January). Underlying Cause of Death 1999-2013 on CDC WONDER Online Database. Retrieved from: http://wonder.cdc.gov/ucd-icd10.html
Michigan Court of Appeals. (2010, December). Avram v. McMaster-Carr Supply Co. Retrieved from: http://www.chamberlitigation.com/sites/default/files/cases/files/2010/Avram%20v.%20McMaster-Carr%20Supply%20Co.,%20et%20al.%20(NCLC%20Brief).pdf
Michigan Department of Health. (2004, June). Profiles of occupational injuries and diseases in Michigan. Retrieved from: http://www.michigan.gov/documents/mdch_ProfilesReport_94691_7.pdf
Michigan Department of Licensing and Regulatory Affairs. (n.d.). Michigan Occupational Safety and Health Administration asbestos program. Retrieved from: http://www.michigan.gov/lara/0,1607,7-154-11407_15333_15369---,00.html
Satyanarayana, M. (2008, November 20). Detroit: Ruling jeopardizes asbestos cases: Judge tosses out doctor's medical evidence, his expert testimony. Retrieved from: http://pqasb.pqarchiver.com/freep/access/1693717771.html?FMT=ABS&FMTS=ABS:FT&date=Nov+20%2C+2008&author=MEGHA+SATYANARAYANA&pub=Detroit+Free+Press&edition=&startpage=B.3&desc=DETROIT%3A+RULING+JEOPARDIZES+ASBESTOS+CASES
The American Presidency Project. (2005, January 7). Remarks in a discussion on asbestos litigation reform in Clinton Township, Michigan. Retrieved from: http://www.presidency.ucsb.edu/ws/index.php?pid=73746&st=&st1=#axzz1cUIsUFf8
U.S. Environmental Protection Agency. (2007, March). Current best practices for preventing asbestos exposure among brake and clutch repair workers. Retrieved from: http://www2.epa.gov/sites/production/files/documents/brakebrochure-paginated.pdf
Welch, L.S. (2007). Asbestos exposure causes mesothelioma, but not this asbestos exposure: An amicus brief to the Michigan Supreme Court. International Journal of Occupational Environmental Health, 13(3):318-327. Retrieved from: http://www.ncbi.nlm.nih.gov/pubmed/17915546
How did this article help you?
What about this article isn't helpful for you?
Did this article help you?
Thank you for your feedback.
Would you like to speak with a Patient Advocate?
Last Modified January 14, 2019