Asbestos in Virginia
Fact Checked
Our fact-checking process begins with a thorough review of all sources to ensure they are high quality. Then we cross-check the facts with original medical or scientific reports published by those sources, or we validate the facts with reputable news organizations, medical and scientific experts and other health experts. Each page includes all sources for full transparency.
Scientifically Reviewed
An occupational scientist or another expert who specializes in occupational hazards reviewed the content on this page to ensure it meets current scientific standards and accuracy.
This Page was Scientifically Reviewed By
Like several other Eastern states bisected by the Appalachian Mountains, Virginia contains abundant natural deposits of asbestos. The chemical properties of this fibrous mineral, such as excellent resistance to heat, chemicals, sound and electricity, have made it a desirable material for hundreds of industrial and construction applications. But it wasn't until the past few decades that the health risks of asbestos exposure were officially recognized.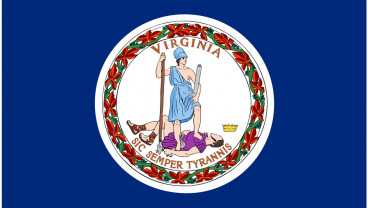 Page Topics
Written By: Matt Mauney,
Last modified: September 27, 2021
Quick Facts
About Virginia
Doctors and scientists have determined that all forms of asbestos can cause serious health conditions including asbestosis, pleural effusion, lung cancer and a rare cancer called mesothelioma. When airborne asbestos is inhaled, fibers can accumulate in the lungs causing scarring and a variety of chronic respiratory issues.
In addition to environmental exposure, many Virginians are exposed to asbestos at their jobsites. Industries like shipbuilding, power generation, mining, milling and oil refining have a longstanding history of asbestos use prior to the material's regulation by the U.S. Environmental Protection Agency (EPA). This has posed health risks to countless Virginia workers, many of which are experiencing complications decades after initial asbestos exposure.
Occupations and Environmental Areas at Risk
Environmental exposure to asbestos is a health concern that affects many locations throughout Virginia. The naturally occurring fibrous mineral is usually sealed away safely in the rocks and soil of the earth's crust. However, mining, construction and other human activities can disturb deposits and release airborne asbestos fibers proven to cause direct health threats to surrounding populations if inhaled. The highest concentrations of asbestos can be found along the Blue Ridge, an Appalachian range that runs southwest from the Maryland border near Fairfax County and Washington D.C.
Virginia counties at an elevated risk of environmental asbestos exposure:
Fairfax
Prince Williams
Franklin
Page
Fauquier
Albermarle
Nelson
Amelia
Fluvanna
Hanover
Grayson
Wythe
Loudoun
Arlington
Warren
Madison
Bedford
Buckingham
Louisa
Goochland
Prince Edward
Carroll
Henry
Floyd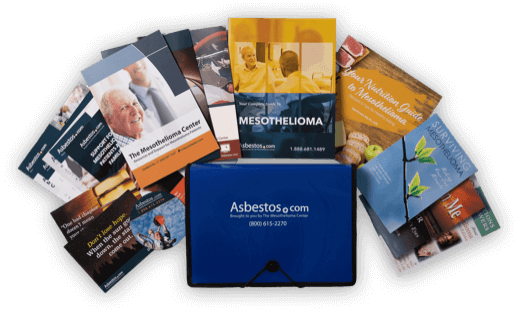 Free Mesothelioma Guide
Our latest guide for patients and loved ones is shipped overnight and includes treatment information, legal resources, mesothelioma books and support wristbands.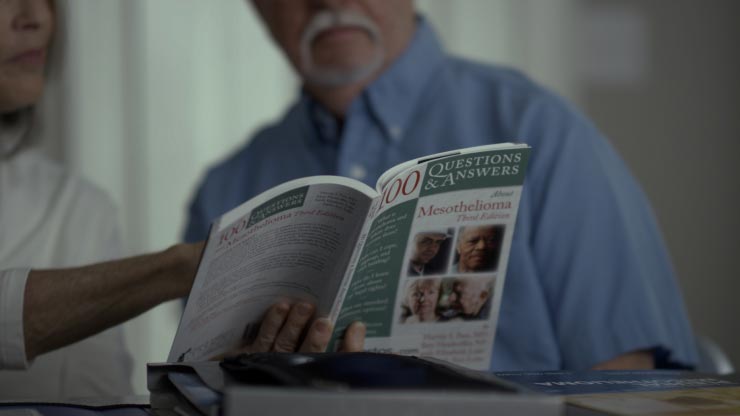 Several mines in Virginia, both current and inoperative, put surrounding populations at risk for asbestos exposure. Two former asbestos mines can be found along the Blue Ridge near Richmond, and Virginia Vermiculite, LLC in Louisa County operates one of the last remaining open pit vermiculite mines in the United States. Although vermiculite is a nontoxic mineral, it often forms alongside asbestos which poses a dangerous risk of contamination.
In 2000, a study conducted by the Mine Safety and Health Administration found evidence of asbestos in 30 air samples and 12 rock samples from Virginia Vermiculite. Seven rock samples contained high levels of asbestos, several containing between 95 and 99 percent asbestos. This contamination threatens the health of anyone involved in the mining and production process as well as those living near the mine. Asbestos contamination at the Louisa mine has been compared to a similar incident at a vermiculite mine in Libby, Montana where thousands of residents were diagnosed with asbestos-related diseases.
Although the EPA placed regulations on asbestos in the 1970s and '80s, asbestos-containing materials have been used for centuries in Virginia. Many construction and industrial occupations have a long history of asbestos use that puts workers at risk for serious health complications. It can take upwards of 20 to 50 years for some asbestos-related diseases to present symptoms, so workers exposed to the mineral long before its regulation may just now be experiencing health issues.
Those who directly handle asbestos or asbestos-containing materials have the highest likelihood of developing an asbestos-related disease. Miners that have processed asbestos and vermiculite minerals should be particularly concerned about developing mesothelioma. Other job sites in Virginia notorious for industrial asbestos use include shipyards, power plants, chemical plants, mills and refineries. There are also several landfills throughout Virginia permitted to store asbestos and related products.
Treatment Centers near Virginia
8613 Lee Highway, Fairfax, VA 22031
Doctors in Hospital: 2
20 Duke Medicine Circle Durham, NC 27710
Doctors in Hospital: 7
Medical Center Boulevard, Winston-Salem, NC 27157
Doctors in Hospital: 2
110 Irving Street, NW Washington, DC 20010
Doctors in Hospital: 1
9000 Rockville Pike Bethesda, MD 20892
Doctors in Hospital: 1
400 West Seventh St., Frederick, Maryland, 21701
Doctors in Hospital: 1
Doctors in Virginia
Asbestos Exposure at Surry Power Station
A 2011 incident in Isle of Wight County exposed at least 12 contractors to airborne asbestos fibers. Hundreds of contract employees hired by Surry Power Station faced the task of repairing the aging nuclear power plant after a tornado prompted the shutdown of its two reactors on April 16. Before the repair work began, safety officials assured contractors that the jobs would not involve asbestos and that any pipes containing asbestos would be clearly labeled. The contractors were shocked several days later when it became apparent they were misinformed.
According to State Department of Labor and Industry reports, a few dozen pipefitters were removing old pipes from the turbine building on April 22 while the reactor was down. After several sections of pipe were removed via blowtorch, one of the contractors observed fibers floating in the air like a fine snow. After confirming that the pipe was not marked with an asbestos warning, the workers were puzzled about the source of the suspended fibers. Several pipefitters investigated further, and after following the pipe down two stories they discovered a label: "Danger Asbestos."
Because the plant's owner, Dominion Virginia Power, did not have air sampling equipment on site at the time of the incident, the extent of exposure remains unknown. The report confirmed, however, that asbestos was later found on the clothes of 12 workers and in three work trailers. Of the eight companies involved in the incident, state investigators found that six were not at fault. Hopewell-based Quality Specialties, Inc. was fined $4,900 for failing to label pipes properly. The company is disputing the charges and an investigation of Dominion is currently underway.
Virginia Jobsites with Confirmed Asbestos Exposure
Anyone working at or frequenting these sites could be at risk of developing an asbestos-related disease, so regular medical exams are highly recommended for preventative measures.
Job sites with asbestos exposure risk in the state of Virginia:
Colonna's Shipyard
National Shipyards
USX Shipyard
Crown Cork & Seal
Virginia Vermiculite, LLC
E Luke Green Company, Inc.
Smith Gap Regional Landfill
Charleston Nuclear Power Plant
Lasalle Atomic Powerhouse
North Anna Nuclear Power Plant
Maplewood Recycling and Waste Disposal Facility
Lyon Shipyard
Newport News Naval Shipyard
Little Creek Amphibious Base
Exxon Mobil
Proscience Analytical Services, Inc.
Garlock Sealing Technologies
BFI King and Queen Landfill
First Piedmont Industrial Landfill
Surry Nuclear Power Plant
Chesapeake Paper Powerhouse
North Anna Powerhouse
John Crane, Inc.
Notable Asbestos-Related Claims
In March 2011, a Virginia jury awarded a former Newport News Shipbuilding worker $25 million in a lawsuit against Exxon after he developed an asbestos-related disease. Working as a shipfitter and repair supervisor on 17 Exxon oil tankers throughout the 1960s and '70s, Bert Minton developed mesothelioma from decades of asbestos exposure on the job. Minton argued that Exxon knew about the dangers of asbestos exposure since the 1940s but failed to warn shipyard workers and crew members. Exxon's neglect resulted in one of the largest jury verdicts ever handed down in Virginia.
Several other lawsuits against Virginia shipbuilding companies have been filed over the past decade. In 2008 the family of a former Newport News Shipbuilding employee was awarded $10.4 million after he passed away from mesothelioma. In 2009 another Newport News Shipbuilding worker died of mesothelioma after handling asbestos-containing gaskets and sealants while building Navy aircraft carriers. His widow filed a claim against John Crane, Inc. and Garlock Sealing Technologies which resulted in a $5.5 million award and an undisclosed out-of-court settlement.
---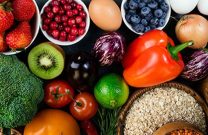 Get Free Recipes for Mesothelioma Patients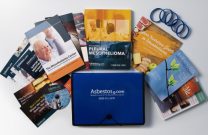 Read the Top Mesothelioma Guide for Free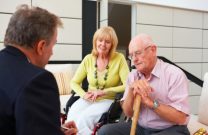 Get the Compensation You Deserve
---
Tell us what you think
Did this article help you?
How did this article help you?
What about this article isn't helpful for you?
Did this article help you?
Thank you for your feedback. Would you like to speak with a Patient Advocate?
---