What Is the Budwig Diet?
The Budwig diet is a mostly vegetarian regimen that focuses on a blend of oil and protein in the form of flaxseed oil and cottage cheese.
Also known as the Budwig protocol, the diet emphasizes whole foods, juicing and herbal teas. It also recommends sun exposure.
The diet was developed in the early 1950s by Johanna Budwig, a German pharmacist and biochemist. Budwig claimed the diet may prevent cancer, shrink tumors and sometimes make them disappear entirely.
Budwig believed eating processed fats was the primary cause of most diseases, particularly cancer. She theorized that combining the fatty acids in flaxseed oil with the protein in cottage cheese would have an effect on the growth and spread of cancer.
Scientific evidence does not support that theory, but many online anecdotal accounts support the Budwig diet.
"You can't ever get rid of the mesothelioma, but you can get rid of, or shrink, the tumors," said Marilyn B., wife and caregiver of pleural mesothelioma patient , who turned to the Budwig diet after chemotherapy failed. "I do know something very good has happened since he went on this diet."
What Is the Budwig Diet Protocol?
The Budwig diet protocol involves a mostly vegetarian diet, a flaxseed and cottage cheese mixture, enemas and daily exposure to the sun.
What You Can Eat
Mixture of flaxseed oil and cottage cheese
Vegetables
Fruits
Nuts
Seeds
Beans and pulses
Whole grains
Fermented foods
Herbs and herbal teas
What Not to Eat
Pork and cold meats
Shellfish
Animal fat
Refined sugars
Most dairy products, including butter
Refined flours and grains
Refined or hydrogenated oils
Processed foods
Preservatives
Alcohol
Caffeine
Other Recommendations
Food should be fresh, organic and eaten raw or lightly cooked
Take a 20-minute walk in nature each day for sun exposure
Use enemas (Budwig believed this promoted detoxification)
Budwig recommended flaxseed oil enemas to her patients, but modern descriptions of the protocol recommend coffee or water enemas. There is no scientific evidence that enemas promote detoxification.
Oncologists warn against this aspect of the Budwig protocol because of the serious risk of infection for cancer patients.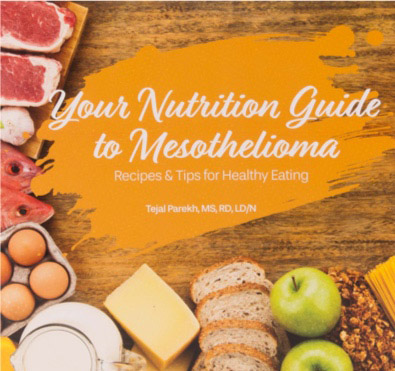 Free Mesothelioma Nutrition Guide
Eating right and balancing your diet while undergoing mesothelioma treatment can help ease your symptoms.
Get Free Recipes & Tips
Potential Benefits
The Budwig diet can provide the following nutrients:
Omega-3 fatty acids such as ALA, EPA and DHA
High amounts of protein
The benefits of consuming omega-3 fatty acids include anti-inflammatory effects, reduced blood pressure and reduced risk of cardiovascular disease. Some epidemiological studies show that high levels of EPA and DHA may reduce the risk of cancers of the breast, colon and prostate.
Mesothelioma Patient Reported Benefits
Marilyn and James B. were shocked by how drastically James' health turned around after going on the Budwig diet. He initially came home from the hospital in a wheelchair with an oxygen tank to help his breathing. He also had a PleurX catheter to drain fluid from around his lungs.
But after a few months on the diet, he was walking on his own and off the oxygen tank. The PleurX catheter was removed because the fluid stopped accumulating.
"We just weren't ready to give up," Marilyn said. "I don't know exactly why this works, or how long it will work, but it's remarkable how well he is right now."
About a year after starting the Budwig diet, James' tumors returned and he passed shortly thereafter. "Oncologists don't understand this [mesothelioma] disease enough," Marilyn said. "When they decide they can't do anything for you anymore, that's when you feel lost. And we were there. We were fortunate to find something that worked for us."
Potential Side Effects
Side effects associated with the diet may be caused by flaxseeds, dietary restrictions, sun exposure and enemas.
Flaxseed Side Effects
Stomach pain
Bloating
Constipation
Gas
Frequent bowel movements
Bowel obstruction
Dietary Restriction Side Effects
Vitamin B deficiency (caused by restriction of meat consumption)
Other nutritional deficiencies
Weight loss
Fatigue
Sun Exposure Side Effects
Skin redness and blistering
Pain or tingling
Skin swelling
Dizziness
Fatigue
Dehydration
Increased risk of skin cancer
Enema Side Effects
Inflammation of the rectum and colon
Rectal burns, infections and pain
Electrolyte imbalance
Patient Warning
Patients with the following conditions may experience serious complications on the Budwig diet:
Diabetes
Bleeding disorders
Bowel problems such as inflammatory bowel disease
Scientific Research
Researchers have not conducted clinical trials to study the Budwig diet as a potential cancer treatment. No case reports have been published and the safety of the diet hasn't been directly assessed in medical literature.
However, a diet similar to Budwig's, called the Bill Henderson Protocol, was reviewed by the nursing faculty at the University of Calgary in Canada.
Review of Similar Diet: Bill Henderson Protocol
In 2011, the peer-reviewed journal Nutrients published a review of the Bill Henderson Protocol including a history of the Budwig diet.
Henderson's protocol follows the Budwig diet, including the flaxseed and cottage cheese mixture. The primary difference between these protocols is the addition of supplements to Henderson's protocol.
The review reports that Budwig believed incomplete cellular division caused cancer. She made her recommendations to speed up cell division because she believed it would cause tumors to self-destruct. Researchers today believe that incomplete cellular division does not play a role in cancer.
The review states: "Although Budwig lived until 2003, and was actively lecturing until the late 1990s, there does not appear to have been any attempts to test her theories using modern technology or different source materials, such as fish oil."
Evidence for an Anti-Cancer Diet
Most of the research conducted on diet and cancer involves the potential of a particular diet to prevent cancer, not treat it.
Currently, cancer researchers do not believe any diet can cure cancer.
However, there is growing evidence that certain dietary choices may reduce the risk of developing cancer including:
Eating lots of fruits and vegetables especially allium and cruciferous vegetables
Consuming foods rich with antioxidants and omega-3s
Eating a diet rich in carotenoids, chlorophyll, folate, selenium and vitamins D and B-12
Supplementing with digestive enzymes and probiotics
Additionally, there is evidence that a high-fiber diet reduces the risk of rectal cancer and avoiding overeating may reduce the risk of developing obesity-related cancers.
8 Cited Article Sources
How did this article help you?
What about this article isn't helpful for you?
Did this article help you?
Thank you for your feedback.
Would you like to speak with a Patient Advocate?
Last Modified July 24, 2019