Peritoneal Specialist
A medical doctor who treats peritoneal mesothelioma, an asbestos-related cancer that develops in the peritoneum, which is the lining that covers the abdominal cavity.
Dr. Jason M. Foster
Surgical Oncologist
Dr. Jason Foster can't guarantee a surgical solution for peritoneal mesothelioma cancer, but he will promise each patient a clearer understanding of what lies ahead.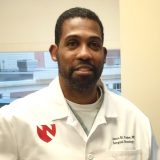 University of Nebraska Medical Center Omaha, Nebraska (NE)
Get to Know Dr. Jason M. Foster
He will take away the mystery and gloom and doom attitude that often accompanies this diagnosis.
"I can't always surgically correct conditions for a patient, but one thing I can do for every patient is get them to understand their disease and understand what is necessary to treat it," Foster said. "And remind them they still have a potentially long life ahead and not be defined — and confined — by the diagnosis of cancer."
Foster has been a surgical oncologist at the University of Nebraska Medical Center since 2010. He specializes in cytoreductive surgery with heated intraperitoneal chemotherapy (HIPEC), which is used for mesothelioma and other abdominal cancers.
Contact Dr. Jason M. Foster
Specializes in HIPEC
He has been lauded for his success with HIPEC, which is done only in a select number of specialty centers across the country, allowing some peritoneal mesothelioma patients to survive three, five and 10 years beyond their life expectancies.
HIPEC involves a heated chemotherapy solution that is circulated through a patient's abdominal cavity for 90-120 minutes in conjunction with surgery that removes all visible tumor cells. The chemotherapy solution kills any microscopic cancer cells left behind after surgery.
"Some people call it the 'shake and bake,' because you're agitating the belly with this heated chemotherapy," he said. "It's like combining your power washer with the vacuum cleaner at home. Sometimes you have to scrub the stain out, then go back over with the vacuum — a coarse therapy followed by a fine therapy to get the little stuff out."

In 2019, Foster published research outlining evidence showing cytoreductive surgery with HIPEC to be safe with low complication rates. He also showed that median hospital stay after the procedure was lower than for other cancer surgeries such as esophagectomy.
Foster specializes in managing peritoneal surface malignancies that often spread through the abdominal cavity. Ovarian and colorectal cancers are more common than peritoneal mesothelioma, which is diagnosed in an estimated 500 patients annually in the United States.
"Patients want to feel they have done everything they possible can do to fight this battle," he said. "And surgery with intraperitoneal chemotherapy is an important tool in the treatment of these cancers. It appears to be one therapy that can get people to this curative state."
He also handles soft tissue sarcomas, skin tumors and cancers of the gastrointestinal tract and endocrine organs.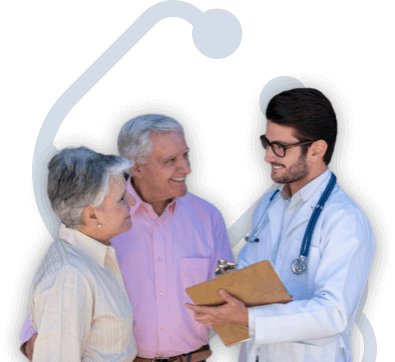 Find a Doctor You Can Trust
Get help connecting with Dr. Foster and other mesothelioma doctors to find the best treatment for you.
Enjoys the Patient-Doctor Relationship
Foster, who grew up near Pittsburgh, graduated from Temple University School of Medicine. He did his general surgery residency at Case Western Reserve in Cleveland and trained in surgical oncology at Roswell Park Cancer Institute in Buffalo, New York. He spent five years at the Creighton University Surgical Oncology Division before moving to Nebraska.
"I have one of the best jobs you could have. Sometimes we meet patients in unfortunate circumstances. You hear a cancer diagnosis, and it's very stressful," he said. "But my job is not only treating a patient but getting them to understand the diagnosis."
Foster has drawn raves for his patient-doctor relationships. As one of 10 children, and with an extended family that spent considerable time in hospitals, he saw the value of good communication in medicine.
"I learned early the importance, not only of good patient care, but the importance of effective communication in times of stress," he said. "That's important to me now."