Pleural Specialist
A medical doctor who treats pleural mesothelioma, an asbestos-related cancer that develops in the pleura, which is the thin lining that covers the lungs and chest wall.
Dr. John C. Kucharczuk
Thoracic Surgeon
As interim chief of the Division of Thoracic Surgery at the University of Pennsylvania, Dr. John Kucharczuk devotes his research and clinical efforts to all aspects of general thoracic surgery.
Get in Touch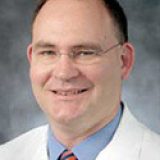 University of Pennsylvania School of Medicine Philadelphia, Pennsylvania (PA)
Quick Facts
Get to Know Dr. John C. Kucharczuk
In 1992, Kucharczuk completed medical school at the University of Pennsylvania, where he remained for both his general surgery residency and thoracic surgery training. During his fellowship at Penn, Kucharczuk spent several years studying genomic technology to improve methods for diagnosing malignant mesothelioma, a research goal he still pursues today.
Currently an expert in the diagnosis and treatment of benign and malignant chest diseases, Kucharczuk performs a high volume of thoracic surgeries at Penn Medicine for cases of lung cancer, esophageal cancer, mediastinal tumors and mesothelioma.
A rare cancer that affects the soft protective lining of the lungs and abdomen, mesothelioma can be challenging to diagnose and treat due to unsuccessful treatment strategies, inaccurate diagnoses from tissue samples and a poor understanding of how the disease affects the body's physiology. Kucharczuk is an active member of Penn Medicine's Thoracic Surgery Research Laboratory where he hopes to turn the aforementioned issues into problems of the past by studying gene therapy and other novel approaches to mesothelioma treatment.
Contact Dr. John C. Kucharczuk
Groundbreaking Research
A prime example of Kucharczuk's groundbreaking research is his ongoing contribution toward the invention of new treatments. His work at the Thoracic Research Laboratory has resulted in a patent for a novel cancer treatment that uses a mutation of the herpes simplex virus. By manipulating the virus's genes, Kucharczuk and his fellow researchers have discovered an effective method for destroying tumor cells while at the same time preventing the virus from replicating in normal, non-cancerous cells. This developing genetic research could someday result in a safe method for destroying non-neuronal cancer cells associated with mesothelioma, ovarian cancer, melanoma and several other malignant diseases.
Dr. Kucharczuk was recognized in Philadelphia Magazine's Top Doctors issues for 2010 and 2011.
There is no denying that Kucharczuk is an excellent physician. Proof lies in his ranking among the top 5 percent of American doctors on the Best Doctors in America List, a recognition he has received every consecutive year since 2007. He has also been praised in Philadelphia Magazine's Top Doctors issues for 2010 and 2011.
In addition to being an adept surgeon and researcher, Kucharczuk also shares his expertise with future Penn surgeons through his faculty appointment as associate professor of surgery. He teaches thoracic surgery at several Penn Medicine campuses, such as Pennsylvania Hospital, Hospital of the University of Pennsylvania and Penn Presbyterian Medical Center.
Dr. John Kucharczuk's Publications
Kucharczuk has contributed to more than 30 peer-reviewed research articles, five of which are directly related to treating mesothelioma through groundbreaking techniques like adenovirus gene therapy. He is also part of a National Institutes of Health scientific review group for study sections including Bioengineering and Physiology and Bioengineering and Nanotechnology.