Peritoneal Specialist
A medical doctor who treats peritoneal mesothelioma, an asbestos-related cancer that develops in the peritoneum, which is the lining that covers the abdominal cavity.
Dr. Laura A. Lambert
Surgical Oncologist
Table Of Contents
Dr. Laura Lambert is a surgical oncologist and director of the Peritoneal Surface Malignancy Program at the University of Utah's Huntsman Cancer Institute in Salt Lake City.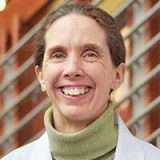 Huntsman Cancer Institute Salt Lake City, Utah (UT)
Get to Know Dr. Laura A. Lambert
Surgical oncologist Dr. Laura Lambert has extensive experience in treating patients with peritoneal mesothelioma, the rare cancer that starts in the abdominal lining but often spreads to surrounding organs.
She specializes in performing hyperthermic intraperitoneal chemoperfusion, known as HIPEC, in combination with cytoreductive surgery for several types of abdominal cancers.
The combination has increased survival significantly for patients with peritoneal surface malignancies, such as mesothelioma.
She joined the Huntsman Cancer Institute in 2018, making it the only facility in Utah to offer the HIPEC procedure, which is designed to kill any microscopic tumor cells that evade the surgeon. It also has been proven more effective than conventional systemic chemotherapy for peritoneal malignancies.
It can be used for cancers of the appendix and colon, along with the management of gynecologic malignancies.
Lambert previously worked at the University of Massachusetts, where she led the formation of the UMass Appendiceal Cancer Research Group.
Contact Dr. Laura A. Lambert
Specialties of Dr. Laura A. Lambert
Cytoreductive surgery
Gastrointestinal malignancies
Peritoneal carcinomatosis
Dr. Laura A. Lambert's Experience and Medical Education
Huntsman Cancer Institute
University of Massachusetts Medical Center
University of Texas, MD Anderson Cancer Center (Fellowship)
Dartmouth-Hitchcock Medical Center (Residency)
Harvard Medical School, M.D.
Awards and Certifications
American Board of Surgery
American Board of Hospice & Palliative Medicine
American College of Surgeons
Castle Connolly, Regional Top Doctor Award
Publications of Dr. Laura A. Lambert
Kotha, N. et al. (2020, July). Primary Tumor Sidedness is Predictive of Survival in Colon Cancer Patients Treated with Cytoreductive Surgery With or Without Hyperthermic Intraperitoneal Chemotherapy: A US HIPEC Collaborative Study. Annals of Surgical Oncology.
Hendrix, R. et al. (2020, January). Elevated Maximum Core Body Temperature During Hyperthermic Intraperitoneal Chemoperfusion (HIPEC) is Associated with Increased Postoperative Complications. Annals of Surgical Oncology.
Hendrix, R. et al. (2019, February). Restrictive Intraoperative Fluid Therapy is Associated with Decreased Morbidity and Length of Stay Following Hyperthermic Intraperitoneal Chemoperfusion. Annals of Surgical Oncology.
Hendrix, R. and Lambert, L. (2019, December 26). ASO Author Reflections: Intraoperative Fluid Restriction During CRS-HIPEC-Less is More. Annals of Surgical Oncology.