Pleural Specialist
A medical doctor who treats pleural mesothelioma, an asbestos-related cancer that develops in the pleura, which is the thin lining that covers the lungs and chest wall.
Peritoneal Specialist
A medical doctor who treats peritoneal mesothelioma, an asbestos-related cancer that develops in the peritoneum, which is the lining that covers the abdominal cavity.
Dr. Raffit Hassan
Medical Oncologist
Medical oncologist Dr. Raffit Hassan at the National Cancer Institute is a specialist in pleural mesothelioma and a research leader in developing new ways to treat it more effectively.
Get in Touch
Dr. Raffit Hassan is a medical oncologist and senior investigator at the National Cancer Institute in Bethesda, Maryland, specializing in thoracic malignancies such as pleural mesothelioma.
Hassan has been a leader in developing and implementing the latest in immunotherapy treatments for lung cancer, mesothelioma and pancreatic cancer.
The National Cancer Institute, which is part of the National Institutes of Health, provides the vast resources for research that often are not available anywhere else, attracting patients from around the country.
His clinical trials, and the immunotoxins being utilized, have broken new ground in achieving tumor regression for his patients with various diseases.
Hassan has spent almost 20 years serving at the National Cancer Institute, determined to make a difference in the field of treatment. His laboratory focuses on finding more effective molecular targets to fight cancer.
Contact Dr. Raffit Hassan
Dr. Raffit Hassan's Experience & Medical Education
National Cancer Institute
University of Oklahoma College of Medicine
National Cancer Institute (Fellowship)
Sisters Hospital, University of Buffalo (Residency)
University of Kashmir, India (Medical degree)
American Board of Thoracic Surgery (Thoracic and cardiac surgery certification)
Awards and Other Recognitions
ASCO Career Development Award
NIH Patient-Oriented Research Career Development Award
Mesothelioma Applied Research Foundation Pioneer Award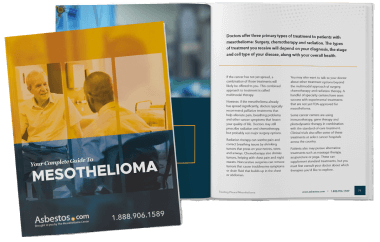 Get a Free Mesothelioma Guide
Learn about your diagnosis, top doctors and how to pay for treatment.
Mesothelioma Clinical Trials Under Dr. Raffit Hassan
A phase II clinical trial studying the efficacy of Lynparza (olaparib), a protein inhibitor, on patients with either pleural or peritoneal mesothelioma. The drug already is being used effectively for breast and ovarian cancer and has shown promise in the laboratory with treating mesothelioma tumor cells.
A phase II clinical trial for either pleural or peritoneal patients that will try to determine if LMB-100, an immunotoxin targeting the protein mesothelin, can increase the effectiveness of Keytruda (pembrolizumab), which is being used with several different cancers.
A phase III clinical trial to help investigators better understand how, and why, mutated genes can lead to various cancers, including mesothelioma. They will be studying the BAP1 gene, often mutated at birth. Tumor tissue from previous surgeries will be used.
Publications of Dr. Raffit Hassan
Pastan, I., Hassan, R. (2014, June 1). Discovery of mesothelin and exploiting it as a target for mesothelioma. Cancer Research.
Hassan, R. et al. (2013, October 23). Major Cancer Regressions in Mesothelioma After Treatment with an Anti-Mesothelin Immunotoxin and Immune Suppression. Science Translational Medicine.
Hassan, R. et al. (2010, December 15). Phase I Clinical Trial of the Chimeric Anti-Mesothelin Monoclonal Antibody MORAb-009 in Patients with Mesothelin-Expressing Cancer. Clinical Cancer Research.