Receiving a mesothelioma diagnosis is very stressful. You'll be making plans regarding next steps, considering second opinions on treatment, investigating clinical trial options and more.
Deciding what to eat may seem unimportant right now, but nutrition deserves a role in your mesothelioma care plan.
Treating mesothelioma may seem unrelated to eating, but good nutrition will give your body the fuel it needs at a critical time.
Some of the nutrition challenges you may experience are unique to mesothelioma patients. Fortunately, there are simple steps you can take to nourish your body, even when eating isn't enjoyable.
Mesothelioma Can Affect Ability to Eat Well
Cancer and treatment side effects can vary significantly from person to person. At one end of the spectrum, some people struggle not to gain too much weight.
People with malignant mesothelioma often have the opposite nutritional challenge — Unintentional weight loss before, during and after treatment.
Losing weight without trying is hard on your body. It can worsen treatment side effects and make recovery more difficult. There are some specific reasons why this happens to people with mesothelioma.
Because of the way cancer affects your body, you may require more protein and calories than usual to meet basic nutrition needs.
Fluid build up in your midsection can compress your digestive tract. This may prevent your body from sending normal hunger cues, so you never feel hungry. And you may feel full after just a bite or two.
Fluid around the lungs can make it harder to breathe, too. If you experience new shortness of breath or worsening of existing breathing issues, call your doctor right away.
Another unique side effect of mesothelioma is stiffening of the affected tissues. If the mesothelioma is around your digestive tract, the stomach and intestines cannot expand properly to accommodate food.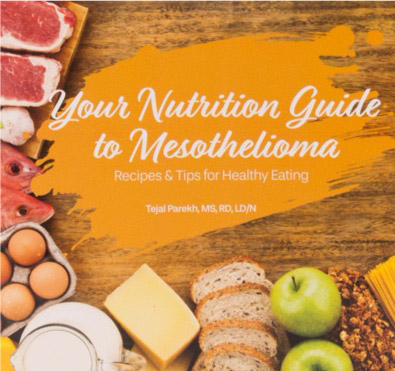 Exclusive Mesothelioma Nutrition Guide
Eating right and balancing your diet while undergoing mesothelioma treatment can help ease your symptoms.
Get Free Recipes & Tips
Make Every Bite Count
Use every eating opportunity to squeeze in more protein and calories.
Eat protein-rich foods regularly such as cheese, eggs, chicken, fish, lean beef, beans, tofu and nuts.
Drink high-calories liquids such as 100 percent fruit juice or smoothies made with whey protein powder or milk.
Add cheese and cooked meats to omelets, sandwiches, soups, salads and casseroles.
Increase protein in milk by blending one packet of dry milk powder into one quart of whole milk.
Add powdered milk or plain whey protein powder to milkshakes, cream-based soups and mashed potatoes.
Ask your loved one, "Salty or sweet?" Tailor each meal or snack to what appeals to them at the time.
Snack on cheese, nut butters or roasted nuts.
Blend nut butters or ice cream into smoothies and milkshakes.
Offer egg-based desserts such as cheesecake, custard and pudding.
In addition to a mesothelioma doctor and respiratory specialists, you may want to consult with a dietitian, too.
A dietitian can work with you to build on the tips above and create an individualized nutrition plan.
They can develop protein and calorie goals and provide food lists and menus to help you meet your goals. This will keep you stronger as you go through treatment.
A dietitian can also provide tips on food safety to prevent food poisoning.
Last Modified September 27, 2018
6 Cited Article Sources
Nicholson, B.D. et al. (2018, April 9). Weight loss as a predictor of cancer in primary care: a systematic review and meta-analysis. Br J Gen Pract. pii: bjgp18X695801. DOI: 10.3399/bjgp18X695801

Dogan, M. et al. (2014). The clinicopathological characteristics with long-term outcomes in malignant mesothelioma. Med Oncol, 31, 232. DOI: 10.1007/s12032-014-0232-0.

Kuo, Y.H. et al. (2018). Prognostic significance of unintentional body weight loss in colon cancer patients. Mol Clin Oncol, 8, 539-543. DOI: 10.3892/mco.2018.1582.

Gangadharan, A. (2017). Protein calorie malnutrition, nutritional intervention and personalized cancer care.
Retrieved from: http://www.oncotarget.com/index.php?journal=oncotarget&page=article&op=view&path[]=15103&path[]=48280
Loh, K.W. et al. (2012). Unintentional weight loss is the most important indicator of malnutrition among surgical cancer patients. Neth J Med, 70, 3656-9.

Mattox, T.W. (2005). Treatment of unintentional weight loss in patients with cancer. Nutr Clin Pract, 20, 400-10.
How did this article help you?
What about this article isn't helpful for you?
Did this article help you?
Thank you for your feedback.
Would you like to speak with a Patient Advocate?