Ambler Asbestos Manufacturing
The story of the Ambler Asbestos brand began in 1882, when Henry Keasbey and Dr. Richard Mattison moved their patent medicine company from Philadelphia to a village 20 miles north called Wissahickon.
They chose this location because of its convenient access to spring water, limestone and the Ambler railroad station. As luck would have it, around this same time Mattison discovered how to make pipe insulation by mixing magnesium carbonate with asbestos.
Before the 1880s were over, the Keasbey & Mattison Company transformed itself into an asbestos manufacturer, and the village of Wissahickon turned into the factory town of Ambler.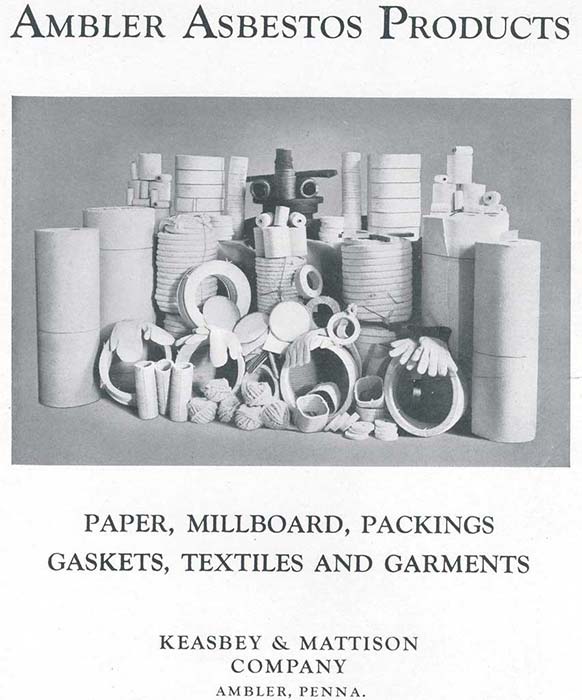 Mattison went on to make a fortune by capitalizing on as many uses of asbestos as possible. America's first asbestos textile plant opened in Ambler in 1896, and Ambler's factories began producing corrugated asbestos cement sheets in 1907.
Other asbestos-containing products manufactured in Ambler included shingles, millboard, tiles, artificial lumber, gloves, gasket material, brake pads and spray-on fireproofing.
After Keasbey & Mattison ran into financial trouble during the Great Depression, the company was bought by Turner & Newall in 1934, which in turn was bought by the Certainteed Corporation and Nicolet Industries in 1962.
Through all the changes in ownership, however, the Ambler Asbestos brand endured.
In the 1970s, public awareness about the dangers of asbestos exposure grew, and the Environmental Protection Agency began to intervene in Ambler.
Asbestos manufacturing continued in Ambler all the way until 1987, when Nicolet Industries filed for bankruptcy protection in the face of thousands of asbestos-related lawsuits.
Mesothelioma in Ambler, Pennsylvania
In 2011, a Pennsylvania Department of Health study confirmed there is an elevated rate of asbestos-related cancer among residents of Ambler.
The researchers examined cancer diagnoses reported between 1992 and 2008, and they found the rate of mesothelioma in Ambler's zip code is three times higher than the average rate for Pennsylvania.
Mesothelioma is a rare cancer almost exclusively caused by asbestos exposure.
The study result was unsurprising, given that 1.5 million cubic yards of asbestos-containing waste had been dumped in Ambler between 1930 and 1974.
For more than 40 years, debris from the factories had been dumped in piles nicknamed the "White Mountains of Ambler" because of their high-asbestos content. Children regularly played on the piles, and the wind often blew asbestos dust into the yards and homes of nearby residents.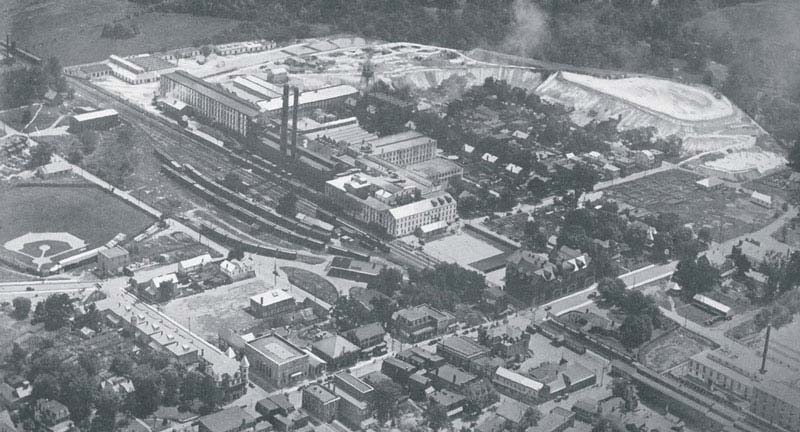 The worst exposure undoubtedly occurred in Ambler's asbestos textile plant, where workers processed raw asbestos for spinning into yarn. Pulling asbestos fibers apart created extreme concentrations of toxic dust in the air.
Work areas were not well ventilated because it would have interfered with the yarn-making process. Workers on all the other asbestos product lines suffered high levels of exposure as well. They were given no safety gear, no training and no warning about the long-term risks of inhaling asbestos.
Factory owners continued this policy of neglect even after the company's medical officer identified an elevated cancer risk among asbestos-exposed workers in the early 1950s.
Executives chose to profit off the Ambler Asbestos brand for another 30 years, rather than preventing decades of workplace asbestos exposure and countless deaths.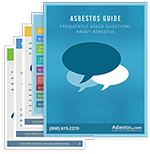 Free Asbestos Guide
Discover tips to ensure you keep your family safe from asbestos exposure at home
Get Your Guide Now
Ambler Asbestos Piles Superfund Site
In 1986, the "White Mountains of Ambler" were renamed the Ambler Asbestos Piles and designated a Superfund site.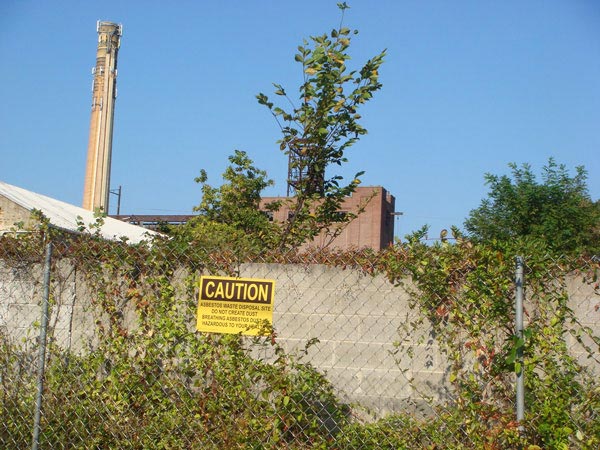 Under the Environmental Protection Agency's supervision, Ambler's asbestos companies paid to have the waste piles graded, capped with a layer of soil and secured by a perimeter fence.
By 1996, trees had grown on the site, and the erosion and sedimentation controls put in place were deemed successful. The EPA removed the Ambler Asbestos Piles from its National Priorities List, but they will remain surrounded by locked gates and warning signs for the indefinite future.
BoRit Asbestos Superfund Site
The BoRit Superfund site was another asbestos dumping area used by Ambler factories from the early 1900s to the late 1960s.
For a time, part of it actually hosted a park area and a playground. Though the park was closed and fenced off in the mid-1980s, the BoRit site did not receive Superfund status until 2009.
The BoRit site gained the EPA's attention thanks to campaigning by the Citizens for a Better Ambler Group. A land developer proposed building a high-rise on the BoRit site, which would have disturbed the asbestos-containing waste and potentially contaminated the surrounding community.
The EPA completed its initial cleanup phase of the site in 2015, but tensions still remain between people who want more development in the area and locals who want the BoRit site left undisturbed.
4 Cited Article Sources
The sources on all content featured in The Mesothelioma Center at Asbestos.com include medical and scientific studies, peer-reviewed studies and other research documents from reputable organizations.
How did this article help you?
What about this article isn't helpful for you?
Did this article help you?
Thank you for your feedback.
Would you like to speak with a Patient Advocate?
Last Modified February 3, 2020