Regulatory Organizations
Fact Checked
Our fact-checking process begins with a thorough review of all sources to ensure they are high quality. Then we cross-check the facts with original medical or scientific reports published by those sources, or we validate the facts with reputable news organizations, medical and scientific experts and other health experts. Each page includes all sources for full transparency.
Scientifically Reviewed
An occupational scientist or another expert who specializes in occupational hazards reviewed the content on this page to ensure it meets current scientific standards and accuracy.
This Page was Scientifically Reviewed By
The federal government established multiple organizations, including the Occupational Safety & Health Administration and the Environmental Protection Agency, to protect people from dangers such as asbestos exposure.
Page Topics
Written By: Daniel King,
Last modified: September 27, 2021
The mission to protect workers from asbestos exposure on the job and other hazardous conditions falls on several federal and worldwide organizations.
The four major regulatory organizations include:
Occupational Safety & Health Administration (OSHA)
National Institute for Occupational Safety & Health (NIOSH)
World Health Organization (WHO)
Environmental Protection Agency (EPA)
Asbestos exposure is a leading cause of workplace injury, illness and death.
Asbestos fibers become airborne during construction, repair work, demolition or maintenance that involves asbestos-containing products. Breathing in these microscopic fibers over time can cause a variety of illnesses such as mesothelioma and lung cancer.
Occupational Safety & Health Administration
When the U.S. Congress passed the Occupational Safety and Health Act of 1970, it created OSHA to protect workers on the job. The goal was to prevent Americans from serious injury or death in any occupational pursuits and to promote safer working conditions for all employees.

OSHA's Role with Asbestos
Asbestos is one of the many threats that OSHA tackled — a controversial, 40-year battle it continues to wage. In fact, the fourth most frequently cited OSHA standard violation is respiratory protection, which involves harmful dusts, gases and vapors, and more specifically, microscopic asbestos fibers.
An estimated five million workers in America are required to wear respirators at work because of OSHA regulations. Respiratory protection is addressed specifically for marine terminals, shipyard employment, long shoring and construction industries.
OSHA warns that "exposures tend to occur in the construction industry and in ship repair, particularly during the removal of asbestos materials due to renovation, repairs or demolition. Workers also are likely to be exposed during the manufacture of asbestos products (such as textiles, friction products insulation, and other building materials) and during automotive brake and clutch repair work."
OSHA imposes fines to enforce its goal of protecting Americans against asbestos exposure. For example, it levied fines of $1.24 million in 2011 against AMD Industries, Inc., after five unprotected and untrained workers in Illinois removed asbestos on a job site. "No one should risk serious illness or death to earn a paycheck," said Secretary of Labor Hilda Solis. "Such disregard will not be tolerated."
Since OSHA was formed, workplace fatalities have dropped by more than 65 percent. Occupational injury and illness rates have declined by 67 percent, according to OHSA statistics. But mesothelioma deaths have been steady and show no sign of a slowdown.
OSHA and Shipbuilding
OSHA has a Maritime Advisory Committee that handles asbestos around ships and shipbuilding, an industry that once relied heavily on the mineral. The committee focuses primarily on shipbuilding, shipbreaking, ship repair and a number of professions related to the maritime industry.
Its heat resistance, low cost, pliability and versatility made asbestos a perfect fireproofing material for ships. These benefits blinded employers, municipalities, regulators and lawmakers for decades to evidence of how dangerous asbestos could be. In the Navy, for example, asbestos was sprayed on many surfaces for insulation and fireproofing.
That is why Navy veterans have a high incidence of mesothelioma. An estimated 26 percent of mesothelioma lawsuits in the U.S. are filed by veterans.
As recently as 2009, Seward Ship's Drydock was fined more than $87,000 by the Occupational Safety and Health Administration (OSHA) for "willful, serious and repeat violations of safety and health standards." Among the violations was Seward Ship's lack of air testing in confined workspaces and "respiratory protection hazards."
OSHA has specific permissible asbestos exposure limits and requires an exposure monitoring program for certain classifications within the construction and shipyard industries. It requires certain employers to provide training and protective clothing to safeguard workers against asbestos exposure on the job. It also requires extensive record keeping and medical monitoring.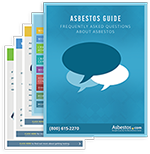 Exposed to Asbestos?
Get a free asbestos cancer guide shipped overnight.
National Institute for Occupational Safety & Health
The National Institute for Occupational Safety and Health was established in 1970 to help assure the well-being of American workers, providing the research, information, education and training that make it possible.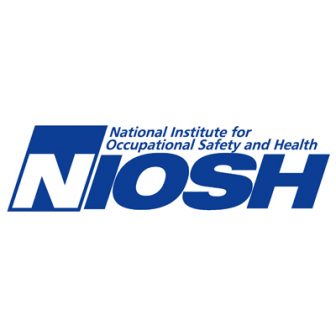 NIOSH is part of the Centers for Disease Control and Prevention and in the Department of Health and Human Services. Its mission is to generate knowledge and ideas through scientific research. It conducts studies, produces publications, disseminates information, makes recommendations and does workplace health evaluations to benefit American workers.
The agency does not have enforcement power.
NIOSH's Role with Asbestos
Asbestos is one of many dangers that NIOSH researches and sets standards for.
Between 26,000 and 72,000 deaths in the U.S. are attributed to work-related diseases every year, according to NIOSH. To help reduce that number, the agency offers many resources on its website such as teaching auto mechanics how to avoid asbestos exposure when working on brake drums as well as different types of respirators that are available for those in the shipbuilding industry.
NIOSH also issued a "Roadmap Document" in 2011. It serves as the recommended framework and starting point for a national asbestos research strategy to address scientific uncertainties about occupational exposure.
Research Roadmap priorities include:
Develop a broader understanding of what determines the toxicity of elongate mineral particles.
Develop the knowledge and information on occupational exposure to asbestos.
Develop improved analytical methods and sampling of asbestos fibers.
Improve public policy by applying research outcomes.
Nanotechnology
NIOSH is funding research for rapidly emerging nanotechnology and how it relates to occupational safety. A variety of commercial products incorporate nanotechnology, but there is little regulation. There is worry that carbon nanotubes have a structure similar to asbestos fibers, which may cause similar health issues.
World Health Organization
The World Health Organization was founded in 1948 and based in Geneva, Switzerland. WHO encourages governments and industries to find alternative products, pushing to make workplaces and workers safe from all toxic pollutants, particularly from carcinogens like asbestos.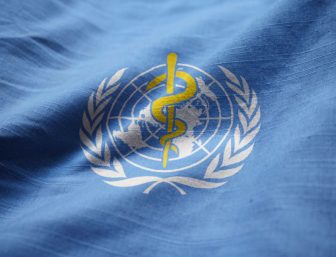 Much of WHO's constitutional responsibility is providing leadership on global health matters, setting standards and assessing health trends. It helps shape health research and evidence-based policy options.
Although its work regarding asbestos has been productive, it is far from done. WHO officials estimate that 125 million people are exposed to asbestos in the workplace annually, and 107,000 of them will die from it in 2012.
WHO's Role with Asbestos
WHO warns countries to stop using asbestos or face a future cancer epidemic. Despite WHO's efforts, many developing areas in Southeast Asia, Africa and India continue to use cost-effective asbestos building materials.
In September 2000, the World Trade Organization (WTO) Dispute Panel ruled in favor of a ban across Europe and rejected the Canadian argument that "controlled use" of asbestos should be permitted.
"WTO Members have the undisputed right to determine the level of health protection they deem appropriate," the panel said.
In 2002, WHO and the WTO performed a joint study known as WTO Agreements and Public Health, which helped illustrate the link between world trade and world health. Asbestos was a prominent topic in the study.
WHO worked with the International Labour Office in 2007 and produced an official Outline for the Development of National Programmes for Elimination of Asbestos-Related Diseases.
As part of that outline, they agreed to work with other intergovernmental organizations with a goal of completely eliminating asbestos-related diseases.
WHO's Outline for Eliminating Asbestos
Recognize the best way to eliminate asbestos-related diseases is to stop using all types of asbestos.
Take measures to prevent exposure to asbestos already in place, particularly during asbestos abatement.
Take measures to prevent exposure to asbestos already in place, and particularly during asbestos abatement.
Improve early diagnosis, treatment and medical attention of asbestos-related diseases by establishing registries of people with current and past exposure to asbestos.
The outline also differentiated between the different types of asbestos, paying close attention to the more commonly used forms.
"Continued use of chrysotile asbestos cement in construction industry is a particular concern. Because the workforce is large, it is difficult to control exposure and in–place materials have the potential to deteriorate and pose a risk to those carrying out alternations, maintenance and demolitions. In various applications, asbestos can be replaced by…other products which pose much less or no risk to health," according to the outline.
Worldwide Asbestos Ban
As the coordinating authority on public health matters within the United Nations, WHO leads the fight for a worldwide ban on asbestos.
"The tragedy of occupational cancer resulting from asbestos, benzene and other carcinogens is that it takes so long for science to be translated into protective action," said Maria Neira, M.D., WHO Director of Public Health and Environment. "Known and preventable exposures are clearly responsible for hundreds of thousands of excess cancer cases each year. In the interests of protecting our health, we must adopt an approach rooted in primary prevention that is to make workplaces free from carcinogenic risks."
Environmental Protection Agency
Formed in 1970 by an act of Congress, the U.S. Environmental Protection Agency (EPA) is charged with writing and enforcing regulations that protect human health and the environment. The EPA is headquartered in Washington, D.C., and has regional offices throughout the country.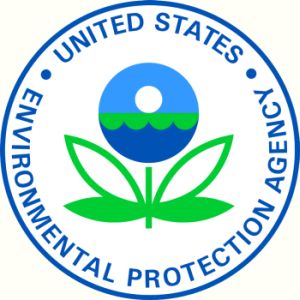 EPA's Role with Asbestos
The enforcement arm of the EPA has the responsibility of maintaining and policing a variety of environmental laws, including those regarding asbestos exposure.
It can delegate some monitoring, permitting and enforcement responsibilities to the states and Native American tribes. It can sanction, fine or take other measures against violators.
The EPA attempted to enact a full ban in 1989, but asbestos manufacturers sued the agency in the infamous case Corrosion Proof Fittings v. Environmental Protection Agency.
The ban was overturned by the Fifth Circuit Court of Appeals in 1991. Only five asbestos products and new uses of asbestos remained banned after the ruling.
Significant New Use Rule in 2018
On June 1, 2018, the EPA announced a Significant New Use Rule (SNUR) for asbestos. According to the EPA, SNURs require companies to inform the EPA if chemical substances are used in new ways that might create concerns.
Potential New Uses of Asbestos Under SNUR
Adhesives, sealants and roof and non-roof coatings
Arc chutes
Beater-add gaskets
Extruded sealant tape and other tape
Filler for acetylene cylinders
High-grade electrical paper
Millboard
Missile liner
Pipeline wrap
Reinforced plastics
Roofing felt
Separators in fuel cells and batteries
Vinyl-asbestos floor tile
Any other building material (other than cement)
Nancy Beck, deputy assistant administrator in the EPA's chemical safety office, claimed the SNUR represents further regulation of asbestos. But new uses of asbestos were banned by the EPA in 1991. The SNUR would revoke that ban.
Critics say the SNUR will lead to unnecessary asbestos exposure. In an internal email, an EPA policy analyst voiced concerns that the SNUR may allow corporations to use asbestos in some instances without review.
The EPA plans to finalize the SNUR by the end of 2018.
---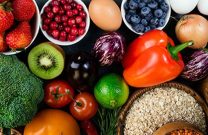 Get Free Recipes for Mesothelioma Patients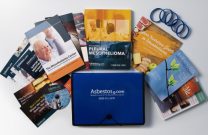 Read Top Mesothelioma Guide for Free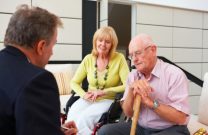 Get the Compensation You Deserve
---
Tell us what you think
Did this article help you?
How did this article help you?
What about this article isn't helpful for you?
Did this article help you?
Thank you for your feedback. Would you like to speak with a Patient Advocate?
---