Emily Ward
Cancer Advocate & Long-Time Mesothelioma Survivor
Table Of Contents
Emily Ward was diagnosed with pleural mesothelioma in 2012. She survived for nearly 10 years and died at her home in Cornish, Maine, in May 2022. She used her experience as a cancer survivor and her background as a nurse to connect with and inspire hope in other survivors.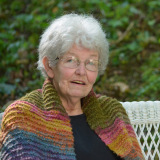 Last modified: December 20, 2022
Quick Facts
Expertise:

Mesothelioma
Survivorship
Nursing
Pharmacology

Author Profiles:
About Emily
Emily Ward spent her life helping others. She retired from nursing after a 43-year career and continued to work other jobs in her hometown of Cornish, Maine, as a tech in her local pharmacy and a helper at a nearby physical therapy and fitness center.
Diagnosed with pleural mesothelioma in 2012, Ward credited Dr. David Sugarbaker, renowned mesothelioma treatment pioneer, for adding years to her life. She also credited her medical oncologist, Dr. David Jackman, for improving her quality of life for years until her death in 2022.
Ward became a contributing writer for The Mesothelioma Center at Asbestos.com, the nation's most trusted mesothelioma resource, in November 2018. She used her experiences as a survivor and a nurse to help other survivors make sense of their diagnoses.
She had a strong relationship with Jackman thanks to their shared appreciation for a direct approach. She took the same method with the content she contributed to Asbestos.com by addressing issues mesothelioma survivors typically face.
Ward showed that those battling mesothelioma could have a good quality of life through determination and a positive outlook.