Meet Dr. Paul H. Sugarbaker
Surgical Oncologist & Contributing Writer
Surgical oncologist Dr. Paul H. Sugarbaker at MedStar Washington Hospital Center is recognized as the world's leading expert on peritoneal mesothelioma cancer. He pioneered the innovative surgical techniques that changed the way the cancer is treated today.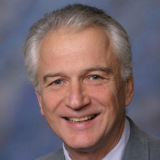 Last modified: December 20, 2022
Certifications:

American Board of Surgery
American Society of Abdominal Surgeons
Cornell University Medical College
National Institutes of Health/National Cancer Institute
Brigham and Women's Hospital (Residency)
Massachusetts General Hospital (Fellowship)

Expertise:

Peritoneal Mesothelioma
Gastrointestinal Malignancies
Surgical Oncology
Cytoreductive Surgery
HIPEC
About Dr. Sugarbaker
Dr. Sugarbaker is chief of the Peritoneal Surface Malignancy Program and director of the Center for Gastrointestinal Malignancies at the MedStar Washington Hospital Center in Washington, D.C. He is the general secretary for the Peritoneal Surface Oncology Group International (PSOGI). This is an effort to develop treatment centers for peritoneal metastases and mesothelioma around the globe.
Sugarbaker has been the driving force behind the development of the cytoreductive surgery/hyperthermic intraperitoneal chemotherapy procedure that specialists are using today to effectively treat peritoneal mesothelioma.
Many of his colleagues refer to it as the "Sugarbaker Procedure," which has become the standard treatment for several abdominal cancers that spread to the surfaces of the abdomen and pelvis.

In 2022, Sugarbaker published his research on long-term intraperitoneal chemotherapy for peritoneal mesothelioma and found that five-year survival improved to about 80% for patients who underwent the "Sugarbaker Procedure."
The procedure has been credited with extending the lives of peritoneal mesothelioma patients, giving hope to those with this aggressive cancer who once had none. The 10-year survival rate of his most recent group of 36 surgical patients was 75%.
As an international expert on surgical oncology, Sugarbaker has lectured extensively, both within the U.S. and abroad, helping those around the world. He shares his expertise as a contributing writer for The Mesothelioma Center, the nation's most trusted mesothelioma resource.
"He is a tireless innovator and one of the legends of our time," said Dr. Brendan Moran, surgical oncologist at the Peritoneal Malignancy Institute at Basingstoke Hospital in the U.K. "I consider Paul Sugarbaker the global leader in surgical oncology."