'Christmas in Conway' Strikes a Chord for People with Cancer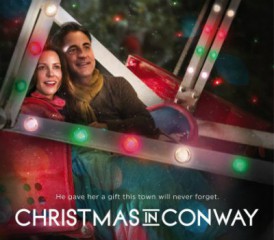 The romantic and endearing "Christmas in Conway" is a story that families affected by cancer can relate to because it's one of the few films that addresses cancer during the holidays.
This time of year can present various challenges to people and families coping with cancer. Cheery holiday movies are the norm, and though they offer a respite from the reality of cancer, they may be difficult to enjoy if cancer is on your mind. A once-favorite holiday film can unexpectedly become tough to watch if you or a loved one is diagnosed with cancer.
Enter "Christmas in Conway," Hallmark's most recent Hall of Fame movie that can offer something unique to families dealing with cancer amid the holidays. The star-studded cast includes Mary Louise Parker, Andy Garcia, Mandy Moore, Cheri Oteri and Riley Smith.
Anyone facing cancer may find themselves relating to themes and the plot, which offers an opportunity to reflect and process emotions around the topic at hand.
If you like holiday movies that remind you of what's most important in life, then "Christmas in Conway" will deliver.
Plot Strikes a Chord in People with Cancer
Set in Conway, S.C., Natalie (Moore) is a compassionate hospice care nurse assigned to care for Suzy (Parker), a terminal cancer patient with a loving and determined spirit. Suzy is allowed to leave the hospital to return home for the holidays on one condition: That a full-time nurse is there to care for her – a situation that Suzy's husband, Duncan, initially resists.
Duncan would prefer to take care of Suzy alone, but eventually grows to appreciate Natalie's nursing experience and empathetic personality. Natalie's assistance allows Duncan to do romantic gestures for Suzy and enjoy extra quality time with her, which they often spend recalling memorable moments about their life together.
While reminiscing one evening at home, Suzy fondly remembers the night Duncan proposed on a Ferris wheel at an amusement park in nearby Myrtle Beach, S.C. "I'd do anything to go back to that night……I wish that ride never ended," Suzy says.
Duncan wants to fulfill her wish, and they decide to drive to Myrtle Beach to relive the experience while Suzy is feeling good. Along the way, Suzy begins to feel ill and they reluctantly return home. As Duncan processes the experience in his backyard, he looks around and realizes there just might be enough room for a Ferris wheel. He starts to wonder: Could he surprise Suzy with such a grand Christmas gift?
To fulfill his vision, Duncan visits the amusement park alone, and asks an employee about how he can buy or rent a Ferris wheel. He discovers a carnival ride junk yard is nearby that may have a 45-foot Ferris wheel on the lot.
Encountering opposition along the way, Duncan works relentlessly to obtain and erect the Ferris wheel in his backyard. From the junk yard owner initially refusing to sell the wheel to the feisty neighbor who reports Duncan to the city for failing to obtain a permit for the wheel, the movie showcases the reality that life doesn't stop for cancer.
Suzy's sweet and loving nature offers a sense of lightheartedness to the heaviness at hand. Despite her ailing health, she copes well with accepting help from others and focuses on life's little details with a sense of appreciation. Even during flare-ups of the ongoing family feud with their neighbor, Gayle, Suzy remains compassionate and nonjudgmental.
Gayle, played by Cheri Oteri (a former "Saturday Night Live" cast member), offers comic relief throughout the movie. From falling while snooping around the Mayors' backyard to losing her cool when her outdoor Christmas décor is damaged, Gayle's zany actions deliver a balanced dose of humor to the film.
Real, Inspirational Themes
A central theme that cancer patients will relate to is that life continues after a cancer diagnosis. Good days and bad days come, and life's ups and the downs continue to unfold. Even though cancer can feel figuratively paralyzing to patients and their families, it doesn't stop the world from turning.
This aspect of the plot helps to play up the characters' resilience. Suzy maintains focus on the good in her life, Duncan does his best to cope with the ups and downs, and Natalie handles her emotionally challenging job with grace (her mother's life was lost to cancer, which inspired her to become a hospice nurse).
The movie also showcases how the tiny details of family life can be unpredictably changed by a cancer diagnosis. For example, Suzy comes to realize that going up and down the stairs in her home has become too taxing on her. Moving downstairs means that she'll need the medical bed her doctor recommended, and that Natalie will also have to sleep downstairs to remain close.
When Duncan comes home to see the medical bed and Suzy's belongings set up in the living room, he is stunned and snaps at Natalie when she expresses a need to sleep in Duncan's office next to the living room. But when Suzy asks Duncan if he is alright with the change, he says in a loving tone, "I'm not OK with any of it, but I'll be with you all the way."
Takeaways for Families Affected By Cancer
Coping with cancer during the holiday season is no easy task.
As the world celebrates, families affected by cancer can't help but feel conflicting emotions. Seemingly incongruent emotions can arise simultaneously; such as feeling gratitude that the loved one with cancer is still alive and at the same time feeling angry that your time with them may be shorted by cancer.
"Christmas in Conway" reminds us that all of these emotions are normal and when we lean on others for support, we can receive exactly what we need to cope. The characters demonstrate the strength of the human spirit, and its ability to see beauty during difficult times.
One of the greatest gifts a person can give is care. Here at The Mesothelioma Center, our hearts go out to all families coping with cancer this holiday season.
If you'd like to watch "Christmas in Conway," you can buy the DVD from Hallmark. If you'd like to read some tips on coping with cancer during the holidays, you can read about our recent mesothelioma support group session.