Awareness & Research
Social Media Is Crucial to Raising Cancer Awareness, Funding
Fact Checked
Our fact-checking process begins with a thorough review of all sources to ensure they are high quality. Then we cross-check the facts with original medical or scientific reports published by those sources, or we validate the facts with reputable news organizations, medical and scientific experts and other health experts. Each page includes all sources for full transparency.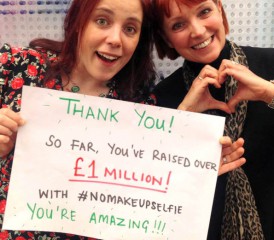 For many Internet users, social media is a part of their daily lives — professional and personal.
A growing number of online users prefer to read their Facebook and Twitter feeds before watching the news, in fact, many get their news and other information solely through what their friends or news agencies they follow choose to post on social media.
That's why many health-related organizations turn to social media to raise awareness about cancer. They also are spurring online readers to donate money to research programs striving to find a cure for different types of cancers, including rare ones like mesothelioma.
As people affected by the asbestos-related disease observe Mesothelioma Awareness Day on Sept. 26, many cancer organizations have shown success in their social media efforts.
Cancer Research UK (CRUK), the world's largest independent cancer research and awareness charity, earlier this year raised more than $13 million in six days through Facebook and Twitter. They asked women to post selfies without makeup on social media using the hashtag #nomakeupselfie.
Those women then urged social media users to donate to CRUK by texting the word BEAT to 70099, a number selected by the organization to collect the donations. Donors included Beyoncé, Rihanna and X Factor judge Cheryl Cole, among other celebrities. The donations will fund 10 clinical trials, according to CRUK's CEO Harpal Kumar.
"We don't receive any government funding for our research and so it is phenomenal to think that the generosity of the public is enabling us to fund critical research that we didn't have the money for six days ago," Kumar said at the time of the campaign. "Being able to fund more trials will bring forward the day when all cancers are cured."
Successful Cancer-Related Facebook Pages that Raise Awareness
Major cancer awareness organizations have taken to the social sphere to educate and share their knowledge with the public.
The Facebook page of Stand Up to Cancer, a charitable program that raises money for cancer research, has more than 1.3 million likes and those numbers are growing. Their recipe for nudging people to get involved: Celebrities.
Stand Up to Cancer has tons of celebrity involvement (Betty White, Pierce Brosnan, Giada De Laurentiis, and Jennifer Hudson), endorsements and interaction. It managed this by staying general and not focusing on one cancer specifically. The posts on the group's Facebook page enjoy shares in the hundreds, which helps spread awareness.
The Facebook page of the American Cancer Society shows it has garnered more than 968,000 likes. Meanwhile, the Facebook page of the National Cancer Institute counts with 120,000 likes. Generating that many likes shows social media users are interested in what these groups are working on, their research and what they want to share with the public.
Officials at CRUK were shocked by the amount of donations and interaction the #nomakeupselfie campaign generated, especially because it wasn't their idea.
No one is quite sure how the campaign began, but some believe it started as a response to the adverse comments toward 81-year-old actress Kim Novak at this year's Oscars. Comments about the actress, who is most known for her role in Alfred Hitchcock's 1985 film, "Vertigo," focused on her appearance and unsteady speech.
Author Laura Lippman tweeted a picture of herself without makeup in support for Novak. Others posted similar pictures of themselves on social media networks, and it became viral.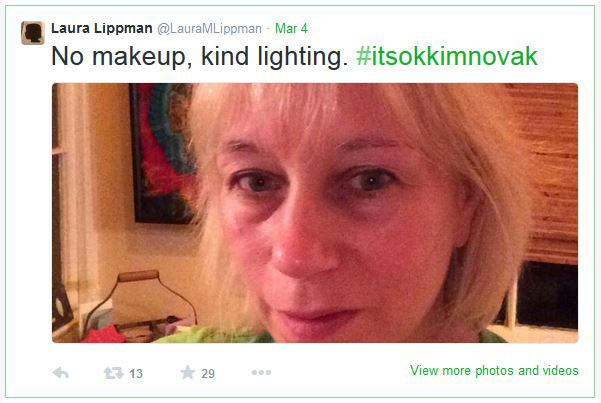 Author Laura Lippman tweeted a picture of herself without makeup in support for Novak. Others posted similar pictures of themselves on social media networks, and it became viral.
"We didn't start the trend, but we want to say a massive THANK YOU! to each and every one of you who got involved and donated to our work alongside your photo," a post on CRUK's page showed."You're all amazing, and we can't thank you enough."
Although amyotrophic lateral sclerosis, or ALS, is not a cancer, the recent ALS Ice Bucket Challenge campaign went viral with more than 1 million mentions on social media in the past 30 days, according to social search and analytics company Topsy. Donors urged friends, family, and co-workers to take the challenge (drenching themselves with a bucket of ice water), and donate to an ALS charity.
The ALS Ice Bucket Challenge raised more than $100 million for research into degenerative neurological disease.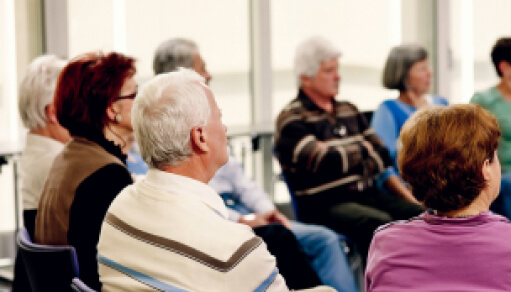 Support Group for Patients & Families
Our online support group helps patients and families cope with the emotional effects of mesothelioma.
Why Is Social Media Raising Awareness?
First, let's start with who is online.
A 2013 Pew Research Internet Project study shows that 62 percent of adults living with one or more chronic diseases use the Internet.
"Once someone is online, having a chronic disease increases the probability that they will take advantage of social media to share what they know and learn from their peers," the Pew report shows.
Researchers said social media enables people to engage with each other and with health care in ways that were almost unimaginable a decade ago. In fact, the Pew report shows one in five Internet users are online to find others who might have health concerns similar to theirs.
The Web, especially social media, has the power to connect people with similar interests, issues, concerns, and even diseases across continents. It provides patients with information and support when they need it. Social media provides an outlet for them to share their stories and helps inform others of their disease and what can be done about it.
Future of Awareness
As of June, Facebook counts with more than 1.3 billion active monthly users — that's a wonderful opportunity to potentially raise awareness about cancer.
While it's undeniable that many cancer organizations have learned what it takes to make social media work for them, there are still many that have not.
As more cancer organizations learn what the members in their communities are looking for and provide it to them, they will start to feel the true power and reach of social media. It's important to keep in mind that social media plays by different rules and a mistake can go viral faster than something of worth.
With that in mind, more campaigns like #nomakeupselfie and #ALSIceBucketChallenge are bound to crop up and really raise money for many foundations. Here at The Mesothelioma Center we would love to see a boost in funding for mesothelioma research and clinical trials.
We hope worldwide cancer and mesothelioma social media campaigns will continue spreading awareness, educating the public and raising funds for important breakthroughs leading to a cure.