Health & Wellness
In Mesothelioma Cancer, a Renewed Faith
Fact Checked
Our fact-checking process begins with a thorough review of all sources to ensure they are high quality. Then we cross-check the facts with original medical or scientific reports published by those sources, or we validate the facts with reputable news organizations, medical and scientific experts and other health experts. Each page includes all sources for full transparency.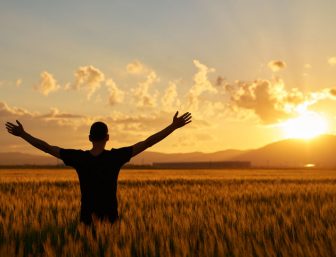 Throughout my childhood, my family didn't delve into religion much.
My sister and I occasionally attended church with relatives, but my parents weren't what I'd call "religious." We didn't regularly attend church services, and we didn't talk about God. My family believed but did not practice religion.
Some people are raised to practice a particular religion or form of spirituality. Others experience a life event that inspires them to explore or renew their spirituality.
Learning of a cancer diagnosis may motivate patients and caregivers to consider elements of faith.
For Dad, his mesothelioma cancer diagnosis sparked a new interest in religion. My aunt's pastor came over to see him at our house several times. Dad felt as though faith was a private matter — a relationship between one's self and God. He didn't talk about his faith experiences, but he seemed more at peace following the pastor's visits.
In a way, mesothelioma helped Dad find a renewed sense of spirituality.
The Role of Faith in Fighting Cancer
Numerous mesothelioma cancer survivors, such as Yvette King, attribute strength and endurance to their faith.
Embracing faith may be a valuable tool for other folks dealing with mesothelioma. The connection between religion and healing is phenomenal and often unexplainable using scientific data.
However, the American Cancer Society in 2015 published the results of a study that analyzed the connection between spirituality and physical well-being in more than 32,000 cancer patients. Researchers concluded cancer patients more involved with their spirituality reported better physical health.
Those results underscore the need for oncology teams to address patients' spiritual needs.
Understanding the Healing Process
Dr. Lydia Dugdale, co-director of the Yale Program for Medicine, Spirituality & Religion at Yale University, wrote a 2016 article addressing elements of healing from a holistic medical standpoint.
She explained that medical professionals sometimes interpret healing as interventions that only address a patient's physical well-being. However, Dugdale's research, which was published in a publication of the Institute on Religion and Public Life, showed healing also restored a person's spiritual, moral and mental well-being.
Perhaps a truly healing approach to incurable diseases can be rooted in holism.
Three Steps Toward Healing the Incurable
Patients, caregivers and families comprise a patient's care network tasked with restoratively treating patients, Dugdale says. The transition toward holistically restorative care involves several steps:
Recognizing the limits of medically based technology. When patients feel their cancer treatment is ineffective, they should engage their oncology team to determine the best course of treatment. My dad knew when it was time to stop his chemotherapy treatments.
Shifting focus to quality of life. A time will come when the focus of the cancer battle shifts from curing the illness to preserving quality of life. My dad ended his chemotherapy treatments because he didn't want to be so sick all the time. He wanted to enjoy the time he still had with us.
Incorporating Additional Support. Dugdale stressed the importance of community in healing. Deeper healing involves members of a patient's family, church members, neighbors, colleagues and members of the oncology team. Combining family, religious and social support networks make the goal of mental, moral and spiritual restoration attainable.
Transitioning toward restorative care is an important decision in cancer care. Patients and families should consult with their oncology teams to determine the best choice for them.
Spiritual Elements of Care
For some mesothelioma cancer patients, focusing on spirituality is difficult.
Attending worship services is harder for those who are physically limited. My dad wanted to be more involved spiritually, but as the cancer progressed, he just wasn't physically able to travel to a church and sit through services.
Technology can be an advantage for cancer patients who cannot physically attend services. Many churches broadcast their worship services on the internet. Some even connect using live video feeds rather than recorded sermons. Check with your church or a religious center you'd like to visit to see what types of online services they have.
While technology is helpful, there is no adequate replacement for participating in a faith-related event.
Replicating the human interaction, group prayer and spiritual love people feel during visits from church members and pastors is impossible. Sometimes the best healing for the soul is holding the hand of another believer and singing praises.
When I think about Dad's spiritual renewal during his battle with mesothelioma cancer, I recall his favorite poem, "Footprints in the Sand," by Carolyn Carty.
I am particularly reminded of the line: "During your times of trial and suffering when you see only one set of footprints, it was then that I carried you."
Free Mesothelioma Resources
Get Access to Free Resources for Patients & Loved Ones