Health & Wellness
Don't Let Mesothelioma Grief Paralyze You, Your Loved Ones
Fact Checked
Our fact-checking process begins with a thorough review of all sources to ensure they are high quality. Then we cross-check the facts with original medical or scientific reports published by those sources, or we validate the facts with reputable news organizations, medical and scientific experts and other health experts. Each page includes all sources for full transparency.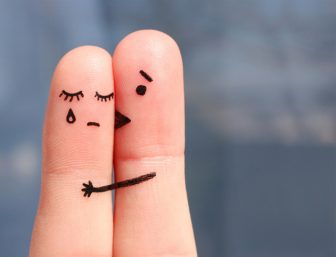 My family experienced many grief-related emotions with Dad's mesothelioma cancer diagnosis. It was a hard time in our lives, and for me, the emotional difficulties were long lasting.
Patients and caregivers may experience feelings of grief associated with fighting aggressive cancer. Dealing with the diagnosis is tough, and suffering loss is often devastating. Over time, emotions related to grief can take a toll on one's emotional well-being.
Many people are reluctant to discuss grief or emotional problems. People feel they'll face judgment or show weakness if they talk about their personal experience with mental health.
For many families dealing with mesothelioma cancer, fear of judgment silences much-needed discussions about emotional health.
Ignoring Feelings Doesn't Help
When we lost Dad, I didn't emotionally process the loss.
I truly didn't know how to talk about my emotions or tell anyone I needed help. Instead, I ignored my feelings.
For years, I rarely talked about him, or the memories we shared. I only reluctantly looked at photos of him. Acknowledging my pain seemed to make it unbearable.
If I pretended losing him didn't bother me, I thought the pain would subside. I thought that I didn't need to talk about it, and no one would understand anyway. I emotionally isolated myself.
Unprocessed grief has a strange way of creeping up on people. If not properly handled, grief will manifest in unexpected ways that affect work, romantic relationships and family bonds.
My grief resurfaced nearly two decades after losing my dad. Eventually, I couldn't run from the hurt anymore. When it finally caught up with me, the emotional pain paralyzed me for weeks. I could hardly force myself out of bed, and it felt as if I'd only just lost him.
Whether experiencing grief from the loss of a loved one, or negative emotions stemming from a mesothelioma diagnosis, ignoring these feelings may deteriorate a person's mental health.
People are changing the way they see emotional health issues, including grief processes.
The unspoken social standards that once deterred people from discussing delicate issues, such as emotional health, are becoming a thing of the past.
As more people speak about mental health, the stigma associated with these conversations lessens, and the conversations become a regular part of life.
A New Understanding of Grief from a Clinical Standpoint
Empirical research constantly changes the way mental health professionals view, diagnose and treat emotional issues.
Grief is an often researched emotional experience in the psychological fields. Through research, clinicians have a more accurate approach to addressing loss.
In a 2017 article, the American Counseling Association illustrated many of the changing clinical views about grief.
Researchers showed that mental health professionals are moving away from the linear conception of grief experience, which stipulates a person processes loss through a series of steps.
Rather than conceptualizing grief in stages or steps, professionals now view the process on a more individualized continuum. On one end of the continuum is adaptive grief, where a person overcomes the initial shock of loss, feelings of sadness and loneliness, and adapts to a different life.
On the other end of the continuum is what many helping professionals call complicated grief, which affects 10 to 15 percent of people who experience the loss of a loved one.
Symptoms Associated with Grief
Researchers say the following are some of the symptoms related to complicated grief:
Extensive Emotional Pain: Those experiencing complicated grief have painful emotions that don't improve within six months.
Sleep Disturbances: Not getting enough sleep or sleeping too much for prolonged periods of time are indicative of something more than adaptive grieving.
Impaired Social Functioning: Lacking a desire to spend time with others, or doing previously enjoyable activities are symptomatic of complicated grief.
Impaired Ability to Work: Missing days of work due to emotional health issues for extended periods of time signifies a deeper issue with grief.
Risk Factors of Complicated Grief
It is completely normal to need time to heal from suffering the loss of a loved one.
Talking about emotional concerns can help in the healing process. However, some people are at risk of developing emotional health issues such as complicated grief. These people may require more help healing than others.
Researchers identify the following as risk factors for developing complicated grief:
Inadequate Social Supports: Sometimes people need a friend or loved one to listen. When experiencing loss, it is important to have a strong support system to lean on emotionally.
High Levels of Premarital Dependency: When married couples experience cancer, they often endure the battle together. Losing a supportive partner can increase the other spouse's risk for complicated grief.
Gender: Women tend to feel more separation distress when they lose a loved one in comparison to men. This emotional tendency places women at a greater risk of developing complicated grief.
What Can You Do?
If you're experiencing grief, it is helpful to understand your emotions.
There is nothing pathological about mourning the loss of a loved one. Sometimes grieving individuals need some time alone to process things. It is also important to reach out to others for emotional support when needed.
Understand you are not alone, and there are many who have experienced similar losses.
If the healing process never begins, you may experience an emotional issue more extensive than adaptive grief.
It is crucial you reach out to your family doctor or a mental health professional. Clinicians can help you understand why you haven't started the healing process.
Together, professionals and people suffering prolonged or complicated grief can design a path toward healing.
Free Mesothelioma Resources
Get Access to Free Resources for Patients & Loved Ones