Stories from Survivors
Mesothelioma Survivor Rising with Immunotherapy
Fact Checked
Our fact-checking process begins with a thorough review of all sources to ensure they are high quality. Then we cross-check the facts with original medical or scientific reports published by those sources, or we validate the facts with reputable news organizations, medical and scientific experts and other health experts. Each page includes all sources for full transparency.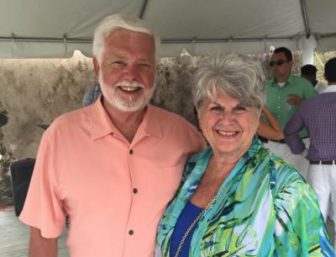 Gene Hartline was ready to concede after doctors at a highly rated, big-city cancer center told him there was little they could do for his advanced-stage mesothelioma.
His family refused to believe it.
Hartline returned home and found innovative medical oncologist Dr. Rama Balaraman.
The two started a patient-doctor relationship that has given him new life as a pleural mesothelioma survivor.
A second opinion has worked wonders.
"The way I feel now, I could live another 20 years," Hartline, 77, said recently from his home near Lady Lake, Florida. "God works miracles, and he's working a good one here."
Hartline, who was first diagnosed in July 2016, has been receiving the experimental immunotherapy drug nivolumab – also known by brand name Opdivo – for the last seven months.
He returns to Balaraman's nearby office every two weeks for an hour of IV drug delivery, and a spirited, uplifting conversation.
"She's great to talk with. The big cancer center, which came so highly recommended, told me I had only 4-6 months to live," Hartline said. "The doctor there said the first 2-3 months would be okay, but then grab your bootstraps because the next two months would kick my ass. I thought it was over for me."
His family did not.
They found Balaraman at Florida Cancer Affiliates, a community-based practice that focuses on emerging therapies and the unprecedented access to drugs not yet approved by the U.S. Food and Drug Administration.
"I would tell anyone who gets diagnosed with this disease, don't just take the first advice you get and give up," Hartline stressed. "Look around and see what is out there. Dr. B told me from the start, 'We'll fight this together. We'll try and come up with something that works for you.' I was so lucky to find her. Best thing that could have happened to me."
Vital Family Support
It helped that his two sons work in the pharmaceutical business, one granddaughter is a doctor, and the other is a nurse. They knew where to look and what questions to ask.
Hartline did three months of chemotherapy, which reduced the tumor burden by more than 50 percent, although side effects made him miserable. After a while, the chemotherapy stopped working, which is typical with pleural mesothelioma, especially with the sarcomatoid subtype he has.
They quickly turned to Opdivo, which has shown promise with several other cancers, including non-small cell lung cancer. Immunotherapy unmasks cancer cells, and allows a patient's own immune system to attack them. For him, the side effects have been negligible.
Balaraman used it previously with other cancers. She saw it work well with only one other mesothelioma patient.
"I told her up front, I was going to be the second one," Hartline said. "They say now the cancer is in remission. I feel like 100 percent better than I did before. I almost feel like I got my life back. Who knows how long this will last, but I'm not going to sit here and let the grass grow under my feet."
Feeling Revitalized, Touring the US
He and his wife, Mickie, are leaving soon to attend a Chesapeake Bay crab festival off the Virginia coast. They also have trips planned to New Jersey and Ohio to see family and friends.
They recently vacationed in the Panhandle region of Florida. Two months ago, Hartline and a son chartered a seaplane trip to explore the state from the air. He is talking now about a future riverboat trip down the Mississippi.
"I'm just crossing things off my bucket list," he said. "I'm not waiting for anything. My doctor said, if I feel good, just enjoy it. And I feel good now, so 'Katie bar the door.'"
Hartline, who is a deacon at his church, will be driving 1,200 miles to Buffalo, New York, next month by himself, and then flying home as a favor to a church member who needed help.
When he returns home, he and Mickie will begin renovating their kitchen. He expects to see that job finished and have time to enjoy it.
"It helps to have faith in God and faith in your doctor. I have both," he said. "That leads to a positive attitude, which has been so important. There's no doubt in my mind; God has had a hand in this. So has my doctor."
Built Career as Sheet Metal Contractor
Hartline retired 20 years ago after a career as a sheet metal contractor in Dayton, Ohio, where he first learned the business working for his father. Asbestos products, the primary cause of mesothelioma, filled his professional life.
More than 30 years ago, he was diagnosed with an asbestos disease during a national screening program for sheet metal workers. His disease, though, remained dormant until 2016.
To start his retirement, they moved to Fort Myers Beach, where he opened Six Pack Fishing Charter, mixing his life-long love of boating with a new adventure.
When he moved to Central Florida a decade ago, he embraced his new church in Belleview, where he worked tirelessly on the 25-acre property. He and other parishioners erected almost a mile of fencing. He helped pave the parking lot.
"All of a sudden last year, I started feeling weaker and weaker, and I knew something was wrong. The diagnosis was tough, especially when they said 4-6 months to live," he said. "But now, with this immunotherapy, I'm not going downhill anymore. I'm on the climb back up. And that feels good."
Free Mesothelioma Guide
Get Answers to All Your Mesothelioma Questions