Discussing a Mesothelioma Diagnosis During the Holidays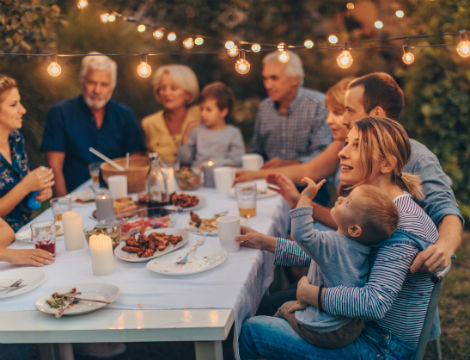 The one thing that may be more difficult than processing a mesothelioma diagnosis is finding the right time and place to tell your loved ones.
Cancer is a word no one wants to hear, especially from a parent, grandparent, sibling or close friend. It can be especially hard to process for a rare diagnosis such as mesothelioma, which typically comes with a bleak prognosis.
There is no easy way to break the news, and finding the right words might seem impossible.
Holidays can be a stressful time for anyone. For someone recently diagnosed with mesothelioma, celebrating or getting in a cheerful state of mind can be unthinkable with the fear of cancer lurking.
On the other hand, the holidays are a perfect opportunity to gather with loved ones and discuss your diagnosis.
The holidays are about family and giving. It may be one of the few times of the year your entire family is together under one roof.
A cancer diagnosis certainly isn't the news anyone wants to share during a family gathering, but the timing can be a mixed blessing. It can also form a much needed support system as you begin your cancer journey.
Deciding When to Talk with Family Members
Only you can decide when the time is right to share your cancer diagnosis with family.
Sometimes, it helps to tell those closest to you first. Including your inner circle in the reality of what's happening can take off some of the weight and stress that comes with a cancer diagnosis. This group can also help prepare you to tell the rest of your family and friends.
Together, you can decide the best way to tell others and answer any questions that may come up.
It may be helpful to make a list of people you want to tell in person. Start with those most important to you — spouse or partner, children, grandchildren, siblings and close friends — then make a separate list of other friends and family members that you socialize with less often. This may include extended family and co-workers.
The "inner circle" group can help share the news with others.
It is important to tell the people close to you how you're feeling and how much you are willing to share with others. You may choose to be more private by sharing only the most basic details, or be an open book, ready to answer any and all questions.
If you decide to share your diagnosis during a holiday gathering, try formulating a plan for the best time to do so. If those closest to you already know, work with them to plan a time to sit down with everyone and talk about your illness.
You will know how open your family is when it comes to sharing personal issues, so use that in deciding the best time to share. You could even give everyone notice ahead of time to schedule a time to talk.
However, never feel like you should have to open up to everyone. Every family is different, and it is perfectly normal to be selective on who you tell and how many details you share.
The Importance of Sharing Your Diagnosis
There is perhaps no better time to surround yourself with loved ones than after receiving a cancer diagnosis.
Sharing your diagnosis with those you care about will always bring elements of sadness and stress, but it can also be an essential step in getting the support you need.
The holidays may present the perfect opportunity for you and your family to sit down and discuss the details of your prognosis and a potential treatment plan.
It may also be the right time to consider outside help, such as patient navigators, patient advocates and social workers. These professionals are dedicated to helping guide cancer patients through and around the barriers of the complex health care system.
You may even consider enlisting their help prior to the holiday gathering, allowing you to present all of the options and remaining hurdles to those you trust the most.
Finding a strong support system is essential during a cancer battle. Don't be afraid to lean on your family and close friends for support, physically and emotionally.
The weeks and months following a cancer diagnosis can be trying. Involving the assistance of family and friends can help:
Develop a caregiving plan, including who can drive you to doctor appointments or handle housekeeping duties.
Weigh treatment options such as surgery, chemotherapy and clinical trials.
Research medical and legal resources, including finding a mesothelioma specialist or filing an asbestos-related claim.
A cancer diagnosis can bring a family together like never before. Don't hesitate to ask for help, even if it is at a holiday gathering.