Cancer Care Northwest is an elite oncological provider, serving patients at seven locations throughout the Spokane area, along with four outreach clinics throughout Washington State. Cancer Care Northwest has the capability to treat patients with peritoneal mesothelioma.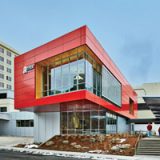 101 W. 8th Avenue, Spokane, WA 99204
Using HIPEC for Mesothelioma at Cancer Care Northwest
Cancer Care Northwest takes pride in its integrated approach to cancer care, moving patients seamlessly from diagnosis through treatment and recovery.
Surgical oncologist Dr. Ryan Holbrook, who has been in Spokane for almost 20 years, helped pioneer the development of hyperthermic intraperitoneal chemoperfusion, often known as HIPEC.
The procedure has dramatically extended survival times for patients with peritoneal mesothelioma.
More than a decade ago, Holbrook became the first surgeon in the Pacific Northwest to use the procedure, improving treatment outcomes for patients with several different abdominal cancers.
He uses HIPEC today in combination with cytoreductive surgery. After all visible signs of cancer are removed from the abdomen, a heated chemotherapy solution is circulated throughout the cavity for up to 90 minutes, destroying any microscopic tumor cells that remain.
The procedure has been effective in reducing the chance of peritoneal mesothelioma recurrence.
Holbrook works closely with medical oncologists and radiation oncologists in a team approach to mesothelioma treatment throughout the Cancer Care Northwest system.
Cancer Care Northwest Personalizes Treatment for All
Cancer Care Northwest includes two dozen physicians and almost a dozen physician assistants and nurse practitioners, along with 250 support staff.
Patients at Cancer Care Northwest are often eligible for clinical trials and novel therapies in the early stages of development. The oncology team in Spokane can help determine which trials might be helpful for individual patients.
Cancer Care Northwest has become well known for its state-of-the-art stem cell transplant program, which has helped dozens of patients with blood cancers.
The Providence Sacred Heart Medical Center serves as the hub of Cancer Care Northwest's services. It includes the region's most advanced radiation treatment system, a full range of medical oncology services, surgical units and specialists who cover a variety of cancer types.
Counseling, nutrition and patient advocacy services are also available throughout the Cancer Care Northwest network. In 2021, Cancer Care Northwest welcomed Daniel Rodgers, RD, as the new oncology dietitian to provide a fully integrated approach to cancer prevention, detection, treatment, and healing.
"Here, you get more than medical excellence," the Cancer Care Northwest website states. "We are a place of healing, warmth and kindness. Our teams of cancer specialists care for the whole person – mind, body and spirit – and not just your cancer."
Mesothelioma Clinical Trials at Cancer Care Northwest
A phase II clinical trial studying the immunotherapy combination of nivolumab (Opdivo) and ipilimumab (Yervoy) for patients with rare tumors, such as mesothelioma.
A phase I clinical trial measuring the safety and efficacy of adding the immunotherapy drug atezolizumab to the chemotherapy and surgery combination, either with or without radiation, for mesothelioma.