NCI-Designated Cancer Center
Cancer center recognized by the National Cancer Institute as one that meets rigorous standards for multidisciplinary, innovative research focused on developing new and improved approaches to preventing, diagnosing and treating cancer.
Mayo Clinic Arizona is a top cancer center in Scottsdale that utilizes a multidisciplinary approach and the latest diagnostic and treatment technology. Dr. Helen Ross is a medical oncologist specializing in asbestos-related cancer and directs mesothelioma clinical trials at the cancer center.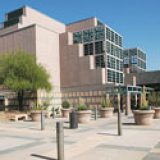 13400 East Shea Blvd, Scottsdale, AZ 85259
Mayo Clinic Arizona Is a World-Renowned Cancer Center
The Mayo Clinic is a National Cancer Institute-designated cancer center with campuses located in Minnesota, Florida and Arizona. The institution exceeds national rates in many quality measures such as mortality and readmission rates. A nonprofit worldwide leader in research, education and medical care, Mayo Clinic reinvests all earnings to continually improve these areas while upholding its mission to provide the best care to every patient every day.
In Arizona, Mayo Clinic emphasizes an integrated, team-based approach to treat more than 90,000 cancer patients per year. Excellence in efficiency, experience and access to the latest in diagnostic and treatment technology have made Mayo Clinic Arizona a world-renowned cancer center since it was established in 1987. In the span of just a few days, Mayo is capable of assembling a diverse team of medical experts to obtain a diagnosis and create the most effective treatment plan for each patient.
Mesothelioma Specialists at Mayo Clinic
Cancer patients benefit from the collaboration of Mayo oncologists and hematologists who participate in the clinic's disease-oriented treatment groups. Combining the expertise gained from more than 100 active treatment programs at all three Mayo campuses, each clinic shares resources to offer the latest advances in the prevention, detection and treatment of mesothelioma cancer.
Mayo Clinic Arizona's Division of Hematology/Oncology treats patients with various malignant diseases, including mesothelioma. Working closely with surgeons, radiation oncologists and other specialists, Mayo physicians build an individualized treatment plan that can include supportive care, surgery, chemotherapy and radiation therapy.
One crucial member of the Department of Hematology/Oncology team is Helen Ross, M.D., a prominent internist and medical oncologist. Specializing in lung cancer and asbestos-related cancers like mesothelioma, Ross's approach to cancer care incorporates a multimodal treatment that combines several types of therapy. Her clinical practice is heavily influenced by the latest research in the fields of tumor and molecular biology. These medical advances have the potential to improve her patients' treatments and overall quality of life.
Mayo Clinic's Translational Medicine
Scientists and physicians at Mayo Clinic Arizona conduct world-esteemed cancer research that improves patient care and helps train the medical scholars of tomorrow. Distinguished programs in research and medical education complement Mayo Clinic Arizona's specialty and surgical care across more than 65 medical disciplines.
In 2006, Mayo Clinic became one of the first 12 institutions in the United States to receive a Clinical and Translational Science Award from the National Institutes of Health. This five-year, $72.5 million grant aims to lessen the burden of cancer by translating laboratory discoveries into improved patient care and treatments. The grant was extended for another five years in June 2011, awarding Mayo Clinic $64.6 million.
With this funding, Mayo Clinic will continue its rich history of translation, as well as founder William J. Mayo, M.D.'s belief that "the research we do today will determine the type of medical and surgical practice we carry on at the clinic tomorrow."
Mesothelioma Clinical Trials at Mayo Clinic Arizona
A phase II randomized clinical trial studying the use of an enzyme (pegylated arginine deiminase) that restricts an amino acid fueling tumor growth in pleural mesothelioma.
A phase II randomized clinical trial studying the safety and efficacy of using Keytruda (pembrolizumab) with or without anetumab ravtansine, an antibody that interferes with tumor cell growth.
A phase III clinical trial studying the intrapleural administration of a virus-delivered drug (rAd-IFN) in combination with Celecoxib and Gemcitabine for patients with pleural mesothelioma.