Mercy Hospital
Table Of Contents
Mercy Hospital is a top cancer treatment center in Portland, Maine, specializing in mesothelioma clinical trials and a coordinated care approach to asbestos-related diseases. Dr. Seth Blank is a cardiothoracic surgeon at Mercy who specializes in minimally invasive surgical techniques.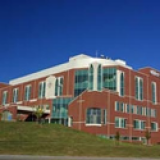 195 Fore River Pkwy Portland, ME 04102
Mercy Hospital's Coordinated Care Approach
The story of Mercy Hospital dates back nearly a century, when it first opened as Queen's Hospital in response to the 1918 flu pandemic, the deadliest worldwide flu outbreak in modern history. Originally staffed by the Sisters of Mercy, an order of Catholic nuns, Mercy Hospital has grown considerably over the decades, but has maintained its compassion for patients and unwavering commitment to excellence in health care.
Since its humble start with only 25 beds, Mercy Hospital has added several new wings, additional campuses and new primary care facilities. It now boasts five campuses with a total of 230 inpatient beds. In September 2008, Mercy opened the doors of its 42-acre Fore River campus, which is home to a hospital and medical center. At Fore River, Mercy doctors treat more than 500 cancer patients annually, including those diagnosed with asbestos-related diseases like mesothelioma and lung cancer.
Cancer patients can benefit from Mercy Hospital's Coordinated Care approach, which combines the expertise of multiple medical professionals from several of Mercy Hospital's nationally recognized specialty practices.
Mercy's devoted clinical staff has helped the hospital earn top rankings in several key areas, including patient safety. In 2012, U.S. News & World Report listed Mercy Hospital among the best in Maine, and No. 1 in patient satisfaction. That year, the American College of Surgeons Commission on Cancer also fully accredited Mercy Oncology-Hematology for comprehensive cancer care.
Mercy Hospital will soon relocate all services from its State Street campus to the Fore River campus, with the transition slated to be complete just in time for its 100-year anniversary in 2018.
Cutting-Edge Therapies for Asbestos-Related Diseases at Mercy
Mercy Hospital has earned national recognition for its achievements in cancer prevention, diagnosis, treatment and rehabilitation. The hospital offers cutting-edge therapies for asbestos-related diseases and a wide range of cancers, as well as alternative and complementary treatments. Patients have access to additional support services, including psychosocial counseling, education, nutritional counseling and financial assistance.
Over the past 25 years, Mercy has recruited an expert team of multidisciplinary cancer doctors who collaborate closely to provide the best possible outcomes for patients. People diagnosed with mesothelioma and asbestos-related lung cancer can receive minimally invasive surgery from Mercy's new specialty practice, Portland Thoracic Surgery.
Portland Thoracic Surgery provides these patients with various surgical options under the leadership of Dr. Seth Blank, who served Greater Portland as a cardiothoracic surgeon for nearly 25 years before joining Mercy Hospital. An expert in minimally invasive surgery techniques like video-assisted thoracoscopic surgery (VATS), Blank performs cancer surgery with the help of Joseph Schrader, PA-C, his surgical assistant for nearly two decades.
With high-definition imaging scans and special tools that allow doctors to perform surgery through smaller incisions, patients can expect faster recovery with less blood loss and a lower risk of complications. Mercy Hospital also offers minimally invasive techniques for examinations and biopsies.
In addition to surgery, cancer patients can also receive the latest advances in chemotherapy from the hospital's oncology treatment team. Patients who opt for radiation therapy are referred to Spectrum Radiation Oncologists, the only radiation oncology group in Maine that is accredited by the American College of Radiology and a member of the Radiation Oncology Group and the National Comprehensive Cancer Network.
By combining the expertise of surgeons, clinical oncologists, radiation oncologists and support staff from several other disciplines, Mercy patients gain access to multimodal therapy that combines several treatment options for optimal results. Mercy Hospital participates in numerous clinical trials for promising new cancer treatments, and helps connect patients with the latest advances in cancer care.
Mercy Hospital Targets Lung Cancer with Screenings
Mercy Hospital also offers CT scans that help doctors screen patients for lung cancer, a top cancer killer in the United States with a higher-than-average mortality rate in the state of Maine. Although in its later stages, lung cancer is difficult to treat and rarely curable, patient outcomes are far more promising when the disease is detected early on.
In the past, doctors avoided lung cancer screening because the potential risks of radiation exposure from CT scans seemed to outweigh the procedure's benefits. However, Mercy Hospital patients can rest easy. "Advances in technology now allow us to do very good images with much a lower dose, so it's an acceptable amount of radiation to administer to the public," says Dr. Chris Kuhn, a Mercy Hospital radiologist.
Kuhn and his colleagues specifically target patients who are most likely to benefit from lung cancer screening, including those between 55 and 79 years old with a 30 or more pack-year history of smoking. In other words, older patients who averaged a pack a day over 30 years. According to Dr. Dave Langdon, president of the medical staff at Mercy, research shows lung cancer screening offers a huge decrease in mortality. "And for the citizens of Maine," he adds, "those people have a chance now to really change their lives."
Mesothelioma Clinical Trials at Mercy Hospital
A phase II clinical trial studying the treatment of rare tumors, such as mesothelioma, by using the immunotherapy combination of nivolumab (Opdivo) and ipilimumab (Yervoy).
A multi-institutional resource to collect biospecimens from consenting adults with cancers, such as mesothelioma, to help with developing novel therapies for treatment, along with advancing prevention and early detection.