NCI-Designated Cancer Center
Cancer center recognized by the National Cancer Institute as one that meets rigorous standards for multidisciplinary, innovative research focused on developing new and improved approaches to preventing, diagnosing and treating cancer.
New York-Presbyterian Hospital/Columbia University Medical Center
New York-Presbyterian Hospital/Columbia University Medical Center in New York City is a top hospital focusing on innovative treatments such as HIPEC, performed by Dr. Michael Kluger. New York-Presbyterian offers clinical trials alongside personalized and multidisciplinary care.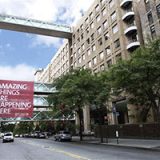 630 W 168th St, New York, NY 10032
Reputation for Excellence at New York-Presbyterian Hospital
The Herbert Irving Comprehensive Cancer Center at Columbia University and New York-Presbyterian Hospital performs more surgeries for peritoneal mesothelioma than anywhere else in the country, earning its well-deserved reputation for excellence.
Experience matters. For a rare and aggressive cancer such as mesothelioma, high volume is critical for obtaining the best possible results. New York-Presbyterian has been doing it well with innovative techniques since the mid-1990s.
"The best treatment is going to come from the high-volume practitioners," said Dr. Michael Kluger, who leads the peritoneal mesothelioma program. "Experience is what a patient and his family should look for. You want a center with a lot of experience for your specific disease. We have that."
New York-Presbyterian/Columbia University handles the more common pleural mesothelioma in the thoracic cavity and peritoneal mesothelioma in the abdomen.
And while therapeutic advances with pleural mesothelioma have come slowly, the advances have been significant with peritoneal.
"There is real hope for these patients now. We're seeing excellent outcomes," Kluger said. "Our multidisciplinary approach has done well. We know how to treat it, and we know how to follow it up. People are living a long time now when they are appropriately treated."
New York-Presbyterian Hospital Excels at Treating Peritoneal Mesothelioma
Kluger was part of a research team at the Columbia Medical Center that recently studied the time and predictors of peritoneal mesothelioma recurrence when optimally treated.
They found a median overall survival of 6.5 years and a median, recurrence-free survival of 38.5 months, a significant improvement from a decade ago. They also had a predicted 10-year survival rate of 30%.
The study involved 113 patients who completed a protocol that started with a cytoreduction and hyperthermic intraperitoneal chemotherapy (HIPEC), followed by a multicycle adjuvant chemotherapy regimen.
Six months after the first surgery, an exploratory procedure was done to determine if a second cytoreduction was necessary. If there was no new tumor growth, only a second HIPEC was performed.
The results emphasized the importance of long-term surveillance for peritoneal mesothelioma patients, and the knowledge that steps can be taken when recurrence happens.
"A lot of judgements have to be made during these operations. Removing too much tissue can cause too high a risk of complications. In some cases, an operation must be terminated," Kluger said. "In other cases, we may have to remove one or more internal organs, and patients have to trust us to make the appropriate decisions during the operation. This is where experiences come into play."
Personalized Care at New York-Presbyterian Hospital
The Herbert Irving Comprehensive Cancer Center has a long tradition of excellence in patient care. The National Cancer Institute has recognized it annually as an elite program for more than 30 years.
The center, which treats more than 3,500 cancer patients each year, is known for providing a team of internationally renowned experts who create personalized treatment plans to address the physical, social and emotional needs that accompany their diagnosis.
The mesothelioma program at Herbert Irving provides innovative diagnostic procedures and top-notch therapeutic care for more than 100 patients each year.
In the mesothelioma program, Kluger works closely with medical oncologist Dr. Tito Fojo; Dr. Kazuki Sugahara, who helps design novel therapies in the laboratory; and Pegah Gheitani, a physician assistant who works closely with each patient.
New York-Presbyterian Offers Multidisciplinary Mesothelioma Treatment
Mesothelioma patients may also benefit from the radiation oncology ward, home of the nation's largest and most experienced research center for radiation biology. The ward offers multiple forms of external beam radiation therapy.
The radiation oncology department also offers brachytherapy, a form of radiation favored for its ability to spare healthy tissues from exposure to powerful radiation.
The clinical treatment is helped by the on-site research performed by a team of 200 physicians and laboratory assistants. The Herbert Irving Comprehensive Cancer Center has received more than $100 million in funding for peer-reviewed cancer research.
The 2017-2018 U.S. News & World Report Best Hospitals Honor Roll ranked New York-Presbyterian Hospital first in the New York metro area and eighth in the nation.
Mesothelioma Clinical Trials at New York-Presbyterian
A phase I/II clinical trial studying the use of ASTX295, a synthetic small molecule, for rare cancers like mesothelioma that have relapsed after standard-of-care treatment.