Regions Hospital Cancer Care Center
Regions Hospital Cancer Care Center in St. Paul, Minnesota, is a renowned hospital with an expert team that includes Dr. Arkadiusz Dudek, a medical oncologist who has led several mesothelioma clinical trials. Regions Hospital focuses on multidisciplinary care and offers innovative treatments.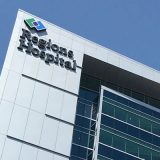 640 Jackson St, St Paul, MN 55101
Regions Hospital Cancer Care Center Handles Mesothelioma Cases
Regions Hospital Cancer Care Center's vast clinical trial program includes a phase II study for pleural mesothelioma patients that involves a novel combination of proven immunotherapy and a drug that blocks the formation of blood vessels allowing cancer cells to grow.
Medical oncologist Dr. Arek Dudek, the trial's primary investigator, believes the combination has the potential to change the way the disease is treated.
"People can be really excited about this one," Dudek said.
The second-line trial, which runs through 2021, is aimed at patients with inoperable disease that already received at least one chemotherapy regimen.
The drug combination includes Opdivo (nivolumab) and Cyramza (ramucirumab).
Multidisciplinary Treatment at Regions Hospital Cancer Care Center
Regions takes special pride in the individualization of cancer care, which includes its "48-hour promise." Administrators promise within 48 hours of any cancer diagnosis, patients will be seeing an oncologist and formulating a multidisciplinary treatment plan.
Major cancers being treated at Regions include urinary, prostate, lung, colorectal, breast and brain, along with leukemia and melanoma.
Non-cancerous autoimmune, blood, bone marrow and clotting disorders also are treated at Regions.
Cancer treatment plans may include a combination of chemotherapy, radiation, surgery, and genetic counseling. Nutrition counseling, pain management and comfort care help and post-treatment cancer rehabilitation also are part of the program.
The cancer research team gives patients special access to clinical trials, which often are studying the most up-to-date advances that are working toward approval from the U.S. Food and Drug Administration.
The research is funded through various sources, including the National Institutes of Health, drug and medical device companies, private groups and individual donors.
Dudek's mesothelioma trial is sponsored by the Hoosier Cancer Research Network, a not-for-profit research consortium that assists investigator-initiated trials.
"I'm hopeful that the results will change the way we treat this cancer," said Dudek, who has been treating patients with mesothelioma for more than two decades. "This combination brings a completely different level of engaging the immune system."
Regions Hospital Cancer Care Center Among the Elite
Regions Hospital also has specialty programs for neuroscience care and a heart center, along with a Level 1 Adult and Pediatric Trauma Center, providing care for everything from minor to complex problems.
The neuroscience program was ranked among the nation's best in 2018 by Healthgrades, a leading online resource for information about hospitals and physicians.
Regions is certified by the American College of Surgeons Commission on Cancer and one of five in Minnesota with certification from the American Society of Clinical Oncology.
Mesothelioma Clinical Trials at Regions Hospital Cancer Care Center
A phase II clinical trial evaluating the combination of nivolumab (Opdivo) and ramucirumab (Cyramza) for patients with previously treated pleural mesothelioma. Ramucirumab has shown an ability to block the formation of new cancer blood vessels, which could stop the growth of the malignancy.