NCI-Designated Cancer Center
Cancer center recognized by the National Cancer Institute as one that meets rigorous standards for multidisciplinary, innovative research focused on developing new and improved approaches to preventing, diagnosing and treating cancer.
Rogel Cancer Center at University of Michigan
University of Michigan Rogel Cancer Center in Ann Arbor is a top mesothelioma treatment center that houses multiple specialties for treating thoracic disease. Thoracic surgeon Dr. Elliot Wakeam and the team of experts at Rogel have years of expertise and offer ongoing clinical trials.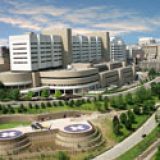 E Medical Center Drive, Ann Arbor, MI 48109
Excellence in Care at University of Michigan Comprehensive Cancer Center
Since opening in 1986, the University of Michigan Rogel Cancer Center (U-M) has continually appeared on U.S. News & World Report's annual list of "Best Hospitals." The National Cancer Institute (NCI) designates this institution as a Comprehensive Cancer Center for maintaining the highest standards of excellence in patient care, education, basic science, clinical research and cancer prevention.
The hospital embraces a multidisciplinary approach, with physicians and scientists collaborating to develop comprehensive diagnoses and treatment plans. This approach is invaluable in the study and treatment of lung cancer.
As such, the hospital established the Multidisciplinary Lung Cancer Clinic. This group works closely with the hospital's Thoracic Oncology Program, which is charged with the research and treatment of lung cancer and other intrathoracic conditions. Team members include thoracic surgeons, medical and radiation oncologists, pulmonologists, gastroenterologists, radiologists, pathologists and nurses.
Thoracic surgeon Dr. Elliot Wakeam and medical oncologist Dr. Gregory Kalemkerian, director of the Multidisciplinary Lung Cancer Clinic, are leading experts in pleural mesothelioma, thymomas and lung diseases.
Multidisciplinary Treatment Options at University of Michigan
The lung cancer clinic performs conventional treatments such as surgery, chemotherapy and radiation therapy. These doctors also utilize aggressive combined-modality therapy treatments, including chemotherapy and radiation therapies and combinations, when possible.
However, this department has a particular specialization in performing emerging and minimally invasive techniques, such as:
Stereotactic radiosurgery
Radiofrequency ablation
Photodynamic therapy
Esophageal and airway stenting
Video-assisted thoracoscopy (VATS)
Biologic therapy (biotherapy and immunotherapy)
Thoracic Oncology Program members regularly collaborate to review and discuss patient cases and develop personalized treatment plans, and the team is encouraged to lead and regularly participate in clinical trials and protocols.
Beyond lung cancer, the hospital's research efforts continue to grow. All U-M faculty members are required to actively practice in the clinical care of patients and/or collaborate in basic, clinical or population research. In 1997, a nine-story cancer center opened its doors, placing patient care, treatment and research all under one roof, delivering research findings much quicker to patients.
Among all U-M and affiliated locations, there are more than 350 physicians/researchers in 36 departments across nine schools, along with nurses, mid-level providers and support staff, all of whom are grouped into teams based on tumor types.
In 2010 alone, U-M treated 83,649 outpatient visits, while 3,894 cancer patients were admitted to the various university hospitals. The cancer center now ranks first among national academic medical centers in grant funding, with an average of more than $157 million received annually.
Pleural and Peritoneal Mesothelioma Treatment at University of Michigan
The University of Michigan Comprehensive Cancer Center has expertise in pleural and peritoneal mesothelioma, both caused primarily by an exposure to toxic asbestos fibers.
Surgical oncologist Dr. Clifford Suhyun Cho handles cases of peritoneal mesothelioma, which forms first on the lining of the abdomen.
Part of his treatment regime includes hyperthermic intraperitoneal chemotherapy, often called the HIPEC procedure, which is used for different abdominal malignancies.
After a complete cytoreduction of all visible mesothelioma tumor cells, HIPEC involves flushing heated chemotherapy through the abdominal cavity for 90 minutes to kill any microscopic cancer cells that evaded the surgeon.
Kalemkerian and Wakeam are part of the collaborative approach at the University of Michigan to treating pleural mesothelioma, which is more common than the peritoneal version. Treatment often includes a combination of chemotherapy, surgery, radiation and immunotherapy.
Wakeam joined the University of Michigan in 2019 after surgical training at Brigham and Women's Hospital and the Toronto General Hospital, two highly regarded treatment centers for pleural mesothelioma.
Mesothelioma Clinical Trials at University of Michigan Rogel Cancer Center
A phase II study involving immunotherapy and the combination of Opdivo (nivolumab) and Yervoy (ipilimumab) for a number of rare cancers, including pleural and peritoneal mesothelioma. Individuals in this cancer study will provide tumor tissue saved from a biopsy or surgery that will be banked at the University of Nebraska and used by multiple institutions for research. Mesothelioma is one of many cancers being studied.