NCI-Designated Cancer Center
Cancer center recognized by the National Cancer Institute as one that meets rigorous standards for multidisciplinary, innovative research focused on developing new and improved approaches to preventing, diagnosing and treating cancer.
University of Texas Southwestern Medical Center
University of Texas Southwestern Medical Center is a renowned treatment facility in Dallas. It boasts a specialized mesothelioma program led by Dr. David Gerber that focuses on many experimental treatments available through clinical research trials.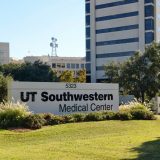 5323 Harry Hines Blvd., Dallas, TX 75390
UT Southwestern Medical Center Known for Thoracic Excellence
The UT Southwestern Medical Center in Dallas is one of the select academic institutions in America today where treatment and research of malignant pleural mesothelioma cancer is a priority.
The mesothelioma program at UT Southwestern is part of a broader Lung Disease and Respiratory Disorders umbrella that offers patients some of the most advanced diagnostic and interventional treatments available anywhere.
The multidisciplinary clinical program includes cardiothoracic surgeons, medical and radiation oncologists, pulmonologists and nurses, all versed in mesothelioma treatment and working together to provide the best possible care.
Lung specialists are trained in the personalized approach to cancer care, taking advantage of both a top-notch clinical staff and an innovative research program to form a partnership with each patient.
"We're at the center of quite a number of things, both across the country and around the world," said thoracic surgeon Dr. Kemp Kernstine, a mesothelioma and lung specialist. "This really is an amazing place."
Cancer Care Programs at UT Southwestern Medical Center
There are 13 different, but closely linked cancer care programs at its Simmons Cancer Center, the region's only National Cancer Institute-designated program.
The programs include:
Lung cancer
Radiation oncology
Cancer genetics
Pediatric cancer
Urologic Cancer
Brain and spinal cord tumors
Melanoma and sarcoma
Neurofibromatosis
Breast cancer
Gynecologic cancer
Gastrointestinal cancer
Lymphoma, leukemia and myeloma
Head and neck cancer
UT Southwestern Specializes in Mesothelioma Cancer
The lung cancer team at Simmons has considerable experience in caring for mesothelioma patients, whose numbers at the hospital have increased in recent years, stemming from Kernstine's arrival in 2010.
Kernstine, professor and chair of the division of thoracic surgery, is one of the leaders of the lung cancer team. He has handled pleural mesothelioma patients for many years, performing both the extrapleural pneumonectomy (EPP) and the pleurectomy/decortication (P/D), the most aggressive surgeries possible for the disease.
Hematology oncology associate professor Dr. Jonathan Dowell works closely with thoracic malignancy patients, including those with mesothelioma. He also is an active clinical researcher, particularly with non-small and small cell lung cancers and mesothelioma.
Oncologist Dr. David Gerber, who is co-director of the Experimental Therapeutics of Cancer research group, does much of the adjuvant and neoadjuvant therapy with mesothelioma patients.
Pulmonologist Dr. Muhanned Abu-Hijleh has worked with lung cancer, pleural diseases and other thoracic malignancies like mesothelioma for many years.
Dr. Hak Choy is the chair of the radiation oncology department at UT Southwestern. He is lauded for developing new drugs that combine well with the latest technology in radiation. He has an expertise in stereotactic body radiation therapy and image-guided radiation therapy (IGRT).
Research Is Extensive at UT Southwestern Medical Center
As part of its vast research work, UT Southwestern Medical Center has an Experimental Therapeutics of Cancer department that studies how genetic variations among individuals affects responses to treatment and tumor growth in different cancers.
Scientists there study the molecular makeup of cancers and how those differences influence the behavior of tumors, helping to personalize the therapies that are prescribed at UT Southwestern.
Also, there are research departments dedicated to chemistry and cancer, cancer cell networks, lung cancer and cancer control. These are designed to ease the overall burden of this disease.
UT Southwestern Medical Center Stresses Prevention and Early Detection
UT Southwestern has been promoting its early screening programs for lung and colon cancer, making sure its discoveries in the laboratory are used in the community.
The cancer prevention and detection program has been particularly successful among the medically underserved.
There also is an impressive cancer genetics program that closely monitors known families with higher hereditary risk of colon and uterine cancers, along with gene mutations linked to ovarian and breast cancers.
The UT Southwestern Medical Center is world-renowned for its research, well-respected for its high quality clinical care and is highly regarded for its ability to teach and train those for the future. Many of its research advances have helped the local community, but also the cancer community through the country and beyond.
Mesothelioma Clinical Trials at UT Southwestern Medical Center
A randomized phase II clinical trial studying the effectiveness of pembrolizumab (Keytruda) with and without the addition of anetumab ravtansine, a combination of immunotherapy and cytotoxic therapy, for patients with pleural mesothelioma.
A phase II study measuring the efficacy of the immunotherapy combination of nivolumab (Opdivo) and ipilimumab (Yervoy) in treating patients with rare tumors, including mesothelioma.