This disease is usually benign, but in some patients, it develops into an aggressive, malignant cancer. In its more common benign form, it is considered an intermediate form of mesothelioma – less dangerous than diffuse epithelial mesothelioma, but more severe than localized benign adenomatoid mesothelioma.
Most cases develop in the pelvic peritoneum (the lining of the lower abdominal cavity). However, the lesions can also develop in pelvic structures such as the omentum, uterus, bladder and rectum. In extremely rare cases, it can also grow in the liver.
When you combine all of the subtypes of mesothelioma, the cancer most commonly affects older males. However, the cystic subtype most commonly affects young or middle-aged women of reproductive age. In one study, the average age at the time of diagnosis was 37 years, 10 months.
Unlike malignant mesothelioma, the link between asbestos exposure and cystic mesothelioma is unclear. Some studies suggest cystic mesothelioma develops in response to foreign fibers and dusts. Another possible cause is chronic irritation such as a prior surgery or endometriosis. Other studies suggest that female sex hormones can trigger its development.
Symptoms of Cystic Mesothelioma
Common symptoms of cystic mesothelioma include:
Abdominal pain
Pelvic
Feeling full after eating a small amount of food
Abdominal fullness
Weight gain
Change in bowel habits
Intestinal obstruction
According to a 2018 case report published in Case Reports in Surgery, the majority of patients do not experience symptoms until the tumor is large enough to have an impact on other organs.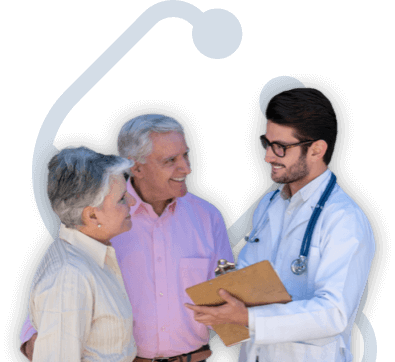 Connect with a Top Mesothelioma Doctor
We've helped thousands of people affected by mesothelioma find the best treatments.
Get Started Now
Cystic Cells and Growth Patterns
This type of cancer is characterized by smooth, thin-walled cysts held together by a fragile fibrovascular tissue. The individual cells are flat or cube-shaped. The cysts fill up with mucinous or gelatinous fluid and can grow as large as 20 cm in diameter. On imaging scans, doctors may be able to see separate "chambers" in the cystic tumor. When removed from the body, the tumors may appear pale yellow.
Unlike many types of cancer, cystic mesothelioma does not spread to other parts of the body. It is considered a localized tumor.
Diagnosing Cystic Mesothelioma
Cystic mesothelioma is difficult for doctors to diagnose, mainly because of its rarity. Most people are diagnosed incidentally during a doctor's visit for a different medical issue.
In some cases, people initiate the diagnostic process by reporting pelvic or lower abdominal pain and weight loss. After performing some standard physical exams, doctors typically order an imaging scan to find out more about the underlying cause of these symptoms.
Doctors can use a CT scan, ultrasound or MRI to visualize tumors, but these tests can't confirm a diagnosis. The best way to diagnose cystic mesothelioma is by performing a biopsy with a technique called laparoscopy, a minor surgical procedure that uses a thin tube fitted with a light and camera.
Through a small incision in the abdomen, doctors can spot abnormal growths and collect tissue samples. The samples are then sent to the lab for testing, where a pathologist (a doctor who specializes in cellular changes) can confirm a diagnosis.
Other names for a cystic mesothelioma diagnosis:
Benign multicystic peritoneal mesothelioma
Benign papillary peritoneal cystosis
Postoperative peritoneal cysts
Multilocular peritoneal inclusion cysts
When trying to pin down the correct diagnosis, it can be difficult for doctors to tell cystic mesothelioma apart from malignant mesothelioma and other types of benign growths — especially if the doctor is not a mesothelioma specialist. There are a few ways to distinguish between growths that look similar.
Malignant mesothelioma typically forms calcified plaques or nodules instead of the liquid-filled cysts that develop from cystic mesothelioma. The cells in malignant mesothelioma tumors also display increased activity, which doctors can detect with a technique called immunohistochemical staining.
Create a Free Personalized Mesothelioma Guide
Were you diagnosed with mesothelioma?
Treatments for Cystic Mesothelioma
Surgery is the only highly effective treatment for this diagnosis. Because this type of cancer grows slowly and does not spread, its prognosis is much better than other forms of the disease. As of 2009, only one patient had passed away from the benign variation of the disease, and this patient had elected not to undergo a surgical resection. Peritoneal chemotherapy with Cisplatin is another potential treatment option, but trials have provided varying degrees of success.
Despite the positive response to resection, around half of all patients will experience a recurrence. After diagnosis, patients will need to undergo routine follow-up imaging to monitor the cancer's progress. In one case, a patient developed diffuse malignant mesothelioma after six separate surgeries for the benign cysts. However, this phenomenon is extremely rare, and few patients ever experience this malignant transformation.
9 Cited Article Sources
The sources on all content featured in The Mesothelioma Center at Asbestos.com include medical and scientific studies, peer-reviewed studies and other research documents from reputable organizations.
Li, Y, et al. Cystic Mesothelioma of the Retroperitoneum. Journal of Clinical Ultrasound. (January 1992). Retrieved from: http://onlinelibrary.wiley.com/doi/10.1002/jcu.1870200113/abstract
Pass, I., Vogelzang, N., Carbone, M. (2005). Malignant Mesothelioma: Advances in Pathogenesis, Diagnosis, and Transitional Therapies. Springer: New York.
Mansfield, L, Kim-Ahn, G and O'Bryant, L. Multicystic Mesothelioma of the Peritoneum. (February 2002). Retrieved from: http://www.ajronline.org/content/178/2/402.full.pdf
Dodson, R. & Hammar, S. (2011). Asbestos: Risk Assessment, Epidemiology, and Health Effects. Taylor & Francis: Boca Raton.
Uzum, N, Ozcay, N and Ataoglu, O. Benign multicystic peritoneal mesothelioma. Turkish Journal of Gastroenterology. (2009). Retrieved from: http://www.turkgastro.org/pdf/717.pdf
Gonzales, M, et al. Malignant transformation of "benign" cystic mesothelioma of the peritoneum. Journal of Surgical Oncology. Retrieved from: http://www.ncbi.nlm.nih.gov/pubmed/11920782
Gupta, A. et al. (2013, June). A Rare Case of Benign Multicystic Peritoneal Mesothelioma: A Clinical Dilemma. Retrieved from: http://www.ncbi.nlm.nih.gov/pmc/articles/PMC3693390/
Elbouhaddouti, H. ed al. (2013, October 13). Benign cystic mesothelioma of the peritoneum: a case report and literature review. Retrieved from: http://www.ncbi.nlm.nih.gov/pmc/articles/PMC3853709/
Canu, G.L. et al. (2018). Benign Multicystic Peritoneal Mesothelioma in a Male Patient with Previous Wilms' Tumor: A Case Report and Review of the Literature. Retrieved from: https://www.ncbi.nlm.nih.gov/pmc/articles/PMC6093066/
How did this article help you?
What about this article isn't helpful for you?
Did this article help you?
Thank you for your feedback.
Would you like to speak with a Patient Advocate?
Last Modified August 26, 2020